The Shannon Summer Research Institute has played a huge role in allowing Houghton students to have access to research opportunities since 2009. The Research Institute allows students to gain hands-on, real-world experience conducting experiments and performing their own research. This year was the biggest year ever for the Shannon Summer Research Institute, allowing 11 faculty members and 25 students to conduct research in STEM (Science, Technology, Engineering and Mathematics) fields.
Dr. Fred Shannon was a beloved professor of chemistry and academic dean, serving Houghton University and inspiring students for 35 years. As a tribute to his long-standing commitment and tireless efforts, in 2019 one of Dr. Shannon's former students (Dr. Carl Lynch, Class of 1971, and his wife Linda Wenger) created an endowed fund to underwrite the annual research of the Shannon Summer Research Institute. In 2019, a generous gift was given to fully endow the program.
While the pandemic delayed the launch of this expanded program last summer, the Shannon Summer Research Institute resumed this year with the opportunity for more motivated physics, chemistry, biology, math, computer and data science students to study in an intense research environment.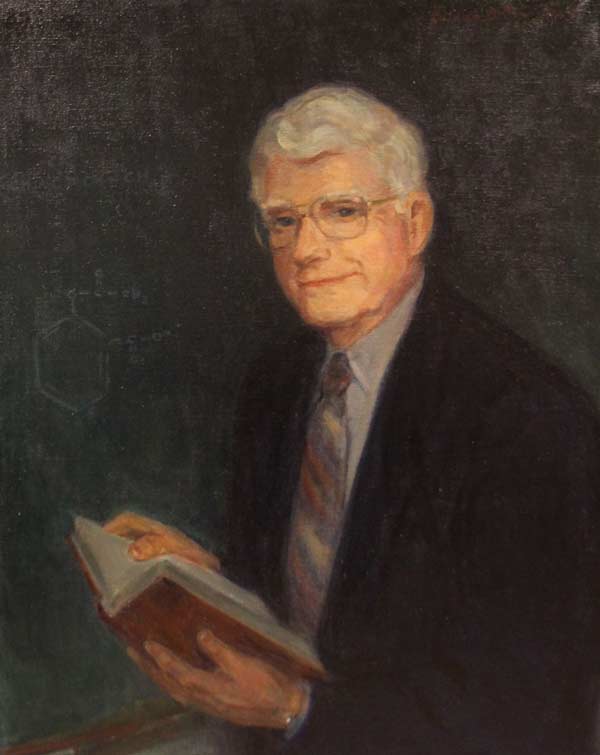 Painting of Dr. Fred Shannon
Summer 2021 Research Projects
Quality assessment of Bible translations via textual similarity and entailment measurements through cross-lingual models
Laser Interferometer and X-ray Diffractometer for Experimental Study of Thin Metal Films
Screening FDA Approved Drugs to Repurpose for the Treatment of Alzheimer's Disease
Biology: Identification and Characterization of the Bacterial Microcosm of Sarracenia purpurea, Northern Pitcher Plant
Assessing the Effects of Electrical Stimulation on Protein Expression During Wound Healing in Vascular Smooth Muscle.
Convenient Synthesis of Biodegradable Glycopolymers via Thiol-Ene Coupling
Cost-Effective Bead-Pull System Development at Houghton University
Simulating ICF Implosions: The Exploding Wire
The Implementation of the Embedded Image Recognition System on the Jetson Nano Platform