This summer, the Van Dyk Scholars of the Shannon Summer Research Institute, including current Houghton University students, Isaiah Miller '23, Blake Eby '23, Evan Kasper '23, Liam Fisher '23, Skye Chaapel '23, and recent graduate Bella Mancini '21, conducted research on Alzheimer's disease. This group of undergraduate researchers was overseen by Houghton University professors Dr. Paul Martino, professor of Biochemistry, and Carmen McKell, associate professor of Data Science and director of Houghton's Center for Data Science Analytics.
Data Science and Biochemistry Multidisciplinary Project
Using multiple sources including research papers and longitudinal patient databases (including drug history, medical diagnosis and lab results), the group utilized exploratory data analysis to screen and gather information about various chemicals and proteins that can cause the effects of Alzheimer's disease and other forms of dementia. The exploratory data analysis provided a better understanding of the data set variables and the relationships between them and formed the foundation for more sophisticated data analysis and modeling in the future. This multidisciplinary experience allowed Data Science and Biochemistry student researchers to dive deeper into collaborative research and explore potential careers while contributing to a growing body of research.
Collaboration Leads to Better Research
"Watching this group of students use their data science skills to solve a complex problem like the treatment of Alzheimer's disease was one of the most rewarding aspects of this research project," shares Professor Carmen McKell. "Data science is best learned by doing, and these students were deeply engaged and self-directed, using critical thinking skills to decide what to do next to draw insights from a vast amount the data. Through collaboration, the data science students were able to enhance their domain knowledge by learning as much as possible from the biochemistry students. This gave them the context needed to interpret and validate their results. Hands-on collaborative opportunities like this give Houghton students the ability to positively impact people's lives thereby fulfilling our mission to equip students to lead and labor as scholar-servants in a changing world."
Real-World Impact
With Alzheimer's disease and other forms of dementia currently impacting over 6 million people in the United States, research into causes and treatments is vital. Alzheimer's research has been a specialty of Dr. Martino since 1991, when he began exploring the topic as a graduate student. His expertise in the field made him the ideal candidate to recruit Houghton students to partner with him in this opportunity to have a real-world impact on the scientific body of research and the very real lives that research benefits. Thanks to the generous investment that led to the creation of the Van Dyk Scholars and the Shannon Summer Research Institute, Houghton students gained valuable experience that will benefit them in their future careers while exploring ways to help prevent the devastation diseases like Alzheimer's can have on families and communities.
Hands-On Preparation for Graduate Studies and Careers
As a part of the Shannon Summer Research Institute and the Van Dyk Scholars program, Houghton students spent the summer on graduate-level research and were able to identify promising drug candidates that may help early treatment of Alzheimer's disease. Each student now has the experience of soon-to-be-published graduate-level research that will greatly impact this vital area of study. This experience also provides student researchers with a deeper understanding of what they may want to study in graduate school and prepares them to work in a professional collaborative setting.
"My favorite aspect of this summer was the dynamic that the group shared and the spontaneous conversation that developed from that," shares Dr. Paul Martino. "Hands-on experience such as this helps Houghton students to accelerate their learning through a Christ-centered education. It promotes career-readiness and allows them to hit the ground running after graduation with a straight trajectory towards their professional and academic goals."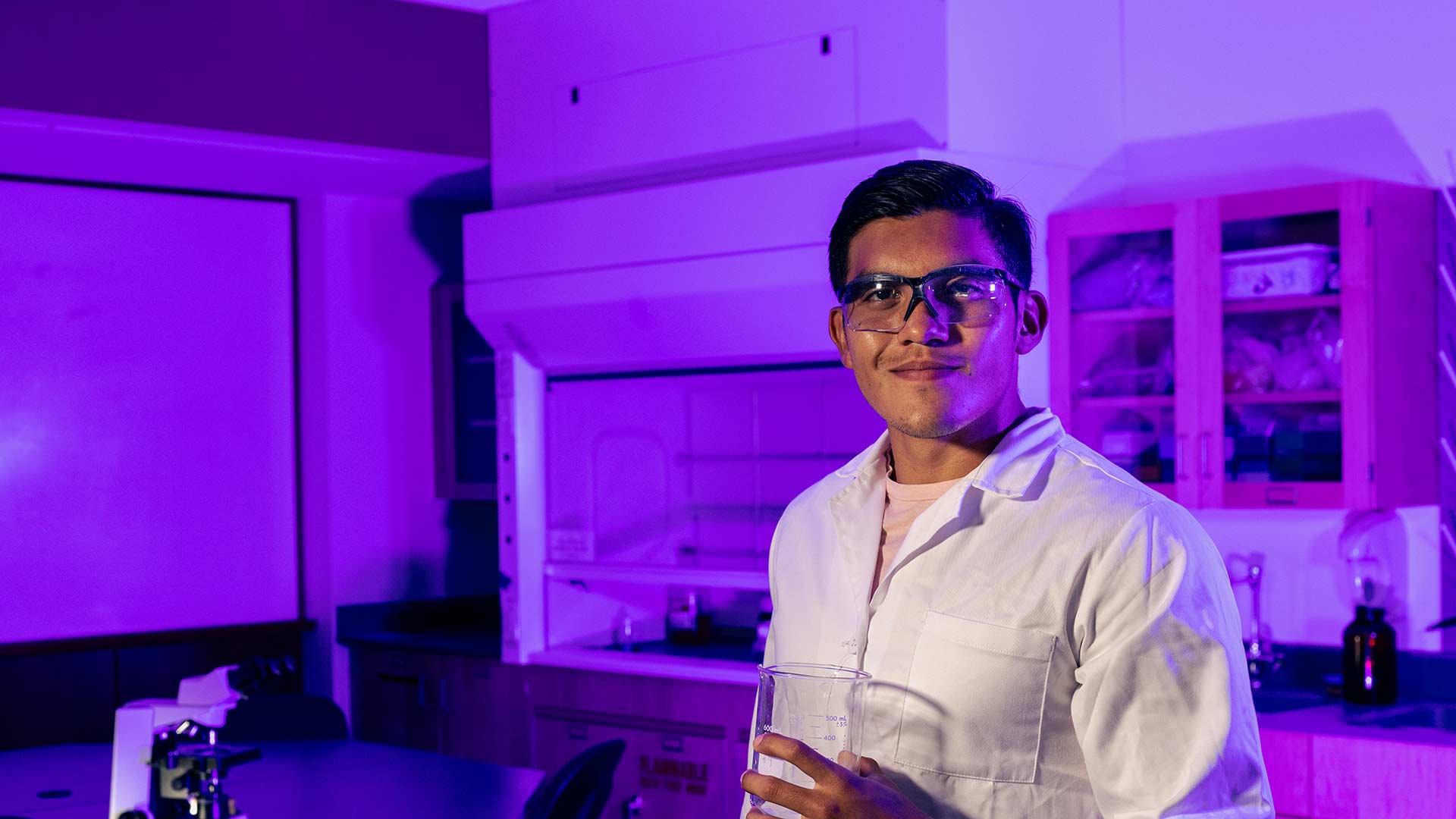 Experience a Top-Ranked, Affordable Christian Education for Yourself
Houghton University is a nationally ranked Christian college of the liberal arts and sciences and the best-priced Christian college in the nation. Take your fearless next step to discover how this close-knit Christian community will help you accelerate your path to fulfill your God-given potential.
Schedule a Campus Visit
About Houghton University
Houghton University is a nationally ranked Christian college of the liberal arts and sciences and the best-priced Christian college in the nation. With an enrollment of nearly 1,000 students, Houghton has equipped graduates for lifelong success since 1883 through customizable programs offered in Houghton and Buffalo, N.Y., and online. The College offers more than 50 undergraduate in-person and online programs, including Equestrian Management, Data Science, Engineering and Christian Ministries, as well as graduate programs in business, education and music.