Houghton Alumna, Mari Elaine Lamp '07, will have her Fixed Gaze exhibition on display at The Center for Visual Arts Gallery on the Lincroft campus of Brookdale Community College. The exhibition will be up from October 11th, 2021 through November 12th, 2021.
Mari Elaine Lamp is a painter and installation artist who has always been drawn to images of the intimate. She is currently living and working in Philadelphia. She received her BA in Art and Writing from Houghton University followed by her MFA from the Pennsylvania Academy of the Fine Arts.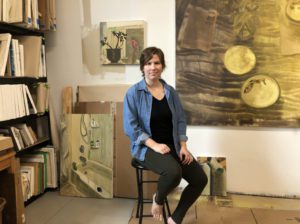 "The work presented in Fixed Gaze straddles the pandemic timeframe, during which Lamp's themes of isolation, domestic interiors and issues of perspective played out and were intensified through long months of quarantine." (Exhibition Statement)
Additional events were held along with this exhibition, such as an artist talk and an opening reception.
Explore Mari Elaine Lamp's Art