Houghton welcomed the newest graduates of the College at the Houghton, NY campus on Saturday, May 14.
On Failure and Spectacles
The Rev. Dr. Gabriel Salguero, pastor of The Gathering Place, delivered the keynote commencement address. Salguero encouraged students to build their curricula vitae, or "curriculum of their life," in the same way as the apostle Paul. In a world filled with anger and anxiety, the graduates of the Class of 2022 have demonstrated the perseverance that Paul mentioned in Romans 5, as they have already reached this milestone amidst a global pandemic, economic challenges, and war. In the face of these obstacles, these graduates have shown a rare, yet greatly needed, courage as they steadfastly pursued their God-given, fearless calling. "Graduates," Salguero concluded, "we need a generation of men and women, who would marry their learning with courageous integrity. Who will say that 'with everything, I do will honor God.'"
"Not only so, but we also glory in our sufferings, because we know that suffering produces perseverance; perseverance, character; and character, hope. And hope does not put us to shame, because God's love has been poured out into our hearts through the Holy Spirit, who has been given to us." Romans 5:3-5
In his first commencement ceremony as president, Wayne D. Lewis, Jr., presented Mr. John Lee with the Willard J. Houghton Medal. Lee has served as the chair of Houghton's board of trustees since 2016,, leading through the IMPACT: The Campaign for Greater Houghton, which raised more than $70 million from more than 9,000 unique donors, and the recent presidential transition in addition to the typical duties of the board chair. This honor recognizes individuals who demonstrate what is possible when fulfilling the mantra of the College's founder, Willard J. Houghton, who regularly signed his letters "Yours for fixing up the world" in the name of Jesus Christ.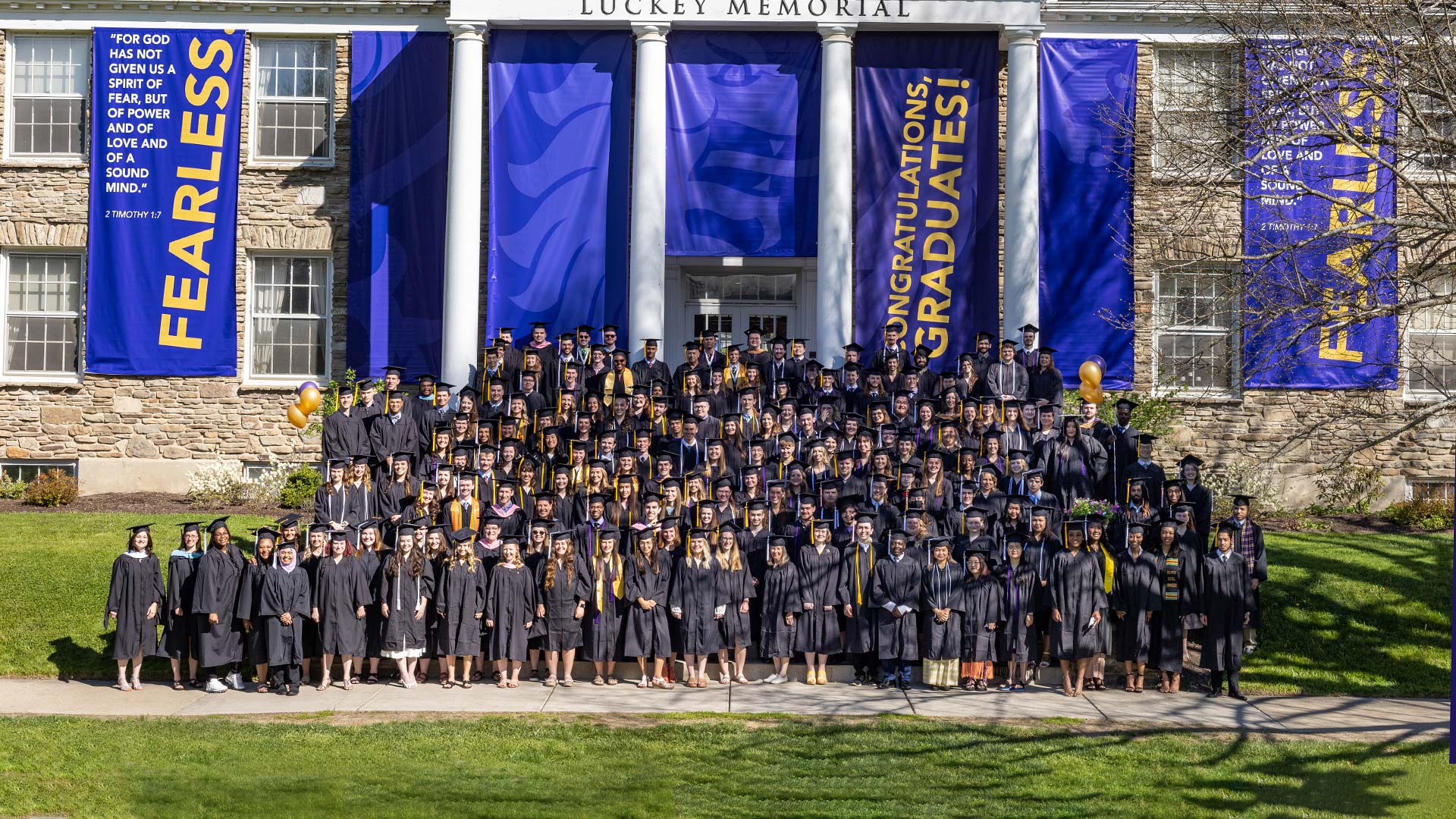 The Class of 2022
This year's graduating class includes 260 students who earned their undergraduate and graduate degrees at Houghton's residential campus, online, and in Buffalo and Utica. This includes 33 associate degrees, 201 bachelor's degrees, and 26 master's degrees. 48 members of the Class of 2022 completed double majors and 106 graduated with honors. They came from all over the globe, including Canada, Ethiopia, Ghana, India, Iran, Korea, Malawi, South Africa, Sudan, Thailand and the United States. The top majors for the undergraduate students were Biology, Psychology & Criminal Justice, Business & Economics, and Education.
Graduating senior, Hannah Heinl, presented this year's class gift: the official portrait of President Lewis that will be installed in the Luckey Memorial Hall. Painted by alumnus, Kyle Stevenson '96, the portrait officially joins the Houghton University art collection.
This year's co-valedictorians were Anna Kalivoda, Gavin Luckey, and Bryce William Preston. Kalivoda earned a Bachelor of Science from the Department of Biology, Luckey earned a Bachelor of Science from Biochemistry and Mathematics, while Preston earned a Bachelor of Arts from Communication and Psychology & Criminal Justice. Salutatorian, Jenna Lynn Bittinger, earned her Bachelor of Arts in Adolescence Education and Spanish.
Fearless Beginnings
This year's commencement marked the first for Lewis as president of Houghton. In his letter to the graduating class, Lewis reminded graduates that God has called and equipped each of them according to His purpose.
"Your Houghton education has prepared you to faithfully and fearlessly lead and serve in the various vocations and contexts God is calling you to. As you move into your next chapter, my prayer is that you continue to love and trust God with all your heart, all your soul, all your mind, and all your strength and that you seek opportunities to love and serve your brothers and sisters wherever and however you can."
Graduates of Houghton Buffalo and their families will gather next Saturday, May 21, for Houghton's first graduation celebration in Buffalo at Forbes Theater.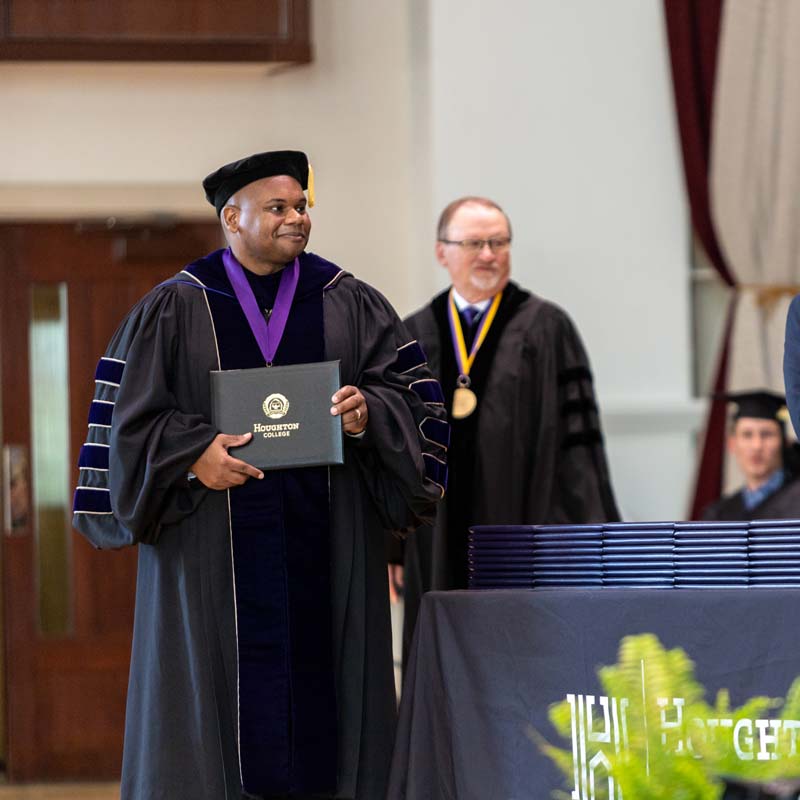 ---
Read More…
I have now had the privilege of working in education for over 20 years: in public schools; public higher education institutions; and private, Christ-centered postsecondary institutions. Across the various roles I have served in and the contexts in which I have served, I have had the privilege of loving, serving, supporting and encouraging untold numbers of students…
Read the President's Blog
---