Houghton University recently celebrated Dan '76 and Brenda (Cummings '75) Dix as Highlander Athletics dedicated the Nielsen Center court in their honor.
Dix Family Court recognizes Dan and Brenda's unwavering support for Houghton University and Highlander Athletics. They have been faithful supporters of the NCAA's student-athlete model and their engagement and generosity have been visibly evident in a variety of academic and athletic initiatives through the years. Most recently, they significantly grew the Athletics endowment fund and created/funded endowments for Women's Soccer, Men's Soccer, Men's Basketball and Biology/Chemistry, while also underwriting new bleachers in the Nielsen Center and paving around the Kerr-Pegula Athletic Complex.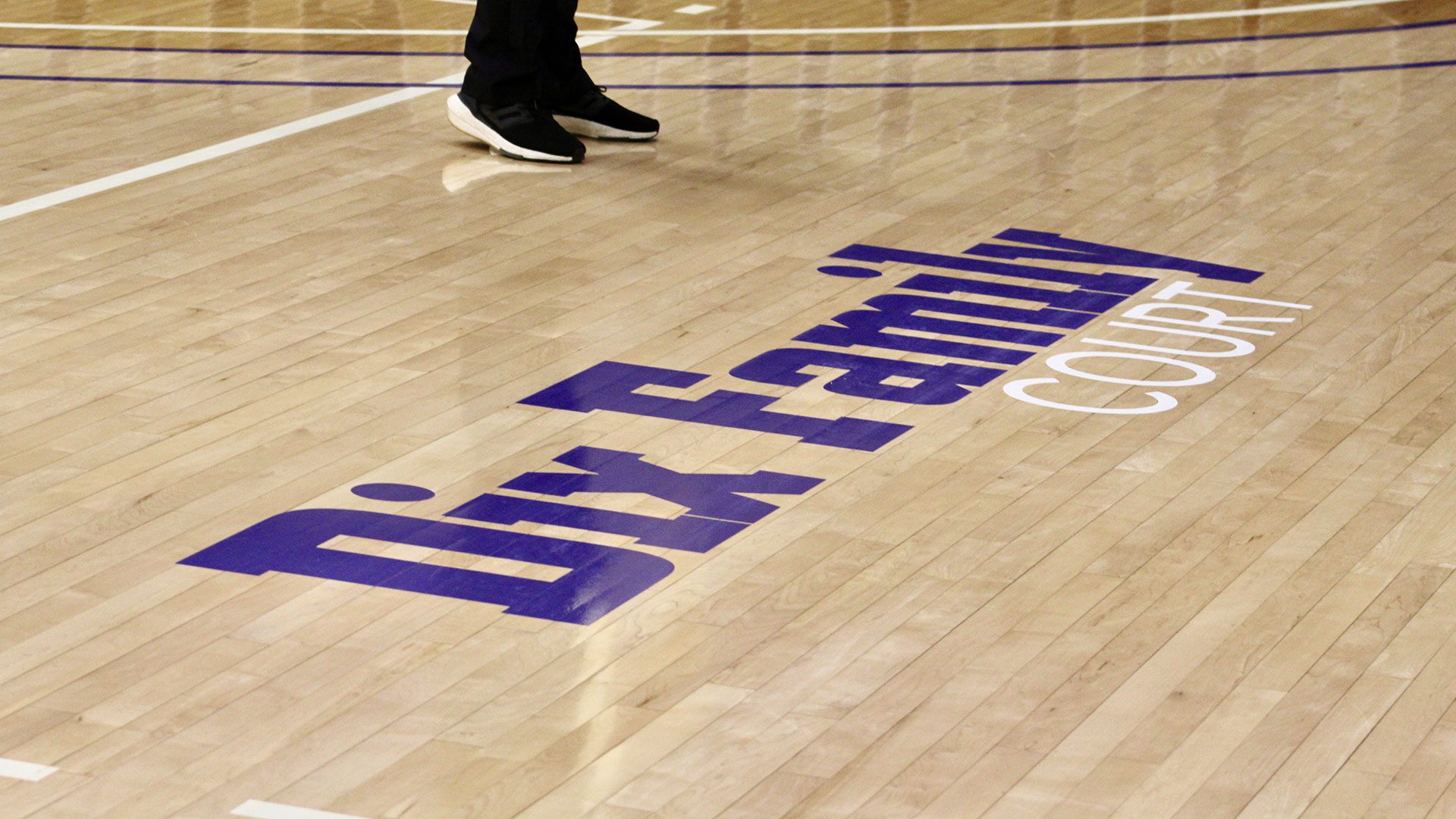 Along with supporting Highlander Athletics, the Dixes contributed to the Professor Robert Cummings Scholarship, a gift with deep personal significance to the couple. This endowed scholarship fund provides financial aid to students who demonstrate significant financial need and is named in honor of Brenda's father, a long-time Houghton professor of foreign languages. In addition to the support of student scholarships, the Dixes have also contributed to renovations to the Paine Center for Science and created an endowed fund to support the acquisition of equipment for Houghton's biochemistry program, Dan's college major.
The Cummings and Dix family have a long legacy in athletics. Brenda's mother, Marion (Thornton '47) Cummings, was a star athlete in the Purple/Gold era. Brenda's brother, Stephen Cummings '71, played on Houghton's first intercollegiate basketball team. All three Dix children, Rebecca '09 (Women's Soccer), David '11 (Men's Basketball) and Michael '13 (Men's Soccer), were intercollegiate athletes. Brenda, too, played varsity volleyball and basketball. Dan served as the Chair of the Athletics Advisory Board and was the 2016 Alumnus of the Year.
"We are extremely grateful for the generosity of Dan and Brenda Dix, and the entire family. The impact they have had in our community is evidenced in both our athletic and academic facilities, which have been the home both for Dan and Brenda as well as their children," said Houghton Director of Athletics Matthew Webb. "The facilities are wonderful, but the relationships with the family are priceless. Having had the opportunity to coach Mike in the soccer program, I had the pleasure of getting to know the Dixes better, and then even more so when Dan served on the Athletic Advisory Board in recent years. Dan and Brenda have been instrumental in helping us all strive toward Excellence for the Glory of God and naming the court in their honor is just one way we can publicly express our gratitude."
The family was honored during a ceremony at basketball games on January 29, which included the reveal of painted "Dix Family Court" graphics on the court.