On July 11, 2022, when President Wayne D. Lewis, Jr., announced that, following the approval of the New York State Board of Regents, Houghton College had officially become Houghton University, there was an atmosphere of celebration on campus. We had a birthday party for our founder, Willard J. Houghton, celebrating a step into a new future while reflecting back on the roots of our beloved institution.
While board members, faculty and staff were celebrating, however, for our alumni, students and friends there was an equal mixture of celebration and questioning.
Why would our nationally recognized college of the liberal arts and sciences become a university?
For many of us in the United States, "university" is a moniker that comes with rowdy football games, sororities and fraternities, and institutions of immense scope where students become a number instead of a name. Certainly, thought our alumni and friends, that is not the fearless path forward Houghton has chosen!
And – certainly – they are right! Houghton remains thoroughly committed to its historic mission of providing a Christ-centered, academically challenging education in the liberal arts and sciences to students from diverse traditions and economic backgrounds and equipping them to lead and labor as scholar-servants in a changing world. From the members of the board of trustees to our partners at The Wesleyan Church to our administration, faculty and staff, at every level of the Houghton community there has been a strong insistence that Houghton (whether Seminary, College or University) remain dedicated to our founding principles and vision.
Which returns us to why?
Reflecting the Diversity of God's Kingdom
Since 1883, Houghton has sought to serve those who have otherwise struggled to obtain an advanced education. Whether educating impoverished youth from rural communities where educational opportunities didn't exist, women in times when only men were perceived as college candidates, or minority students refused admission into most schools, Houghton has always desired a student body that reflects the diversity of God's Kingdom.
Today, for many of our international students, first-generation students and master's degree-seeking students, the word "college" suggests a junior or community college or even a less-rigorous education. This creates challenges for them, particularly as they return to their communities to seek employment. By changing our name to University, we lighten the burden on these students.
Continues Commitment to Academic Excellence
If you graduated from Houghton, or know someone who has, you know Houghton offers academically rigorous educational programs. In addition to our long-standing undergraduate programs, Houghton today offers graduate programs in three distinct fields, maintains multiple centers and institutes, and provides pathways to degrees in multiple geographic locations and online. All these features are commonly associated with exceptional academic universities, so, as Houghton continues to invest in these areas, the name Houghton University better reflects the variety of excellent educational opportunities we offer.
Embodying Our Competitive Advantage
Although Houghton is the Wesleyan Church's oldest established college, until now, we were the only one remaining not at university status. Additionally, as New York State definitions of "university" have changed, many of our main competitor institutions have recently changed to university status. By changing our name to Houghton University, we are better able to embody our distinctive advantage and the values of our sponsoring denomination.
In many ways, it isn't Houghton that has changed at all; it's the way words are used both in New York State and within the international community. As such, through this transition, Houghton has been and will remain an institution committed to our mission and vision, as we have for the last 140 years.
Our Christ-centered Mission
At the very heart of our mission is the Gospel. As a Christ-centered institution, our shared Christian faith unites our community of faculty, staff and students. It guides our decision-making and our daily work as we equip the next generation to become Christ-like leaders in a world that desperately needs them. Our faith in Jesus Christ serves as the keystone of Houghton University and the gateway to the Houghton experience.
---
Our Christ-centered mission is upheld by four pillars: excellence, growth, community and service. We choose to honor God by pursuing excellence in the classroom, in athletic competition, in our workplace, in our community and in our families. We dedicate ourselves to fulfilling God's plan for us by growing our knowledge, skills and understanding to achieve more than we can humanly imagine. We purposely pursue life in a close-knit community where we live, worship, learn and grow together. We strive to become scholar-servants, prepared with the knowledge and understanding to fearlessly serve God, his calling for our lives and the people around us.
Fearlessly Forward
In 1883, when Willard J. Houghton moved fearlessly forward, following the call God placed on his life to found an educational institution, Houghton Seminary was born. In 1923, under the leadership of President James S. Luckey, Houghton Seminary moved forward again, boldly becoming Houghton College under a provisional charter from New York State. Today, with the leadership of President Wayne D. Lewis, Jr., we're moving fearlessly forward into the next chapter by becoming Houghton University. Same God-ordained mission, brand new name!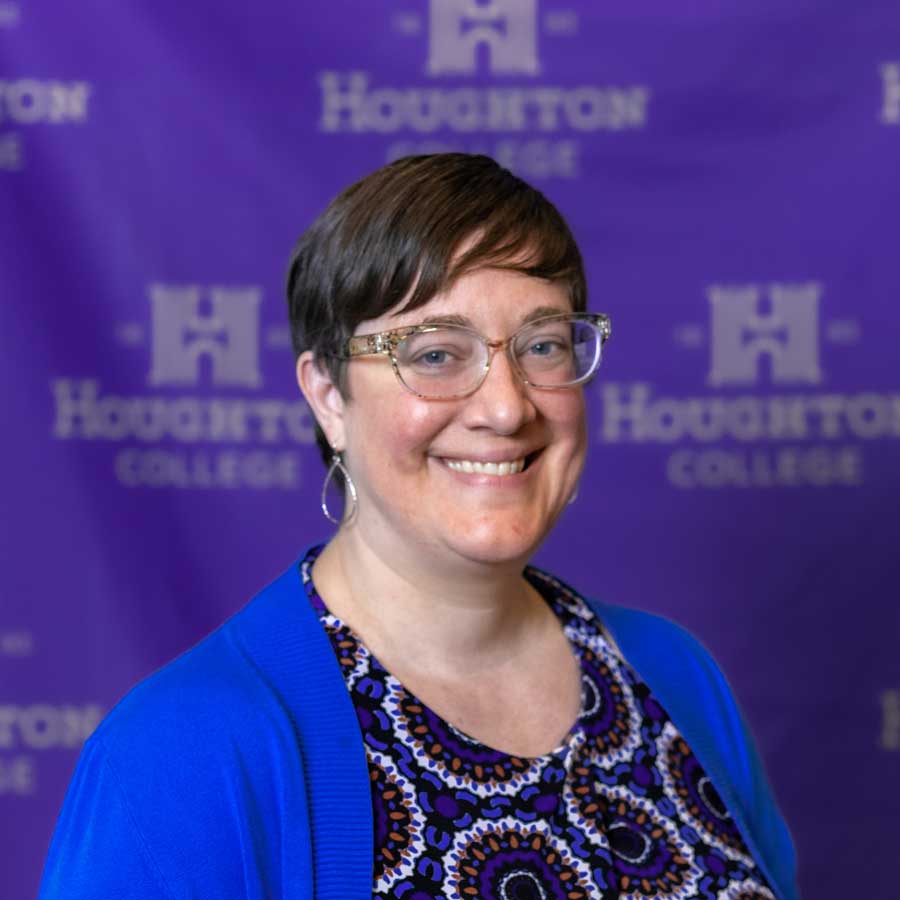 Amanda (Shine '05) Zambrano
Serves as editor of Houghton Magazine as well as Director of Advancement Communications at Houghton University.