When the 286th Combat Sustainment Support Battalion of the Maine Army National Guard deployed to Kandahar, Afghanistan, in 2009, each member took  a dog tag inscribed with Joshua 1:9: "Do not be frightened and do not be dismayed, for the Lord your God is with you wherever you go."
Those dog tags were a gift from the unit's chaplain and from their commanding officer, Diane (Meserve '88) Dunn. For Diane, that scripture carried a vital message she wanted those under her command to remember—and one she also needed to reflect on regularly.
A life in the military comes with a great deal of transition, uncertainty and opportunity for fearless beginnings on a routine basis. So, when Diane retired from the National Guard in October of 2021, she was prepared to face an unknown future with a faith developed throughout a lifetime of learning to trust God with composure and contentment.
Diane came to Houghton in the 1980s, intent on a college degree but with no idea how she was going to pay for it. With help from Troy Martin '83 in the Student Financial Services office, scholarship aid, work-study and participation in Houghton's Reserve Officers' Training Corps (ROTC) program, God made a way for Diane to finish her degree in psychology and pursue what has become a remarkable career.
It was her experience on the Highlander Wilderness Adventure—a program created for first-year students by Doris ˮMabelˮ (Garrett '71) Nielsen—that convinced Diane ROTC was the right fit for her. The skills she explored— team-building, bonding, testing herself transferred well to the life she would eventually lead in the National Guard. She learned to overcome challenges, to do things she didn't think she was capable of, to rely on the support of others, to trust in God's plan, and to apply leadership skills and mental health care skills to everyday life.
Diane tirelessly filled her college years in the classroom, on the basketball court under Coach Robert "Bob" Smalley '78, in the kitchen, in the Snack Shop under "Big" Al Rehn, and even babysitting for faculty and staff members like Dr. Paul and Debbie (Fero '76) Young '76. And, of course, the effort of service with ROTC—which took up regular weekends for training exercises—under the mentorship of Dr. Robert Danner, Vice President for Student Life.
Directly out of college, commissioned into the Maine Army National Guard, Diane took on work in the civilian sector for a community mental health agency. During her years in community health, Diane developed incredible skills, balancing her full-time job, raising a family and fulfilling her Guard requirements. Her plate was full, and when the opportunity came to combine the work she did in the civilian sector with a full-time military role, she took it.
Diane served full-time in the National Guard from 1997 until her retirement in the fall of 2021. At the time of her retirement, Diane held the rank of Brigadier General and was the first female general officer in the history of the Maine Army National Guard.
Her retirement brought a new opportunity for a fearless beginning for Diane. Today, the same as a decade ago when she was leading her unit in Afghanistan, Diane relies upon the wisdom found in Joshua 1:9—the truth that God is truly with her wherever she goes.
We don't have to be afraid; know for a fact that God is in control.
Diane needs that truth as she begins anew in the civilian world. Today, she serves as Special Advisor to the President at the University of Maine. Using all the skills she has developed over a lifetime of leadership, she is carrying forward a number of special projects. She's also adjusting to civilian life and the change in support structure from her time in the National Guard.
Over the last 15 years of her career, throughout her time in Afghanistan, Texas, Colorado and Maine, Diane developed a powerful connection with her Chaplain—who today serves as the State Chaplain for the Maine Army National Guard. As the only woman and as a leader, Diane often found she had no one in whom she could confide other than her Chaplain. He was, and remains, a faithful spiritual advisor and prayer support.
Diane is learning how to be a light in her current role. She's living out her Gospel calling in a completely different context, and she's realizing the continued need she has to surround herself with the support of a Christian community.
As Diane embarks on this new venture, she has some words of wisdom to share with others who are preparing to start their next fearless beginning. "Go big—fearlessly. Trust God, rely on your faith, and don't hesitate. Be at peace with the options God is presenting to you. Heed His call, and go for it with much prayer and faithfulness. We don't have to be afraid; know for a fact that God is in control. Know your job; do the best that you can. Be intentional, be present, and serve others. You're there for a reason."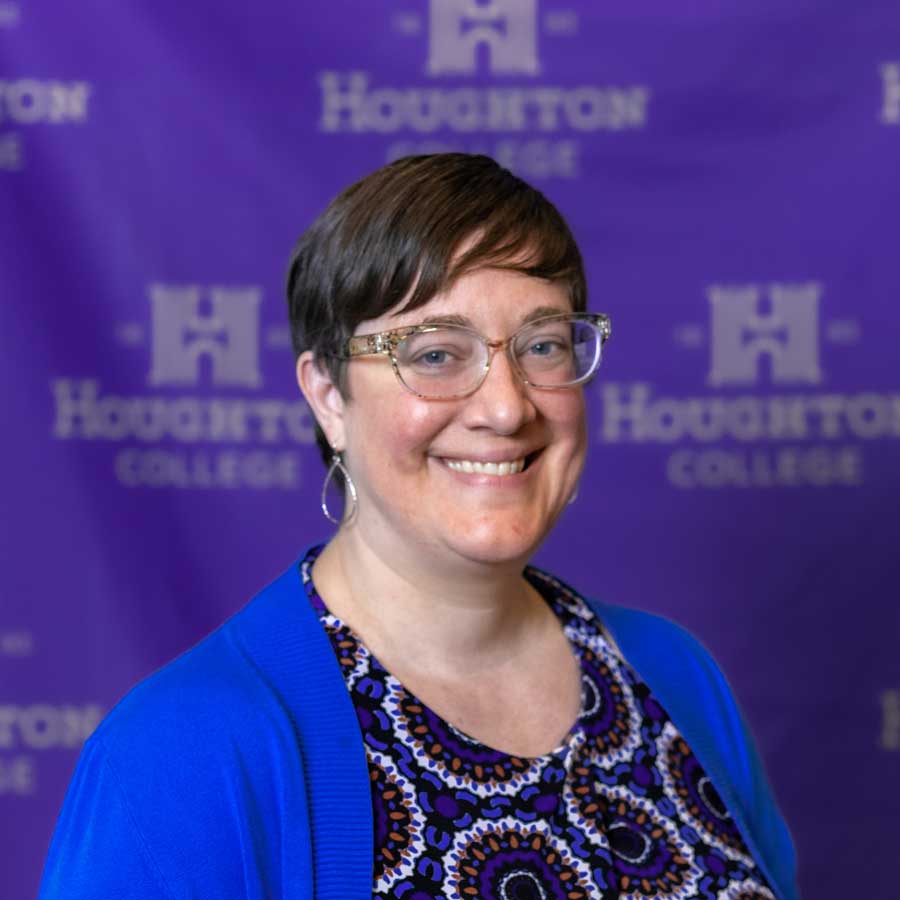 Amanda (Shine '05) Zambrano
is Grant Writer & Donor Communication Director for Houghton University's Office of Advancement and External Engagement.