Average Class Size
15 Students
Expert Faculty
12:1 Student-to-Faculty Ratio
  Best Priced Christian University in the Nation*
Houghton University responded to the financial challenges of COVID-19 by offering the best price for a high-quality, Christ-centered education in the nation, resetting tuition to the lowest level in 20 years.
Discover Houghton's Unmatched Tuition
*based on the most recent tuition survey by the Council of Christian Colleges and Universities
  Thriving Campus Community
For a school with just under 1,000 students, Houghton's student body is surprisingly diverse—and that is what makes our community life so special. Play an intercollegiate sport. Run for student government. Write for the campus newspaper. Perform in a music ensemble. Volunteer in the community. With so much to explore, you are bound to find something you love.
Explore Campus & Spiritual Life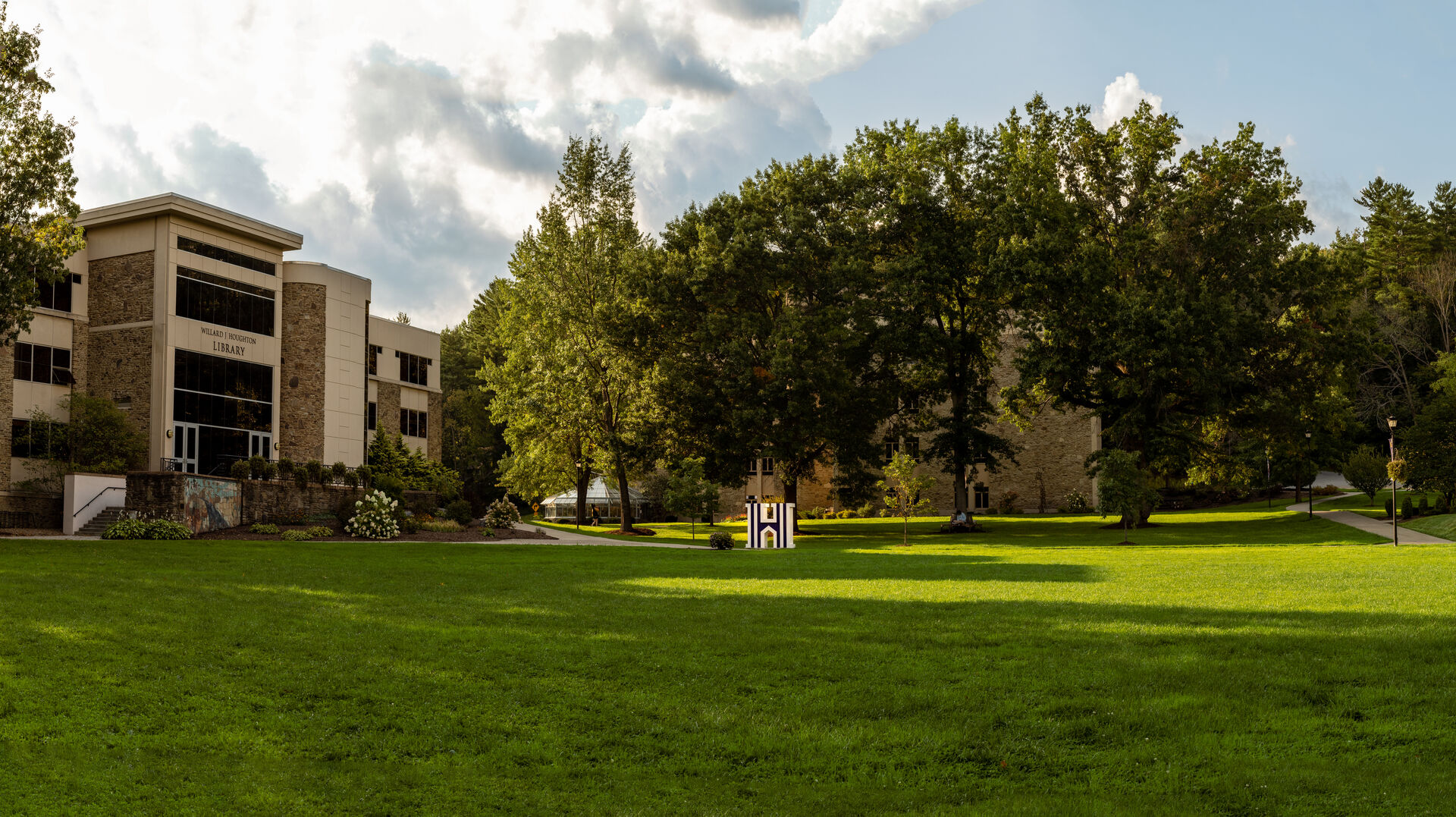 Connect with Your Admission Counselor
Find answers to all of your questions about Houghton University. Enter your zip code below to find your Admission Counselor. Our dedicated team would love to meet you!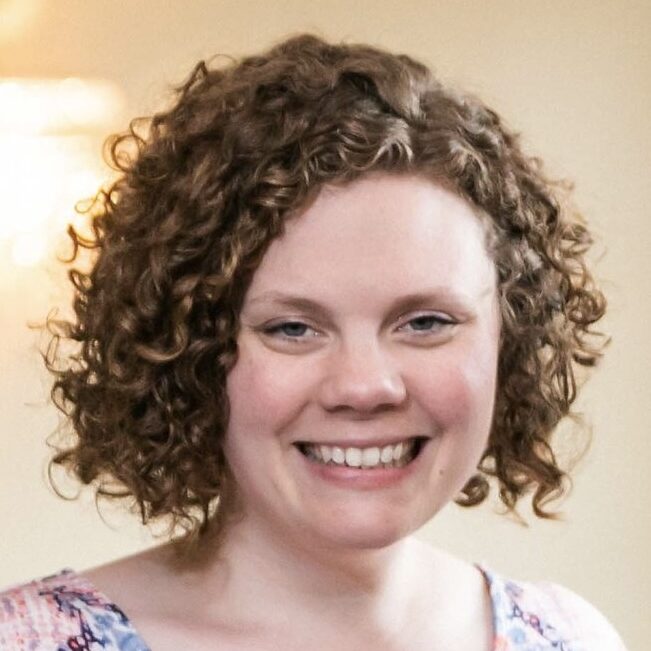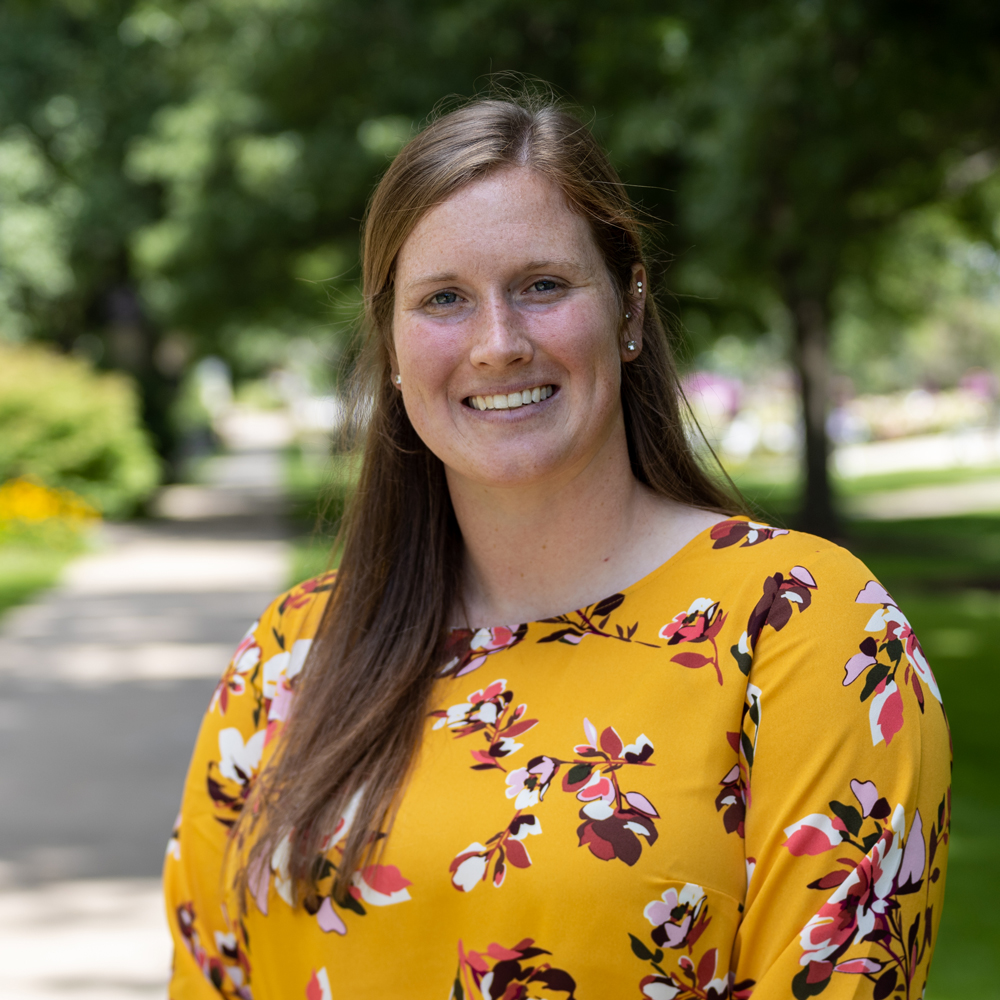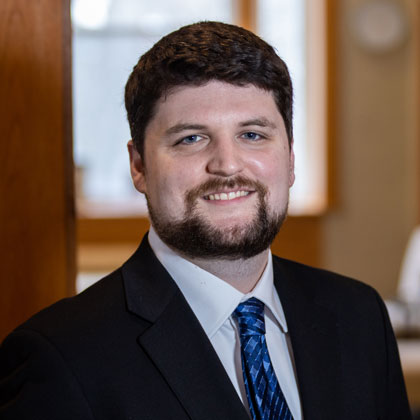 We may be coming to a city near you.
Let's Meet at a College Fair
Hear From Houghton Students
Visit Campus
Experience Houghton's 1,300+ acres in the scenic Genesee Valley.
Located in the hamlet of Houghton, NY, Houghton's residential campus sits on the Allegheny Plateau at roughly the 1,300-foot level, on the site of the former Caneadea Indian Reservation of the early 1800s. Fifteen miles to the north are the Genesee's magnificent Portage Falls and Letchworth State Park, voted the #1 State Park in the United States.
On all sides is the scenic beauty of the rolling hills and northern hardwood forests of Western New York State. Allegany County, with extensive state forest land, abundant wildlife, and cross-country and downhill ski trails, is rapidly developing into a leading recreation area of Western New York.
Schedule a Visit
Campus Map
Begin Your Journey at Houghton
What program fits you?
Find the program that fits your goals and schedule.
[{"title":"Writing Major","link":"https:\/\/www.houghton.edu\/houghton-ny\/majors-programs\/academics\/english-and-writing\/writing-major\/","keywords":"composition, prose, novelist, novel, writer, poet, story, book, writing, journalism, advertising, publishing, author, writing arts, literature, poetry, fiction, non-fiction, editor, communication specialist, technical writer, advocacy, freelance, blogging, blogger, magazine writer, reporting, content writer, editorial"},{"title":"Writing Center","link":"https:\/\/www.houghton.edu\/current-students\/center-for-student-success\/writing-center\/","keywords":"writing, writing center, writing support, writing help, writing process, outlining, drafting, revising, editing, papers, essay, academic support, academic success, student success"},{"title":"Worship Arts Major (BS)","link":"https:\/\/www.houghton.edu\/houghton-ny\/majors-programs\/academics\/music\/worship-arts\/","keywords":"music, musical, musician, worship, composition, composer, writing music, aria, concerto, composing, worship, worship arts, music technology, songwriting, theology, biblical studies"},{"title":"World Language Placement Test","link":"https:\/\/www.houghton.edu\/houghton-ny\/admission\/accepted-students\/new-students\/course-selection\/world-language-placement-test\/","keywords":"language, placement test"},{"title":"Women's Choir","link":"https:\/\/www.houghton.edu\/houghton-ny\/majors-programs\/academics\/music\/ensembles\/womens-choir\/","keywords":"women's choir, women choir, choir, ensemble"},{"title":"Wind Ensemble","link":"https:\/\/www.houghton.edu\/houghton-ny\/majors-programs\/academics\/music\/ensembles\/wind-ensemble\/","keywords":"wind ensemble, ensemble"},{"title":"What We Believe","link":"https:\/\/www.houghton.edu\/houghton-ny\/student-life\/spiritual-life\/what-we-believe\/","keywords":"beliefs, christian beliefs, biblical beliefs"},{"title":"Wellness Room","link":"https:\/\/www.houghton.edu\/current-students\/center-for-student-success\/counseling-services\/wellness-room\/","keywords":"Wellness, Wellness room, counseling"},{"title":"Volleyball Summer Camp","link":"https:\/\/www.houghton.edu\/houghton-ny\/majors-programs\/summer-at-houghton\/volleyball-camp\/","keywords":"volleyball, camp, summer"},{"title":"Visit Reimbursement","link":"https:\/\/www.houghton.edu\/houghton-ny\/visit\/reimbursements\/","keywords":"reimbursement, visit, visiting, shuttle to campus"},{"title":"Visit Campus","link":"https:\/\/www.houghton.edu\/houghton-ny\/visit\/","keywords":"visit, visiting, campus, tour, virtual event, v, vi,"},{"title":"Veterans Benefits","link":"https:\/\/www.houghton.edu\/military-resources\/veterans-benefits\/","keywords":"military benefits, military, army, rotc, veterans"},{"title":"Undergraduate Music Auditions","link":"https:\/\/www.houghton.edu\/houghton-ny\/majors-programs\/academics\/music\/undergraduate-music-auditions\/","keywords":"music auditions, audition"},{"title":"Types of Aid","link":"https:\/\/www.houghton.edu\/houghton-ny\/tuition-aid\/types-of-aid\/","keywords":"financial aid"},{"title":"Tuition & Aid\u2014Online","link":"https:\/\/www.houghton.edu\/undergraduate\/online\/tuition-aid\/","keywords":"tuition, online, price, cost, scholarship, financial aid, aid, award,"},{"title":"Tuition & Aid\u2014MBA","link":"https:\/\/www.houghton.edu\/graduate\/master-of-business-administration\/tuition-aid\/","keywords":"MBA, financial aid, tuition, loans"},{"title":"Tuition & Aid\u2014Houghton, NY","link":"https:\/\/www.houghton.edu\/houghton-ny\/tuition-aid\/","keywords":"tuition, reset, price, cost, scholarship, financial aid, aid, award,"},{"title":"Trips, Outings and Experiences","link":"https:\/\/www.houghton.edu\/houghton-ny\/student-life\/epic-adventures\/trips-outings-and-experiences\/","keywords":"EPIC adventures, outdoor trips, sunset paddle, kayaking, canoeing, hiking, camping, zipline"},{"title":"Transfer Students","link":"https:\/\/www.houghton.edu\/houghton-ny\/admission\/transfer-students\/","keywords":"transfer students, undergraduate, houghton, ny"},{"title":"Transcripts","link":"https:\/\/www.houghton.edu\/current-students\/registrar\/transcripts\/","keywords":"registrar"},{"title":"Townhouses","link":"https:\/\/www.houghton.edu\/current-students\/residence-life\/townhouses\/","keywords":"townhouse, townhouses, residence life, residence halls, living on campus"},{"title":"Title IX and Related Compliance: Safety and Equity at Houghton University","link":"https:\/\/www.houghton.edu\/current-students\/title-ix-and-related-compliance-safety-and-equity-at-houghton-college\/","keywords":"title IX, compliance, equity, policy, safety"},{"title":"Three-Year Option","link":"https:\/\/www.houghton.edu\/houghton-ny\/majors-programs\/three-year-option\/","keywords":"three-year option, 3 year option, early graduation, accelerated graduation"},{"title":"Theology Major","link":"https:\/\/www.houghton.edu\/houghton-ny\/majors-programs\/academics\/biblical-studies-theology-philosophy\/theology-major\/","keywords":"theology, ministry, biblical studies, bible, hermeneutics, seminary, God, pastor, interpretation, missionary, missions, youth ministry, sports ministry, religion"},{"title":"The Houghton Promise","link":"https:\/\/www.houghton.edu\/houghton-ny\/admission\/the-houghton-promise\/","keywords":"promise, houghton promise, guarantee, houghton guarantee, bonus year"},{"title":"The Highlanders Printing Press","link":"https:\/\/www.houghton.edu\/the-highlanders-printing-press\/","keywords":"Quick print"},{"title":"The Highlander Shop","link":"https:\/\/www.houghton.edu\/the-highlander-shop\/","keywords":"book store, campus store, textbooks, store, highlander shop, shop,"},{"title":"Textbooks","link":"https:\/\/www.houghton.edu\/houghton-ny\/admission\/accepted-students\/new-students\/course-selection\/textbooks\/","keywords":"books, bookstore, online bookstore"},{"title":"Testing Policy","link":"https:\/\/www.houghton.edu\/houghton-ny\/admission\/applying\/testing-policy\/","keywords":"testing policy, SAT, ACT, test free, test optional, standardized tests, admission, apply, applying"},{"title":"Tennis Summer Camp","link":"https:\/\/www.houghton.edu\/houghton-ny\/majors-programs\/summer-at-houghton\/tennis-camp\/","keywords":"tennis, camp, summer"},{"title":"Technology, Email & Student ID","link":"https:\/\/www.houghton.edu\/houghton-ny\/admission\/accepted-students\/new-students\/technology-email-student-id\/","keywords":"technology, computers, laptops, student ID, student email"},{"title":"Technology Services","link":"https:\/\/www.houghton.edu\/current-students\/technology-services\/","keywords":"helpdesk, telecom, computer support"},{"title":"Symphony Orchestra","link":"https:\/\/www.houghton.edu\/houghton-ny\/majors-programs\/academics\/music\/ensembles\/symphony-orchestra\/","keywords":"symphony orchestra, strings"},{"title":"Summer Research Internships","link":"https:\/\/www.houghton.edu\/houghton-ny\/majors-programs\/academics\/physics-computer-science-and-engineering\/summer-programs\/","keywords":"faculty research, student research, summer research, nanotechnology, nuclear, physics, artificial intelligence, AI, fusion, metrology, shannon summer institute"},{"title":"Summer Online Courses","link":"https:\/\/www.houghton.edu\/online\/online-courses\/summer-online-courses\/","keywords":"summer online, online courses, online course offerings, summer online courses, summer online course offerings, summer courses"},{"title":"Summer at Houghton","link":"https:\/\/www.houghton.edu\/houghton-ny\/majors-programs\/summer-at-houghton\/","keywords":"Camps, Athletic camps, Basketball camp, Soccer camp, Volleyball camp, Tennis camp, Equestrian camp, Summer camps, Children\u2019s camps, summer camp"},{"title":"Studio Art Major","link":"https:\/\/www.houghton.edu\/houghton-ny\/majors-programs\/academics\/art\/studio-art\/","keywords":"art, bfa, fine arts, studio, studio art, artist, fine artist, sculpting, sculptor, printer, printmaking, book making, ceramics, pottery, drawing, fiber, graphic design, designer, painting, painter, photography, photographer, art, drawing, painting, sculpture, 3d design, pottery, ceramics, lithography, photography, film, BFA, fine arts, studio, art history, 3d art, woodwork, carpentry, book arts, fiber arts, print making, illustrator, art teacher, art education, potter,"},{"title":"Student Research","link":"https:\/\/www.houghton.edu\/houghton-ny\/majors-programs\/academics\/physics-computer-science-and-engineering\/student-research\/","keywords":"physics research, project lab, shannon summer research institute, science honors, undergraduate research, physics"},{"title":"Student Research","link":"https:\/\/www.houghton.edu\/houghton-ny\/majors-programs\/academics\/mathematics\/student-research\/","keywords":"mathematics, math, research"},{"title":"Student Payroll","link":"https:\/\/www.houghton.edu\/current-students\/student-payroll\/","keywords":"student payroll, on-campus employment, campus jobs, student jobs, working on-campus, working, jobs"},{"title":"Student Life","link":"https:\/\/www.houghton.edu\/houghton-ny\/student-life\/","keywords":"campus life, student life, clubs, organization, sports, recreation, culture, arts"},{"title":"Student Health Services","link":"https:\/\/www.houghton.edu\/current-students\/student-health-services\/","keywords":"student health services, health, doctor, nurse, physician, doctor's office, physicals, health center"},{"title":"Student Engagement","link":"https:\/\/www.houghton.edu\/current-students\/student-engagement\/","keywords":"student life, campus life, clubs, clubs and organizations"},{"title":"Student Employment in Admission Office","link":"https:\/\/www.houghton.edu\/current-students\/student-payroll\/campus-employment\/admission-student-employment\/","keywords":"student employment, on-campus job, campus jobs, campus employment"},{"title":"Student Accounts Policies","link":"https:\/\/www.houghton.edu\/houghton-ny\/tuition-aid\/financial-aid-resources-and-faqs\/student-accounts-policies\/","keywords":"late fees, financial holds, appeal, appeals, refund policy"},{"title":"Sport, Recreation and Wellness Management Major","link":"https:\/\/www.houghton.edu\/houghton-ny\/majors-programs\/academics\/sport-recreation-wellness\/sport-recreation-and-wellness-management-major\/","keywords":"sports management, recreation management, sport, recreation, wellness, wellness management, fitness, recreation and wellness, coaching, athletic training, sports ministry, camp director, physical education, athletic administration, athletic director, AD, sports management,"},{"title":"Sport, Recreation & Wellness","link":"https:\/\/www.houghton.edu\/houghton-ny\/majors-programs\/academics\/sport-recreation-wellness\/","keywords":"sports, recreation, wellness, equestrian"},{"title":"Spiritual Life","link":"https:\/\/www.houghton.edu\/houghton-ny\/student-life\/spiritual-life\/","keywords":"chapel, spiritual life, faith, christian, bible, christianity, spiritual formation, formation, church, evangelical, evangelicalism"},{"title":"Special Admission Agreements","link":"https:\/\/www.houghton.edu\/houghton-ny\/majors-programs\/special-admission-agreements\/","keywords":"special admission, pre-health, chiropractic, nursing, pharmacy, dentistry, medicine"},{"title":"Solar Array","link":"https:\/\/www.houghton.edu\/about\/centers-and-institutes\/center-for-sustainability\/solar-array\/","keywords":"solar, solar energy solar array, clean energy, carbon neutral, green energy"},{"title":"Soccer Summer Camp","link":"https:\/\/www.houghton.edu\/houghton-ny\/majors-programs\/summer-at-houghton\/soccer-camp\/","keywords":"soccer camp, summer"},{"title":"Share Your Updates","link":"https:\/\/www.houghton.edu\/alumni\/share-your-updates\/","keywords":"alumni, alumnus, alumna, alum, update, news"},{"title":"Share Your Feedback","link":"https:\/\/www.houghton.edu\/share-your-feedback\/","keywords":"search, feedback"},{"title":"Shannon Summer Research Institute","link":"https:\/\/www.houghton.edu\/about\/centers-and-institutes\/summer-research-institute\/","keywords":"summer research, shannon summer research institute,"},{"title":"Security and Fire Safety Information","link":"https:\/\/www.houghton.edu\/current-students\/safety-and-security\/security-and-fire-safety-information\/","keywords":"fire safety, security"},{"title":"Sculpture","link":"https:\/\/www.houghton.edu\/houghton-ny\/majors-programs\/academics\/art\/studio-art\/sculpture\/","keywords":"art, fine arts, studio, studio art, artist, fine artist, printer, BFA, art history, 3d art, art teacher, art education, sculpture, woodworking, metalwork, jewelry, art installation, 3D digital design, 3D printing, figure sculpture, stone carving, clay,"},{"title":"Science Honors","link":"https:\/\/www.houghton.edu\/houghton-ny\/majors-programs\/academics\/honors-at-houghton\/science-honors\/","keywords":"honors, science"},{"title":"Science & Math Colloquium","link":"https:\/\/www.houghton.edu\/houghton-ny\/majors-programs\/academics\/science-math-colloquium\/","keywords":"math, science, colloquium"},{"title":"Scholarships and Grants","link":"https:\/\/www.houghton.edu\/houghton-ny\/tuition-aid\/types-of-aid\/scholarships-and-grants\/","keywords":"scholarships, grants, financial aid"},{"title":"Rothenbuhler Hall","link":"https:\/\/www.houghton.edu\/current-students\/residence-life\/rothenbuhler-hall\/","keywords":"residence hall, housing, residence life, living on campus, rooms"},{"title":"Rights and Responsibilities of Financial Aid Recipients","link":"https:\/\/www.houghton.edu\/houghton-ny\/tuition-aid\/financial-aid-resources-and-faqs\/financial-aid-policies\/rights-and-responsibilities-of-financial-aid-recipients\/","keywords":"rights and responsibilities, financial aid, aid"},{"title":"Rhetorical Communication Concentration","link":"https:\/\/www.houghton.edu\/houghton-ny\/majors-programs\/academics\/communication\/communication-major\/rhetorical-communication-concentration\/","keywords":"rhetorical communication, communications, public relations, journalism, broadcasting, government service, law, business, teaching, ministry"},{"title":"Returning Students","link":"https:\/\/www.houghton.edu\/houghton-ny\/admission\/accepted-students\/new-students\/returning-students\/","keywords":"returning students, admission, undergraduate"},{"title":"Resources and Scholarship Information","link":"https:\/\/www.houghton.edu\/houghton-ny\/majors-programs\/off-campus-studies\/resources-and-scholarship-information\/","keywords":"scholarships off-campus study, scholarships off-campus studies"},{"title":"Residency\u2014MBA","link":"https:\/\/www.houghton.edu\/graduate\/master-of-business-administration\/residency-mba\/","keywords":"MBA, residency, graduate, masters"},{"title":"Residence Life & Housing","link":"https:\/\/www.houghton.edu\/current-students\/residence-life\/","keywords":"housing, meal plans, mayterm, room draw, dorm, living on campus, residence halls, dining, resident hall"},{"title":"Request Information","link":"https:\/\/www.houghton.edu\/houghton-ny\/admission\/request-information\/","keywords":"rfi, request for information, request information, info form"},{"title":"Request Info","link":"https:\/\/www.houghton.edu\/request-info\/","keywords":"info, information, request, get info, learn more,"},{"title":"Request a Tech Team","link":"https:\/\/www.houghton.edu\/houghton-ny\/majors-programs\/academics\/music\/contact-the-school-of-music\/request-a-tech-team\/","keywords":"tech team, audio, visual, projector, lighting"},{"title":"Replacement Diploma","link":"https:\/\/www.houghton.edu\/current-students\/registrar\/replacement-diploma\/","keywords":"diploma, replacement"},{"title":"Religion & Global Service","link":"https:\/\/www.houghton.edu\/houghton-ny\/majors-programs\/academics\/biblical-studies-theology-philosophy\/","keywords":"biblical studies, bible, environmental studies, intercultural studies, international development, theology"},{"title":"Recycling and Composting","link":"https:\/\/www.houghton.edu\/about\/centers-and-institutes\/center-for-sustainability\/recycling-and-composting\/","keywords":"recycling, composting, sustainability"},{"title":"Recital Hall Reservation","link":"https:\/\/www.houghton.edu\/houghton-ny\/majors-programs\/academics\/music\/contact-the-school-of-music\/recital-hall-reservation\/","keywords":"recital hall, reserve, reservation"},{"title":"Psychology Major","link":"https:\/\/www.houghton.edu\/houghton-ny\/majors-programs\/academics\/psychology-criminal-justice\/psychology-major\/","keywords":"psychology, counseling, psychologist, counselor, psychiatrist, psychiatry, mental health, neuroscience, clinical, diversity,"},{"title":"Psychology Internships","link":"https:\/\/www.houghton.edu\/houghton-ny\/majors-programs\/academics\/psychology-criminal-justice\/psychology-internships\/","keywords":"psychology interships"},{"title":"Psychology & Criminal Justice","link":"https:\/\/www.houghton.edu\/houghton-ny\/majors-programs\/academics\/psychology-criminal-justice\/","keywords":"criminal justice, law, enforcement, law enforcement, justice, cop, corrections, pre-law, lawyer, attorney, public defender, officer, psychology, sociology, family studies, social work"},{"title":"Psychology","link":"https:\/\/www.houghton.edu\/undergraduate\/online\/programs\/psychology\/","keywords":"psychology, counseling, psychologist, counselor, psychiatrist, psychiatry, mental health, online psychology"},{"title":"Printmaking, Fiber Studies, and Book Arts","link":"https:\/\/www.houghton.edu\/houghton-ny\/majors-programs\/academics\/art\/studio-art\/printmaking-fiber-studies-and-book-art\/","keywords":"art, fine arts, studio, studio art, artist, fine artist, printer, printmaking, book making, fiber, art, lithography, screen printing, etching, intaglio, BFA, art history, 3d art, book arts, fiber arts, art teacher, art education"},{"title":"Presidential Inauguration","link":"https:\/\/www.houghton.edu\/about\/president\/presidential-transition\/","keywords":"president lewis, inauguration"},{"title":"President's Advisory Board","link":"https:\/\/www.houghton.edu\/about\/president\/presidents-advisory-board\/","keywords":"president, advisory board"},{"title":"President","link":"https:\/\/www.houghton.edu\/about\/president\/","keywords":"president, lewis, wayne"},{"title":"Pre-Veterinary","link":"https:\/\/www.houghton.edu\/houghton-ny\/majors-programs\/academics\/pre-health-professions\/pre-veterinary\/","keywords":"veterinarian, veterinary, pre-veterinary, dog, cat, horse, equestrian, bird, animal, zoology, medicine, pre-health, healthcare, health, paraveterinary,"},{"title":"Pre-Physical Therapy","link":"https:\/\/www.houghton.edu\/houghton-ny\/majors-programs\/academics\/pre-health-professions\/pre-physical-therapy\/","keywords":"physical therapy, pt, pre-pt, pre-physical therapy, therapy, medicine, pre-health, healthcare, health, rehab, rehabilitate,"},{"title":"Pre-Pharmacy","link":"https:\/\/www.houghton.edu\/houghton-ny\/majors-programs\/academics\/pre-health-professions\/pre-pharmacy\/","keywords":"pharmacy, pre-pharmacy, pharmaceutical, pharmacist, prescription, medicine, pre-health, healthcare, health, rx,"},{"title":"Pre-Nursing","link":"https:\/\/www.houghton.edu\/houghton-ny\/majors-programs\/academics\/pre-health-professions\/pre-nursing\/","keywords":"nurse, nursing, pre-nursing, medicine, healthcare, health, RN, medical, BSN, registered nurse"},{"title":"Pre-Med Requirements","link":"https:\/\/www.houghton.edu\/houghton-ny\/majors-programs\/academics\/pre-health-professions\/pre-med\/pre-med-requirements\/","keywords":"pre-med requirements, pre-med, medical school"},{"title":"Pre-Med","link":"https:\/\/www.houghton.edu\/houghton-ny\/majors-programs\/academics\/pre-health-professions\/pre-med\/","keywords":"medicine, pre-medicine, doctor, m.d., md, medical doctor, pre-health, healthcare, health, osteopathic, pre-med,"},{"title":"Pre-Law","link":"https:\/\/www.houghton.edu\/houghton-ny\/majors-programs\/academics\/history-political-science\/pre-law\/","keywords":"pre-law, law, lawyer, judge, judicial, justice,"},{"title":"Pre-Health Professions","link":"https:\/\/www.houghton.edu\/houghton-ny\/majors-programs\/academics\/pre-health-professions\/","keywords":"pre-health, pre-med-, pre-vet, veterinary, pre-nursing, nursing, pre-pharmacy, pre-physical therapy"},{"title":"Pre-Art Therapy","link":"https:\/\/www.houghton.edu\/houghton-ny\/majors-programs\/academics\/psychology-criminal-justice\/pre-art-therapy\/","keywords":"art therapy, art, therapy, counseling, psychology, mental health"},{"title":"Political Science Major","link":"https:\/\/www.houghton.edu\/houghton-ny\/majors-programs\/academics\/history-political-science\/political-science-major\/","keywords":"political science, politics, government, law, legislation, legislature, lawyer, attorney, pre-law,"},{"title":"Policies and Procedures","link":"https:\/\/www.houghton.edu\/current-students\/safety-and-security\/policies-and-procedures\/","keywords":"safety, security, policies, procedures, crime, crime statistics"},{"title":"Physics, Computer Science and Engineering Laboratories & Equipment","link":"https:\/\/www.houghton.edu\/houghton-ny\/majors-programs\/academics\/physics-computer-science-and-engineering\/physics-and-engineering-facilities-equipment\/","keywords":"engineering, physics, lab, facilities, equipment"},{"title":"Physics, Computer Science and Engineering","link":"https:\/\/www.houghton.edu\/houghton-ny\/majors-programs\/academics\/physics-computer-science-and-engineering\/","keywords":"computer science, data science, physics, engineering"},{"title":"Physics Major","link":"https:\/\/www.houghton.edu\/houghton-ny\/majors-programs\/academics\/physics-computer-science-and-engineering\/physics-major\/","keywords":"physics, research scientist, engineering, energy, technology, physical science, teacher, researcher, R&D, development, research and development, engineer, programmer, developer, accelerator operator, engineering design"},{"title":"Photography","link":"https:\/\/www.houghton.edu\/houghton-ny\/majors-programs\/academics\/art\/studio-art\/photography\/","keywords":"art, fine arts, studio, studio art, artist, fine artist, BFA, art history, photography, lighting, moving image, darkroom, visual communication, visual culture, photo, digital photography, travel photography, commercial photography, photographer art teacher, art education"},{"title":"Philosophy Major","link":"https:\/\/www.houghton.edu\/houghton-ny\/majors-programs\/academics\/history-political-science\/philosophy-major\/","keywords":"philosophy, classics, philosopher, politics, economics"},{"title":"Personal Essay","link":"https:\/\/www.houghton.edu\/houghton-ny\/admission\/applying\/personal-essay\/","keywords":"personal essay, statement, applying, application"},{"title":"Performance, M.M.","link":"https:\/\/www.houghton.edu\/graduate\/music\/programs\/performance-m-m\/","keywords":"music, musical, worship, lesson, audition, choir, chorus, band, wind ensemble, orchestra, symphony, strings, brass, woodwind, percussion, drums, voice, piano, organ, guitar, flute, clarinet, saxophone, oboe, bassoon, trumpet, horn, trombone, euphonium, baritone, tuba, drums, violin, viola, cello, bass, soprano, alto, tenor, performance, collaborative piano, jazz, A cappella, performances, concert, aria, concerto competition, recital, harpsichord, music theory, music history, global music, world music, master's in music, music master's, graduate music,"},{"title":"Paying Your Bill","link":"https:\/\/www.houghton.edu\/houghton-ny\/tuition-aid\/paying-your-bill\/","keywords":"bill, pay, new students, financial services"},{"title":"Partners","link":"https:\/\/www.houghton.edu\/partners\/","keywords":"early college, dual enrollment, Christian partner network, high schools, private schools, college prep"},{"title":"Parking Ticket Appeal","link":"https:\/\/www.houghton.edu\/current-students\/safety-and-security\/parking-permit-information\/parking-ticket-appeal\/","keywords":"parking, permit, registration, appeal, safety, security"},{"title":"Parking Permit Registration","link":"https:\/\/www.houghton.edu\/current-students\/safety-and-security\/parking-permit-information\/parking-permit-registration\/","keywords":"parking, registration, permit"},{"title":"Parking Permit Information","link":"https:\/\/www.houghton.edu\/current-students\/safety-and-security\/parking-permit-information\/","keywords":"parking, permit, registration, appeal"},{"title":"Parents & Families","link":"https:\/\/www.houghton.edu\/parents-families\/","keywords":"parents, family, resource, guardians"},{"title":"Painting","link":"https:\/\/www.houghton.edu\/houghton-ny\/majors-programs\/academics\/art\/studio-art\/painting\/","keywords":"BFA, studio art, art, painting, oil painting, acrylic painting, mixed media, watercolor, pastel, drawing, art education"},{"title":"Packing List and Residence Hall Supplies","link":"https:\/\/www.houghton.edu\/houghton-ny\/admission\/accepted-students\/new-students\/new-student-orientation-and-information\/packing-list-and-residence-hall-supplies\/","keywords":"packing list, residence life, dorm, living on campus, gillette, lambein, rothenbuhler, roommate"},{"title":"Other Opportunities","link":"https:\/\/www.houghton.edu\/houghton-ny\/majors-programs\/off-campus-studies\/other-opportunities\/","keywords":"off campus, abroad"},{"title":"Ortlip Gallery","link":"https:\/\/www.houghton.edu\/houghton-ny\/majors-programs\/academics\/art\/ortlip-gallery\/","keywords":"ortlip gallery, art, gallery, contemporary art, artists, art show"},{"title":"Organizational Management Major","link":"https:\/\/www.houghton.edu\/houghton-ny\/majors-programs\/academics\/business\/organizational-management-major\/","keywords":"business, management, leadership, organization, project management"},{"title":"Organizational Management","link":"https:\/\/www.houghton.edu\/undergraduate\/online\/programs\/organizational-management\/","keywords":"business, management, leadership, organization, online business, systems, HRIS, employee relations,"},{"title":"Online\u2014Undergraduate","link":"https:\/\/www.houghton.edu\/undergraduate\/online\/","keywords":"degree completion, bachelors completion, adult, professional, evening class,"},{"title":"Online\u2014Undergraduate","link":"https:\/\/www.houghton.edu\/lp-onl-f22\/","keywords":"degree completion, bachelors completion, adult, professional, evening class,"},{"title":"Online MSED","link":"https:\/\/www.houghton.edu\/lp-msed-f22\/","keywords":"MSED, literacy, online, grad, graduate, teaching, teacher"},{"title":"Online Courses","link":"https:\/\/www.houghton.edu\/online\/online-courses\/","keywords":"online, online courses, online course offerings"},{"title":"Online","link":"https:\/\/www.houghton.edu\/online\/","keywords":"online, graduate, adult, professional, online degrees, online programs,"},{"title":"Office of Vocation and Calling","link":"https:\/\/www.houghton.edu\/current-students\/center-for-student-success\/office-of-vocation-and-calling\/","keywords":"vocation and calling, career services, career development, job search, internships"},{"title":"Off-Campus Studies","link":"https:\/\/www.houghton.edu\/houghton-ny\/majors-programs\/off-campus-studies\/","keywords":"off campus, study abroad, abroad, international, travel, semester abroad, mayterm,"},{"title":"New York State Aid","link":"https:\/\/www.houghton.edu\/houghton-ny\/tuition-aid\/types-of-aid\/new-york-state-aid\/","keywords":"financial aid, new york state aid, nys, ny, scholarships, grants"},{"title":"New Students","link":"https:\/\/www.houghton.edu\/houghton-ny\/admission\/accepted-students\/new-students\/","keywords":"new students, checklist, verification, accepted students"},{"title":"New Student Orientation and Information","link":"https:\/\/www.houghton.edu\/houghton-ny\/admission\/accepted-students\/new-students\/new-student-orientation-and-information\/","keywords":"move in, arrival, orientation"},{"title":"Neuroscience Major","link":"https:\/\/www.houghton.edu\/houghton-ny\/majors-programs\/academics\/biology\/neuroscience-major\/","keywords":"neuroscience, science, biology, psychology, natural sciences, social sciences, labs"},{"title":"National Recognition","link":"https:\/\/www.houghton.edu\/about\/national-recognition\/","keywords":"recognitions, ranking, us news, best college"},{"title":"National Association for Music Education","link":"https:\/\/www.houghton.edu\/houghton-ny\/majors-programs\/academics\/music\/nafme\/","keywords":"nafme, national association, music"},{"title":"Music, M.A.","link":"https:\/\/www.houghton.edu\/graduate\/music\/programs\/music-m-a\/","keywords":"music, musical, worship, lesson, audition, music theory, music history, global music, world music, master's in music, music master's, graduate music,"},{"title":"Music with Non-Music Elective Studies Major (BMus)","link":"https:\/\/www.houghton.edu\/houghton-ny\/majors-programs\/academics\/music\/music-with-non-music-elective-studies-major-bmus\/","keywords":"music, musical, worship, lesson, audition, music theory, music history, global music, world music,"},{"title":"Music Student Handbook","link":"https:\/\/www.houghton.edu\/houghton-ny\/majors-programs\/academics\/music\/music-student-handbook\/","keywords":"music students, handbook"},{"title":"Music Performance Major (BMus)","link":"https:\/\/www.houghton.edu\/houghton-ny\/majors-programs\/academics\/music\/music-performance-major-bmus\/","keywords":"music, music performance, musical, worship, lesson, audition, choir, chorus, band, wind ensemble, orchestra, symphony, strings, brass, woodwind, percussion, drums, voice, piano, organ, guitar, flute, clarinet, saxophone, oboe, bassoon, trumpet, horn, trombone, euphonium, baritone, tuba, drums, violin, viola, cello, bass, soprano, alto, tenor, performance, collaborative piano, jazz, A cappella, performances, concert, aria, concerto competition, recital, harpsichord,"},{"title":"Music Major (BA)","link":"https:\/\/www.houghton.edu\/houghton-ny\/majors-programs\/academics\/music\/music-major-ba\/","keywords":"music, musical, worship, lesson, audition, music theory, music history, global music, world music,"},{"title":"Music Industry Major (BS)","link":"https:\/\/www.houghton.edu\/houghton-ny\/majors-programs\/academics\/music\/music-industry-bs\/","keywords":"music, musical, worship, lesson, audition, music industry, film music, recording studio, studio, recording artist, album, recording, production, management, broadcast, sound, tour manager, Nashville"},{"title":"Music Facilities & Equipment","link":"https:\/\/www.houghton.edu\/houghton-ny\/majors-programs\/academics\/music\/music-student-handbook\/music-facilities-equipment\/","keywords":"music facilities, instruments"},{"title":"Music Education Major (BMus)","link":"https:\/\/www.houghton.edu\/houghton-ny\/majors-programs\/academics\/music\/music-education-major-bmus\/","keywords":"music, musical, worship, lesson, audition, music education, music pedagogy, teaching music, music teacher, teacher, choir teacher, band teacher, choir, band, orchestra"},{"title":"Music Composition Major (BMus)","link":"https:\/\/www.houghton.edu\/houghton-ny\/majors-programs\/academics\/music\/music-composition-major-bmus\/","keywords":"music, musical, worship, composition, composer, writing music, aria, concerto, film music, lesson, audition, film-scoring, orchestrating, publishing, music administration, composing"},{"title":"Music","link":"https:\/\/www.houghton.edu\/graduate\/music\/","keywords":"graduate, music, grad"},{"title":"Music","link":"https:\/\/www.houghton.edu\/houghton-ny\/majors-programs\/academics\/music\/","keywords":"school of music, greatbatch, Presidential Scholarship, NASM,"},{"title":"Minors","link":"https:\/\/www.houghton.edu\/current-students\/registrar\/houghton-ny-undergraduate-students\/academic-information\/minors\/","keywords":"registrar"},{"title":"Military Resources","link":"https:\/\/www.houghton.edu\/military-resources\/","keywords":"military resources, military friendly"},{"title":"Men's Choir","link":"https:\/\/www.houghton.edu\/houghton-ny\/majors-programs\/academics\/music\/ensembles\/mens-choir\/","keywords":"men's choir, choir, singing"},{"title":"Media Arts & Visual Communication Concentration","link":"https:\/\/www.houghton.edu\/houghton-ny\/majors-programs\/academics\/communication\/communication-major\/media-arts-visual-communication-concentration\/","keywords":"media arts, communication, communications, visual communication, digital arts, animation, graphic design, photography"},{"title":"Mayterm in Europe","link":"https:\/\/www.houghton.edu\/houghton-ny\/majors-programs\/academics\/art\/mayterm-in-europe\/","keywords":"art, mayterm, europe, travel, museums, abroad"},{"title":"Mathematics Major","link":"https:\/\/www.houghton.edu\/houghton-ny\/majors-programs\/academics\/mathematics\/mathematics-major\/","keywords":"math, mathematics, mathematician, statistics, statistician, actuary, actuarial, calculus, analyst, problem solving, data science,"},{"title":"Mathematics","link":"https:\/\/www.houghton.edu\/houghton-ny\/majors-programs\/academics\/mathematics\/","keywords":"mathematics, math"},{"title":"Master of Business Administration","link":"https:\/\/www.houghton.edu\/graduate\/master-of-business-administration\/","keywords":"master of business administration, mba, business, finance, leadership, management, ceo, cfo, cmo, executive,"},{"title":"Majors & Programs","link":"https:\/\/www.houghton.edu\/houghton-ny\/majors-programs\/","keywords":"majors, programs, degrees, undergraduate, academics"},{"title":"Lyric Theatre","link":"https:\/\/www.houghton.edu\/houghton-ny\/majors-programs\/academics\/music\/lyric-theatre\/","keywords":"lyric theatre, theatre, performance, acting, singing, dancing, stage"},{"title":"Loans","link":"https:\/\/www.houghton.edu\/houghton-ny\/tuition-aid\/types-of-aid\/loans\/","keywords":"loans, financial aid"},{"title":"Loans","link":"https:\/\/www.houghton.edu\/houghton-ny\/tuition-aid\/paying-your-bill\/loans\/","keywords":"federal direct loans, federal perkins loan, federal PLUS loan, private loan, private loans, preferred lenders"},{"title":"Literacy Education, MSEd","link":"https:\/\/www.houghton.edu\/graduate\/literacy-education\/","keywords":"literacy, education, teacher, professional teacher certification, professional certification, certification, reading, educator, master's of education, master of education, m.ed.,"},{"title":"Library","link":"https:\/\/www.houghton.edu\/library\/","keywords":"library"},{"title":"Lambein Hall","link":"https:\/\/www.houghton.edu\/current-students\/residence-life\/lambein-hall\/","keywords":"residence hall, housing, residence life, living on campus, rooms"},{"title":"Jazz Ensemble","link":"https:\/\/www.houghton.edu\/houghton-ny\/majors-programs\/academics\/music\/ensembles\/houghton-jazz\/","keywords":"jazz, ensemble, ensembles, big band"},{"title":"James S. Luckey Society","link":"https:\/\/www.houghton.edu\/giving\/giving-societies\/james-s-luckey-society\/","keywords":"james luckey, luckey, giving, giving society"},{"title":"Internships","link":"https:\/\/www.houghton.edu\/current-students\/center-for-student-success\/office-of-vocation-and-calling\/internships\/","keywords":"internships, internship, office of vocation and calling, voca"},{"title":"International Students, MKs and TCKS","link":"https:\/\/www.houghton.edu\/houghton-ny\/admission\/mks-tcks-and-internationals\/","keywords":"international students, admission, applying, enrollment, undergrad, houghton, ny"},{"title":"International Payments","link":"https:\/\/www.houghton.edu\/houghton-ny\/tuition-aid\/paying-your-bill\/international-payments\/","keywords":"international, tuition, paying tuition, flywire"},{"title":"International Business Institute","link":"https:\/\/www.houghton.edu\/houghton-ny\/majors-programs\/academics\/business\/international-business-institute\/","keywords":"international business, overseas program, off-campus, abroad"},{"title":"Intercultural Studies Major","link":"https:\/\/www.houghton.edu\/houghton-ny\/majors-programs\/academics\/biblical-studies-theology-philosophy\/intercultural-studies-major\/","keywords":"intercultural studies, global studies, diversity, non-profit, nonprofit, social work, missionary, missions, social worker, overseas work, study abroad,"},{"title":"Integrated Marketing Communication Concentration","link":"https:\/\/www.houghton.edu\/houghton-ny\/majors-programs\/academics\/communication\/communication-major\/integrated-marketing-communication-concentration\/","keywords":"integrated marketing, communication, concentration, communication, communications"},{"title":"Instrumental Ensemble Auditions","link":"https:\/\/www.houghton.edu\/houghton-ny\/majors-programs\/academics\/music\/ensembles\/instrumental-ensemble-auditions\/","keywords":"auditions, ensemble, music"},{"title":"Inclusive Childhood Education Major","link":"https:\/\/www.houghton.edu\/houghton-ny\/majors-programs\/academics\/education\/inclusive-childhood-education-major\/","keywords":"inclusive childhood, education, teacher, elementary, childhood education, special education, SPED, educator"},{"title":"Inclusive Adolescence Education Major","link":"https:\/\/www.houghton.edu\/houghton-ny\/majors-programs\/academics\/education\/inclusive-adolescence-education-major\/","keywords":"inclusive adolescence, education, teacher, teaching, certification, high school, SPED, educator, education"},{"title":"Impact and Outcome Measures","link":"https:\/\/www.houghton.edu\/houghton-ny\/majors-programs\/academics\/education\/impact-and-outcome-measures\/","keywords":"teaching program, education program, impact and outcome measures, teacher education program"},{"title":"Human Resources Management Major","link":"https:\/\/www.houghton.edu\/houghton-ny\/majors-programs\/academics\/business\/human-resources-management-major\/","keywords":"human resources, hr, business, labor law, personnel management, diversity consultant, consulting, employee relations, manager, industrial relations, labor policy analyst, non-profit, recruiter, staff coordinator, union organizer, payroll coordinator, compensation & benefits manager, compliance officer"},{"title":"Houghton's Opportunities","link":"https:\/\/www.houghton.edu\/houghton-ny\/majors-programs\/off-campus-studies\/houghtons-opportunities\/","keywords":"off-campus studies, abroad, london honors, highlander wilderness, mayterm"},{"title":"Houghton's 4+1 Program","link":"https:\/\/www.houghton.edu\/graduate\/master-of-business-administration\/houghtons-41-program\/","keywords":"MBA, online MBA, 4+1, five year, early graduation, master's, business"},{"title":"Houghton, NY","link":"https:\/\/www.houghton.edu\/houghton-ny\/","keywords":"houghton, ny, campus, undergraduate, residential, liberal arts"},{"title":"Houghton University","link":"https:\/\/www.houghton.edu\/","keywords":"houghton university"},{"title":"Houghton Trail Map","link":"https:\/\/www.houghton.edu\/houghton-ny\/visit\/campus-map\/houghton-trail-map\/","keywords":"trails, trail, trail map, forest, woods"},{"title":"Houghton Magazine\u2014Fall 2021","link":"https:\/\/www.houghton.edu\/alumni\/houghton-magazine\/houghton-magazine-fall-2021\/","keywords":"magazine, alumni magazine"},{"title":"Houghton Magazine","link":"https:\/\/www.houghton.edu\/alumni\/houghton-magazine\/","keywords":"magazine, milieu, alumni magazine,"},{"title":"Houghton Consulting Group","link":"https:\/\/www.houghton.edu\/houghton-ny\/majors-programs\/academics\/business\/houghton-consulting-group\/","keywords":"houghton consulting group, business, marketing, financing, finances, business research"},{"title":"Houghton Choir","link":"https:\/\/www.houghton.edu\/houghton-ny\/majors-programs\/academics\/music\/ensembles\/houghton-choir\/","keywords":"choir, ensembles, ensemble"},{"title":"Honors in London","link":"https:\/\/www.houghton.edu\/houghton-ny\/majors-programs\/academics\/honors-at-houghton\/honors-in-london\/","keywords":"honors, london, study abroad, off-campus,"},{"title":"Honors at Houghton","link":"https:\/\/www.houghton.edu\/houghton-ny\/majors-programs\/academics\/honors-at-houghton\/","keywords":"honors, high academic, first-year, london, science"},{"title":"Homeschoolers","link":"https:\/\/www.houghton.edu\/houghton-ny\/admission\/homeschoolers\/","keywords":"homeschool, homeschoolers"},{"title":"History, Politics & Philosophy","link":"https:\/\/www.houghton.edu\/houghton-ny\/majors-programs\/academics\/history-political-science\/","keywords":"history, philosophy, political science, pre-law"},{"title":"History Major","link":"https:\/\/www.houghton.edu\/houghton-ny\/majors-programs\/academics\/history-political-science\/history-major\/","keywords":"history, adolescence, high school, museum, teacher, history teacher"},{"title":"History","link":"https:\/\/www.houghton.edu\/about\/history\/","keywords":"institution history, college history, university history"},{"title":"Highlander Wilderness Adventure Application","link":"https:\/\/www.houghton.edu\/houghton-ny\/admission\/accepted-students\/highlander-wilderness-adventure\/highlander-wilderness-adventure-application\/","keywords":"highlander wilderness adventure, wilderness, orientation, adventure"},{"title":"Highlander Wilderness Adventure","link":"https:\/\/www.houghton.edu\/houghton-ny\/admission\/accepted-students\/highlander-wilderness-adventure\/","keywords":"highlander wilderness adventure, wilderness, orientation, adventure"},{"title":"Highlander Open House","link":"https:\/\/www.houghton.edu\/houghton-ny\/visit\/highlander-open-house\/","keywords":"open house, preview day"},{"title":"Highlander Gardens","link":"https:\/\/www.houghton.edu\/about\/centers-and-institutes\/center-for-sustainability\/highlander-gardens\/","keywords":"garden, sustainability, sustainable food, apiary, orchard"},{"title":"High School Counselors","link":"https:\/\/www.houghton.edu\/houghton-ny\/admission\/high-school-counselors\/","keywords":"high school, counselors, admission"},{"title":"Guidelines","link":"https:\/\/www.houghton.edu\/houghton-ny\/majors-programs\/off-campus-studies\/guidelines\/","keywords":"off-campus studies, abroad, study abroad"},{"title":"Graphic Design","link":"https:\/\/www.houghton.edu\/houghton-ny\/majors-programs\/academics\/art\/studio-art\/graphic-design\/","keywords":"art, fine arts, studio, studio art, artist, fine artist, art history, graphic design, 2D design, design, package design, information graphics"},{"title":"Graduate Programs\u2014Music","link":"https:\/\/www.houghton.edu\/graduate\/music\/programs\/","keywords":"graduate, grad, music, masters, M.A., M.M."},{"title":"Graduate Music Auditions","link":"https:\/\/www.houghton.edu\/graduate\/music\/admissions\/auditions-music\/","keywords":"music, graduate, audition, greatbatch"},{"title":"Graduate Assistantships","link":"https:\/\/www.houghton.edu\/graduate\/music\/admissions\/assistantships\/","keywords":"assistantships, music, greatbatch, grad, graduate"},{"title":"Graduate Admission\u2014Music","link":"https:\/\/www.houghton.edu\/graduate\/music\/admissions\/","keywords":"music, grad, graduate, admission"},{"title":"Graduate","link":"https:\/\/www.houghton.edu\/graduate\/","keywords":"graduate, grad, master, masters, MBA, MSED, business, literacy"},{"title":"Glossary of Terms","link":"https:\/\/www.houghton.edu\/houghton-ny\/tuition-aid\/financial-aid-resources-and-faqs\/glossary-of-terms\/","keywords":"financial aid terms, FAFSA, TAP, PELL, grants, scholarships"},{"title":"Global Studies","link":"https:\/\/www.houghton.edu\/houghton-ny\/majors-programs\/academics\/biblical-studies-theology-philosophy\/intercultural-studies-major\/global-studies\/","keywords":"intercultural studies, global studies, diversity, non-profit, nonprofit, social work, missionary, missions, social worker, overseas work, study abroad,"},{"title":"Giving","link":"https:\/\/www.houghton.edu\/giving\/","keywords":"give, giving, donate, legacy giving, societies, scholarship fund, advancement"},{"title":"General Education","link":"https:\/\/www.houghton.edu\/houghton-ny\/majors-programs\/academics\/general-education\/","keywords":"general education"},{"title":"Future Planning","link":"https:\/\/www.houghton.edu\/current-students\/center-for-student-success\/office-of-vocation-and-calling\/future-planning\/","keywords":"job, career, vocation, internship"},{"title":"Founder\u2019s Promise Scholarship","link":"https:\/\/www.houghton.edu\/houghton-ny\/tuition-aid\/types-of-aid\/founders-promise-scholarship\/","keywords":"scholarship, financial aid"},{"title":"Forms, Applications and Resources","link":"https:\/\/www.houghton.edu\/houghton-ny\/majors-programs\/academics\/pre-health-professions\/pre-med\/forms-applications-and-resources\/","keywords":"medical school, application"},{"title":"Forms","link":"https:\/\/www.houghton.edu\/current-students\/registrar\/houghton-ny-undergraduate-students\/forms\/","keywords":"internships, internship, academic petition, course add\/drop, course withdrawal, diploma, graduation, honors, independent study, declare a major, transcript, withdraw, mayterm, student concern"},{"title":"Find Your Admission Counselor","link":"https:\/\/www.houghton.edu\/houghton-ny\/admission\/find-your-enrollment-advisor\/","keywords":"admission, counselor, advisor"},{"title":"Financial Validation","link":"https:\/\/www.houghton.edu\/houghton-ny\/tuition-aid\/financial-aid-resources-and-faqs\/financial-aid-policies\/financial-validation\/","keywords":"financial aid, aid, applying for financial aid, award letter, student financial services"},{"title":"Financial Aid Resources and FAQs","link":"https:\/\/www.houghton.edu\/houghton-ny\/tuition-aid\/financial-aid-resources-and-faqs\/","keywords":"financial aid, resources"},{"title":"Financial Aid Policies","link":"https:\/\/www.houghton.edu\/houghton-ny\/tuition-aid\/financial-aid-resources-and-faqs\/financial-aid-policies\/","keywords":"financial aid, aid eligibility, academic progress, transfer credits"},{"title":"Financial Aid & Ability to Benefit\u2014Homeschoolers","link":"https:\/\/www.houghton.edu\/houghton-ny\/admission\/homeschoolers\/homeschool-financial-aid-ability-to-benefit\/","keywords":"homeschool, homeschoolers, financial aid"},{"title":"Fee Schedule","link":"https:\/\/www.houghton.edu\/houghton-ny\/tuition-aid\/fee-schedule\/","keywords":"fees, room, board, tuition, honors fees"},{"title":"Federal Aid","link":"https:\/\/www.houghton.edu\/houghton-ny\/tuition-aid\/types-of-aid\/federal-aid\/","keywords":"federal aid, financial aid, scholarships, grants, work study"},{"title":"Fearlessly Forward\u2014Houghton University","link":"https:\/\/www.houghton.edu\/about\/fearlessly-forward-houghton-university\/","keywords":"houghton university, university announcement, mission, vision"},{"title":"Fall Online Courses","link":"https:\/\/www.houghton.edu\/online\/online-courses\/fall-online-courses\/","keywords":"online classes, early college, dual enrollment, online degree, fall classes"},{"title":"Faculty & Staff\u2014Music","link":"https:\/\/www.houghton.edu\/graduate\/music\/faculty-staff\/","keywords":"faculty, staff, professors, administration"},{"title":"Faculty & Staff","link":"https:\/\/www.houghton.edu\/faculty-staff\/","keywords":"faculty, staff, professors, administration"},{"title":"Experiential Learning","link":"https:\/\/www.houghton.edu\/houghton-ny\/majors-programs\/experiential-learning\/","keywords":"experiential learning, research, off-campus study, study abroad, internships"},{"title":"Exercise Science Major","link":"https:\/\/www.houghton.edu\/houghton-ny\/majors-programs\/academics\/biology\/exercise-science-major\/","keywords":"exercise science, activity, cardio, sports science, sports medicine, pt, pre-physical therapy, physical therapy, athletics, trainer, athletic trainer, personal trainer, fitness, fitness training, fitness trainer, coach, physiology, kinesiology, kinesiologist, occupational therapy, OT,"},{"title":"Equestrian Wish List","link":"https:\/\/www.houghton.edu\/houghton-ny\/majors-programs\/academics\/sport-recreation-wellness\/equestrian-wish-list\/","keywords":"equestrian studies"},{"title":"Equestrian Summer Camp","link":"https:\/\/www.houghton.edu\/houghton-ny\/majors-programs\/summer-at-houghton\/equestrian-camp\/","keywords":"equestrian, camp, summer"},{"title":"Equestrian Studies FAQ","link":"https:\/\/www.houghton.edu\/houghton-ny\/majors-programs\/academics\/sport-recreation-wellness\/equestrian-studies\/equestrian-studies-faq\/","keywords":"equestrian studies"},{"title":"Equestrian Studies","link":"https:\/\/www.houghton.edu\/houghton-ny\/majors-programs\/academics\/sport-recreation-wellness\/equestrian-studies\/","keywords":"equestrian, equestrian management, equestrian performance, horses, equine, equestrian, riding, showmanship, dressage, english riding, western riding, training, ponies, tack, hippotherapy, equine-assisted therapy, therapeutic riding, riding therapy, horse show"},{"title":"Equestrian Lesson Horses","link":"https:\/\/www.houghton.edu\/houghton-ny\/majors-programs\/academics\/sport-recreation-wellness\/equestrian-lesson-horses\/","keywords":"equestrian horses, equestrian"},{"title":"Equestrian Facilities","link":"https:\/\/www.houghton.edu\/houghton-ny\/majors-programs\/academics\/sport-recreation-wellness\/equestrian-facilities\/","keywords":"equestrian center"},{"title":"Equestrian Events","link":"https:\/\/www.houghton.edu\/houghton-ny\/majors-programs\/academics\/sport-recreation-wellness\/equestrian-events\/","keywords":"equestrian events"},{"title":"EPIC Ropes Course & Zipline Information","link":"https:\/\/www.houghton.edu\/houghton-ny\/student-life\/epic-adventures\/ropes-course-information\/","keywords":"epic adventures, ropes course, zipline"},{"title":"EPIC Rental Form","link":"https:\/\/www.houghton.edu\/houghton-ny\/student-life\/epic-adventures\/epic-rental-form\/","keywords":"renting, outdoor equipment, kayaks, canoes, tents, EPIC adventures"},{"title":"EPIC Facilities","link":"https:\/\/www.houghton.edu\/houghton-ny\/student-life\/epic-adventures\/epic-facilities\/","keywords":"ropes course, zipline, EPIC adventures, hiking"},{"title":"EPIC Adventures","link":"https:\/\/www.houghton.edu\/houghton-ny\/student-life\/epic-adventures\/","keywords":"epic adventures, adventure, hiking, canoeing, trails, ropes course, ski hill,"},{"title":"Environmental Science Major","link":"https:\/\/www.houghton.edu\/houghton-ny\/majors-programs\/academics\/biology\/environmental-science-major\/","keywords":"environmental science, environment, climate change, environmentalism, stewardship, sustainability, alternative energy, environmental studies, natural resources, creation care, conservation"},{"title":"Ensembles","link":"https:\/\/www.houghton.edu\/houghton-ny\/majors-programs\/academics\/music\/ensembles\/","keywords":"ensembles, chamber"},{"title":"English Major","link":"https:\/\/www.houghton.edu\/houghton-ny\/majors-programs\/academics\/english-and-writing\/english-major\/","keywords":"english, writing, language, composition, literature, classics, poetry, prose, pr, journalism, teacher, copywriter, content writer, journalist, social media coordinator, SEO specialist, proposal writer, editorial, technical writer, copy editor"},{"title":"English and Writing","link":"https:\/\/www.houghton.edu\/houghton-ny\/majors-programs\/academics\/english-and-writing\/","keywords":"english, writing, communication, communications"},{"title":"ENCORE","link":"https:\/\/www.houghton.edu\/encore\/","keywords":"senior citizens, seniors"},{"title":"Employment","link":"https:\/\/www.houghton.edu\/employment\/","keywords":"employment, jobs, hiring, employees, faculty position, staff positions, administrative jobs, careers"},{"title":"Employers","link":"https:\/\/www.houghton.edu\/current-students\/center-for-student-success\/office-of-vocation-and-calling\/hire-a-highlander\/","keywords":"employer, hiring, internships, job"},{"title":"Email and Student ID Setup","link":"https:\/\/www.houghton.edu\/houghton-ny\/admission\/accepted-students\/new-students\/technology-email-student-id\/email-and-student-id-setup\/","keywords":"student email, student ID, tech, technology"},{"title":"Electrical Engineering Mission","link":"https:\/\/www.houghton.edu\/houghton-ny\/majors-programs\/academics\/physics-computer-science-and-engineering\/electrical-engineering-major\/electrical-engineering-mission\/","keywords":"electrical engineering, engineering"},{"title":"Electrical Engineering Major","link":"https:\/\/www.houghton.edu\/houghton-ny\/majors-programs\/academics\/physics-computer-science-and-engineering\/electrical-engineering-major\/","keywords":"electrical engineering, engineering"},{"title":"Education","link":"https:\/\/www.houghton.edu\/houghton-ny\/majors-programs\/academics\/education\/","keywords":"education, academics, literacy, adolescence"},{"title":"Eco Reps","link":"https:\/\/www.houghton.edu\/about\/centers-and-institutes\/center-for-sustainability\/eco-reps\/","keywords":"sustainability"},{"title":"Early College\/Dual Enrollment","link":"https:\/\/www.houghton.edu\/early-college\/","keywords":"early college, high school,"},{"title":"Drone Pilot Training","link":"https:\/\/www.houghton.edu\/online\/online-courses\/drone-preparation\/","keywords":"drone, commercial, FAA, aquiline"},{"title":"Drawing","link":"https:\/\/www.houghton.edu\/houghton-ny\/majors-programs\/academics\/art\/studio-art\/drawing\/","keywords":"art, fine arts, studio, studio art, artist, fine artist, art history, drawing, painting, watercolor, pastel, figure drawing, charcoal, abstract drawing, art teacher, art education"},{"title":"Directions to Campus","link":"https:\/\/www.houghton.edu\/houghton-ny\/visit\/directions-to-campus\/","keywords":"directions, directions to campus"},{"title":"Dining & Meal Plans","link":"https:\/\/www.houghton.edu\/current-students\/residence-life\/meal-plan-options\/","keywords":"dining, metz"},{"title":"Deciding Students","link":"https:\/\/www.houghton.edu\/houghton-ny\/majors-programs\/academics\/deciding-students\/","keywords":"undecided, deciding, undeclared, exploratory"},{"title":"Data Science Major","link":"https:\/\/www.houghton.edu\/houghton-ny\/majors-programs\/academics\/physics-computer-science-and-engineering\/data-science-major\/","keywords":"data, data science, ai, machine learning, business analytics, business intelligence, statistics, data analytics, algorithms, big data, data management, data mining, data security, data visualization, deep learning, cloud computing, predictive analytics, sports analytics, data privacy, data for social good, cybersecurity, data science analytics, programming, artificial intelligence,"},{"title":"Current Students","link":"https:\/\/www.houghton.edu\/current-students\/","keywords":"current students, students, moodle, self service, webmail, student handbook"},{"title":"Criminal Justice Major","link":"https:\/\/www.houghton.edu\/houghton-ny\/majors-programs\/academics\/psychology-criminal-justice\/criminal-justice-major\/","keywords":"criminal justice, investigation, law, enforcement, police, fbi, federal, law enforcement, justice, cop, corrections, pre-law, lawyer, attorney, public defender, officer"},{"title":"COVID-19","link":"https:\/\/www.houghton.edu\/current-students\/student-health-services\/covid-19\/","keywords":"covid, coronavirus, covid-19, covid 19, masking, vaccine,"},{"title":"Courses\u2014MSED","link":"https:\/\/www.houghton.edu\/graduate\/literacy-education\/msed-courses\/","keywords":"MSED, grad, graduate, online, literacy"},{"title":"Courses\u2014MBA","link":"https:\/\/www.houghton.edu\/graduate\/master-of-business-administration\/mba-courses\/","keywords":"master of business administration, mba, business, finance, leadership, management, ceo, cfo, cmo, executive,"},{"title":"Course Selection","link":"https:\/\/www.houghton.edu\/houghton-ny\/admission\/accepted-students\/new-students\/course-selection\/","keywords":"course preference, course selection, courses, new students"},{"title":"Course Preference Form","link":"https:\/\/www.houghton.edu\/houghton-ny\/admission\/accepted-students\/new-students\/course-selection\/course-preference-form\/","keywords":"course preference, classes, courses"},{"title":"Counseling Services","link":"https:\/\/www.houghton.edu\/current-students\/center-for-student-success\/counseling-services\/","keywords":"counseling services, center for student success, counseling"},{"title":"Contact the School of Music","link":"https:\/\/www.houghton.edu\/houghton-ny\/majors-programs\/academics\/music\/contact-the-school-of-music\/","keywords":"greatbatch school of music, music, contact"},{"title":"Contact Financial Aid Staff","link":"https:\/\/www.houghton.edu\/houghton-ny\/tuition-aid\/financial-aid-staff\/","keywords":"financial aid support, financial aid staff"},{"title":"Confirm Your Enrollment","link":"https:\/\/www.houghton.edu\/houghton-ny\/admission\/accepted-students\/confirm-your-enrollment\/","keywords":"deposit, confirm, decision, may 1"},{"title":"Conducting, M.M.","link":"https:\/\/www.houghton.edu\/graduate\/music\/programs\/conducting-m-m\/","keywords":"music, musical, worship, lesson, audition, choir, chorus, band, wind ensemble, orchestra, symphony, conducting, performances, concert, aria, concerto competition, recital, music theory, music history, global music, world music, master's in music, music master's, graduate music,"},{"title":"Computer Science Major","link":"https:\/\/www.houghton.edu\/houghton-ny\/majors-programs\/academics\/physics-computer-science-and-engineering\/computer-science-major\/","keywords":"computer science, networking, information technology, it, programming, software, IS, database management, technology, software developer web developer, cybersecurity consultant, IT consultant, multimedia programmer, database administrator"},{"title":"Composition, M.M.","link":"https:\/\/www.houghton.edu\/graduate\/music\/programs\/composition-m-m\/","keywords":"music, musical, worship, lesson, audition, music theory, music history, global music, world music, composition, composer, writing music, aria, concerto, film music, master's in music, music master's, graduate music,"},{"title":"Compare the Costs of College","link":"https:\/\/www.houghton.edu\/out-of-pocket-calculator\/","keywords":"college costs, financial aid, tuition"},{"title":"Commuter Students","link":"https:\/\/www.houghton.edu\/houghton-ny\/admission\/commuter-students\/","keywords":"commuter, commuting, admission"},{"title":"Community Recreation & Events","link":"https:\/\/www.houghton.edu\/community\/","keywords":"EPIC adventures, KPAC, music performances, Ortlip Art Gallery, exhibitions, fitness facilities, ENCORE"},{"title":"Communication Major","link":"https:\/\/www.houghton.edu\/houghton-ny\/majors-programs\/academics\/communication\/communication-major\/","keywords":"communication, photography, photographer, video, videographer, filmmaker, communicator, designer, adobe, avid, final cut, fcpx, marketer, marketing, speaking, presentation, presenter, media, production, journalism, digital media, media production, broadcasting, journalism, advertising, public relations, PR, rhetoric"},{"title":"Communication","link":"https:\/\/www.houghton.edu\/houghton-ny\/majors-programs\/academics\/communication\/","keywords":"communication major, integrated marketing communication, media arts and visual communications, rhetorical communication"},{"title":"Commencement","link":"https:\/\/www.houghton.edu\/commencement\/","keywords":"commencement, graduates, graduating, 2022, graduation, class of 2022"},{"title":"College Post Office","link":"https:\/\/www.houghton.edu\/current-students\/college-post-office\/","keywords":"packages, mail, student ID"},{"title":"Collaborative Performance, M.M.","link":"https:\/\/www.houghton.edu\/graduate\/music\/programs\/collaborative-performance-m-m\/","keywords":"music, musical, worship, lesson, audition, choir, chorus, band, wind ensemble, orchestra, symphony, strings, brass, woodwind, percussion, drums, voice, piano, organ, guitar, flute, clarinet, saxophone, oboe, bassoon, trumpet, horn, trombone, euphonium, baritone, tuba, drums, violin, viola, cello, bass, soprano, alto, tenor, performance, collaborative piano, jazz, A cappella, performances, concert, aria, concerto competition, recital, harpsichord, master's in music, music master's, graduate music,"},{"title":"Climate Commitment","link":"https:\/\/www.houghton.edu\/about\/centers-and-institutes\/center-for-sustainability\/climate-commitment\/","keywords":"climate, green energy, carbon footprint"},{"title":"Class Scholarship Leaderboard","link":"https:\/\/www.houghton.edu\/giving\/class-scholarship-leaderboard\/","keywords":"giving, scholarship, learderboard"},{"title":"Choir & Band Camp","link":"https:\/\/www.houghton.edu\/houghton-ny\/majors-programs\/summer-at-houghton\/choir-band-camp\/","keywords":"choir, band, camp, summer"},{"title":"Chemistry Major","link":"https:\/\/www.houghton.edu\/houghton-ny\/majors-programs\/academics\/chemistry\/chemistry-major\/","keywords":"chemistry, chemist, science, health, medicine, research, organic chemistry, physical chemistry, analytical chemistry, forensics"},{"title":"Chemistry","link":"https:\/\/www.houghton.edu\/houghton-ny\/majors-programs\/academics\/chemistry\/","keywords":"chemistry, biochemistry, science"},{"title":"Chamber Ensembles","link":"https:\/\/www.houghton.edu\/houghton-ny\/majors-programs\/academics\/music\/ensembles\/chamber-ensembles\/","keywords":"chamber music, ensemble, crass, percussion, woodwinds, strings"},{"title":"Certification Information","link":"https:\/\/www.houghton.edu\/houghton-ny\/majors-programs\/academics\/education\/certification-information\/","keywords":"teaching certification, initial certification, nys certification"},{"title":"Ceramics","link":"https:\/\/www.houghton.edu\/houghton-ny\/majors-programs\/academics\/art\/studio-art\/ceramics\/","keywords":"art, bfa, fine arts, studio, studio art, artist, fine artist, ceramics, pottery, 3d art, book arts, art teacher, art education, potter"},{"title":"Center for Student Success","link":"https:\/\/www.houghton.edu\/current-students\/center-for-student-success\/","keywords":"academic support, counseling, counseling services, accessibility services, writing center, writing support, voca, office of vocation and calling, career center"},{"title":"Center for Data Science Analytics","link":"https:\/\/www.houghton.edu\/about\/centers-and-institutes\/center-for-data-science-analytics\/","keywords":"data science, analytics, sport analytics"},{"title":"CCCU Opportunities","link":"https:\/\/www.houghton.edu\/houghton-ny\/majors-programs\/off-campus-studies\/cccu-programs\/","keywords":"cccu programs, off-campus studies, study abroad"},{"title":"Catalog","link":"https:\/\/www.houghton.edu\/houghton-ny\/majors-programs\/academics\/catalog\/","keywords":"catalog, course catalogue, academic catalog"},{"title":"Career Exploration","link":"https:\/\/www.houghton.edu\/current-students\/center-for-student-success\/office-of-vocation-and-calling\/career-exploration\/","keywords":"career, vocation, calling, coaching"},{"title":"Canadian Students","link":"https:\/\/www.houghton.edu\/houghton-ny\/admission\/canadian-students\/","keywords":"canada, canadian,"},{"title":"Campus Map","link":"https:\/\/www.houghton.edu\/houghton-ny\/visit\/campus-map\/","keywords":"map, campus, houghton,"},{"title":"Campus Employment","link":"https:\/\/www.houghton.edu\/current-students\/student-payroll\/campus-employment\/","keywords":"student employment, on-campus job, campus jobs, campus employment"},{"title":"Calendars & Important Dates","link":"https:\/\/www.houghton.edu\/current-students\/registrar\/houghton-ny-undergraduate-students\/calendars-important-dates-and-daily-schedules\/","keywords":"calendar, dates, semester, academic calendar, start, housing calendar, important dates, daily schedule, class schedule"},{"title":"Business Internships","link":"https:\/\/www.houghton.edu\/houghton-ny\/majors-programs\/academics\/business\/business-internships\/","keywords":"business, intern, internships"},{"title":"Business Administration Major","link":"https:\/\/www.houghton.edu\/houghton-ny\/majors-programs\/academics\/business\/business-administration-major\/","keywords":"business administration, business, management, sales, management, marketing, finance, economics, entrepreneur, operations, accounting, finance, international business, international economics, statistics, non-profit, NGO, consultant, consulting"},{"title":"Business","link":"https:\/\/www.houghton.edu\/houghton-ny\/majors-programs\/academics\/business\/","keywords":"business, accounting, business administration, human resources management, integrated marketing communication, marketing, communication, leadership development, organizational management, mast of business administration, mba"},{"title":"Buffalo, NY","link":"https:\/\/www.houghton.edu\/undergraduate\/buffalo\/","keywords":"buffalo, king urban life center, extension sites, western ny, western new york, associate, 2 year, two year"},{"title":"Bonus Year Application","link":"https:\/\/www.houghton.edu\/houghton-ny\/admission\/the-houghton-promise\/bonus-year-application\/","keywords":"bonus year"},{"title":"Board of Trustees","link":"https:\/\/www.houghton.edu\/about\/president\/board-of-trustees\/","keywords":"bot, trustees"},{"title":"Biomedical Sciences Major","link":"https:\/\/www.houghton.edu\/houghton-ny\/majors-programs\/academics\/biology\/biomedical-sciences-major\/","keywords":"biomedical sciences, pre-health, pre-med, pre-"},{"title":"Biology Research","link":"https:\/\/www.houghton.edu\/houghton-ny\/majors-programs\/academics\/biology\/biology-research\/","keywords":"biology research"},{"title":"Biology Major","link":"https:\/\/www.houghton.edu\/houghton-ny\/majors-programs\/academics\/biology\/biology-major\/","keywords":"biology, biologist, science, research science, health, medicine, biology, outdoors, science, natural science, pre-med, research, ornithology, forestry, environmental science, bio, genetics, microbiology, ecology"},{"title":"Biology Facilities","link":"https:\/\/www.houghton.edu\/houghton-ny\/majors-programs\/academics\/biology\/biology-facilities\/","keywords":"biology facilities, biology equipment, Paine Center for Science, labs, laboratories, greenhouse, biopac"},{"title":"Biology","link":"https:\/\/www.houghton.edu\/houghton-ny\/majors-programs\/academics\/biology\/","keywords":"biology, biologist, science, research science, health, medicine, biology, outdoors, science, natural science, pre-med, research, ornithology, forestry, environmental science, bio, genetics, microbiology, ecology"},{"title":"Biochemistry Major","link":"https:\/\/www.houghton.edu\/houghton-ny\/majors-programs\/academics\/chemistry\/biochemistry-major\/","keywords":"biochemistry, biochemist, research science, medical school, medicine, health, pharmacist, science, biochemistry, biochem, science, natural science, chemistry, biology, pharmacy, pre-pharmacy, chemist, biomedical, biotechnologist, molecular, immunology"},{"title":"Bible Major","link":"https:\/\/www.houghton.edu\/houghton-ny\/majors-programs\/academics\/biblical-studies-theology-philosophy\/bible-major\/","keywords":"ministry, minister, church, biblical, bible, scripture, theology, christianity, old testament, new testament, pastor, theologian, sunday school teacher, youth leader, missionary, missions, religion"},{"title":"Behavioral Neuroscience Major","link":"https:\/\/www.houghton.edu\/houghton-ny\/majors-programs\/academics\/psychology-criminal-justice\/behavioral-neuroscience-major\/","keywords":"Neuroscience, biopsychology, behavioral neuroscience, psychobiology, brain studies, cognitive neuroscience, brain, behavior"},{"title":"Basketball Summer Camp","link":"https:\/\/www.houghton.edu\/houghton-ny\/majors-programs\/summer-at-houghton\/basketball-camps\/","keywords":"basketball, camp, summer"},{"title":"Audit Sheets 2022-2023","link":"https:\/\/www.houghton.edu\/current-students\/registrar\/houghton-ny-undergraduate-students\/academic-information\/audit-sheets-2022-2023\/","keywords":"registrar, major requirements"},{"title":"Audit Sheets 2021-2022","link":"https:\/\/www.houghton.edu\/current-students\/registrar\/houghton-ny-undergraduate-students\/academic-information\/audit-sheets-2021-2022\/","keywords":"registrar, major requirements"},{"title":"Audit Sheets 2020-2021","link":"https:\/\/www.houghton.edu\/current-students\/registrar\/houghton-ny-undergraduate-students\/academic-information\/audit-sheets-2020-2021\/","keywords":"registrar, major requirements"},{"title":"Audit Sheets 2019-2020","link":"https:\/\/www.houghton.edu\/current-students\/registrar\/houghton-ny-undergraduate-students\/academic-information\/audit-sheets-2019-2020\/","keywords":"registrar, major requirements"},{"title":"Audit Sheets 2018-2019","link":"https:\/\/www.houghton.edu\/current-students\/registrar\/houghton-ny-undergraduate-students\/academic-information\/audit-sheets-2018-2019\/","keywords":"registrar, major requirements"},{"title":"Associate of Science in Psychology","link":"https:\/\/www.houghton.edu\/undergraduate\/online\/programs\/associate-of-science-in-psychology\/","keywords":"associates degree, aa, psychology, online"},{"title":"Associate of Science in Business","link":"https:\/\/www.houghton.edu\/undergraduate\/online\/programs\/business\/","keywords":"associate, business, a.s., online"},{"title":"Associate of Arts","link":"https:\/\/www.houghton.edu\/undergraduate\/online\/programs\/associate-of-arts\/","keywords":"associates degree, aa, liberal arts, online"},{"title":"Art Facilities & Equipment","link":"https:\/\/www.houghton.edu\/houghton-ny\/majors-programs\/academics\/art\/art-facilities-equipment\/","keywords":"art studios, facilities, equipment, digital, printmaking, lighting, mac lab, ceramics, sculpture, furniture, design, darkroom, painting, drawing, photography"},{"title":"Art","link":"https:\/\/www.houghton.edu\/houghton-ny\/majors-programs\/academics\/art\/","keywords":"art, studio art, visual communication, design, graphic design, art therapy"},{"title":"Applying to Honors","link":"https:\/\/www.houghton.edu\/houghton-ny\/majors-programs\/academics\/honors-at-houghton\/applying-to-honors\/","keywords":"honors program, london honors, science honors"},{"title":"Applying for Aid","link":"https:\/\/www.houghton.edu\/houghton-ny\/tuition-aid\/applying-for-aid\/","keywords":"apply for financial aid, financial aid"},{"title":"Applying","link":"https:\/\/www.houghton.edu\/houghton-ny\/admission\/applying\/","keywords":"apply, applying, admission, houghton, ny"},{"title":"Apply","link":"https:\/\/www.houghton.edu\/apply\/","keywords":"apply, application, submit,"},{"title":"Applied Physics Major","link":"https:\/\/www.houghton.edu\/houghton-ny\/majors-programs\/academics\/physics-computer-science-and-engineering\/applied-physics-major\/","keywords":"engineering, electrical, modeling, architecture, electronic, circuit, logistics, technical, ECE, robotics, cyber security, networking, signal processing, energy systems, microelectronics, nanotechnology, systems design, control systems, power systems, smart power grids,"},{"title":"Applied Design & Visual Communication Major","link":"https:\/\/www.houghton.edu\/houghton-ny\/majors-programs\/academics\/art\/applied-design-visual-communication-major\/","keywords":"bfa, fine arts, adobe, printing, video, photography, camera, photographer, designer, artist, videographer, filmmaker, creative, illustrator, indesign, production, typography, art, design, graphic design, digital arts, photography, animation, film, film production, sound design, editing, photoshop, adobe, social media, influencer, media, editor, freelance, illustrator, photojournalism, blogging, vlogging, youtuber, director, ads, advertising, marketing, app design, web design, art history, applied design, visual communication"},{"title":"Applications and Forms","link":"https:\/\/www.houghton.edu\/houghton-ny\/tuition-aid\/applying-for-aid\/applications-and-forms\/","keywords":"financial aid, FAFSA"},{"title":"Alumni Success and Career Outcomes","link":"https:\/\/www.houghton.edu\/alumni-success-and-career-outcomes\/","keywords":"alumni, outcomes, careers, class of 2021, grad, graduates"},{"title":"Alumni Class Challenge","link":"https:\/\/www.houghton.edu\/iamhoughton\/alumni-class-challenge\/","keywords":"alumni class, challenge, giving, give"},{"title":"Alumni Board","link":"https:\/\/www.houghton.edu\/alumni\/alumni-board\/","keywords":"alumni, alumni board"},{"title":"Alumni","link":"https:\/\/www.houghton.edu\/alumni\/","keywords":"alumni, alumnus, alumnae, alum, ambassador, reunion"},{"title":"Adolescence Education Major","link":"https:\/\/www.houghton.edu\/houghton-ny\/majors-programs\/academics\/education\/adolescence-education-major\/","keywords":"education, teacher, teaching, high school, adolescence, certification, certificate,"},{"title":"Admission\u2014Online","link":"https:\/\/www.houghton.edu\/undergraduate\/online\/admission\/","keywords":"admission, online, undergraduate"},{"title":"Admission\u2014MSED","link":"https:\/\/www.houghton.edu\/graduate\/literacy-education\/admissions\/","keywords":"admission"},{"title":"Admission\u2014MBA","link":"https:\/\/www.houghton.edu\/graduate\/master-of-business-administration\/admissions\/","keywords":"admission"},{"title":"Admission\u2014Houghton, NY","link":"https:\/\/www.houghton.edu\/houghton-ny\/admission\/","keywords":"admission. houghton, ny"},{"title":"Administrative & Staff Openings","link":"https:\/\/www.houghton.edu\/employment\/administrative-staff-openings\/","keywords":"jobs, careers, employment, staff, administrative, administration, openings"},{"title":"Accreditation","link":"https:\/\/www.houghton.edu\/about\/accreditation\/","keywords":"accreditation, middle states, msche, nasm, aaqep"},{"title":"Accounting Major","link":"https:\/\/www.houghton.edu\/houghton-ny\/majors-programs\/academics\/business\/accounting-major\/","keywords":"accounts, budget, audit, bank, tax accountant, finance, accounting, banking, CPA, accountant, investing, auditing, non-profit, CMA, tax law, analyst, bookkeeper, financial analyst, financial consulting, consultant, business analyst, auditor, CFO,"},{"title":"Accommodations and Dining","link":"https:\/\/www.houghton.edu\/houghton-ny\/visit\/accommodations-and-dining\/","keywords":"accommodations, local hotels, local dining, where to eat by campus, restaurants"},{"title":"Accepted Students","link":"https:\/\/www.houghton.edu\/houghton-ny\/admission\/accepted-students\/","keywords":"accepted, new students, deposit, confirm enrollment, enroll"},{"title":"Academics","link":"https:\/\/www.houghton.edu\/houghton-ny\/majors-programs\/academics\/","keywords":"academics, departments, schools"},{"title":"Academic Support and Accessibility Services","link":"https:\/\/www.houghton.edu\/current-students\/center-for-student-success\/academic-support-and-accessibility-services\/","keywords":"accommodations, accommodation, study advisement, tutoring, disability services, first gen, first generation"},{"title":"Academic Information","link":"https:\/\/www.houghton.edu\/current-students\/registrar\/houghton-ny-undergraduate-students\/academic-information\/","keywords":"audit sheet, undergraduate, academic information"},{"title":"About","link":"https:\/\/www.houghton.edu\/about\/","keywords":"about, history, facts, by the numbers"},{"title":"3+1 Nursing Program","link":"https:\/\/www.houghton.edu\/houghton-ny\/majors-programs\/academics\/pre-health-professions\/31-nursing-program\/","keywords":"nurse, nursing, pre-nursing, medicine, healthcare, health, RN, medical, registered nurse, BSN"}]
Apply Today