Complete the form to get your free stickers.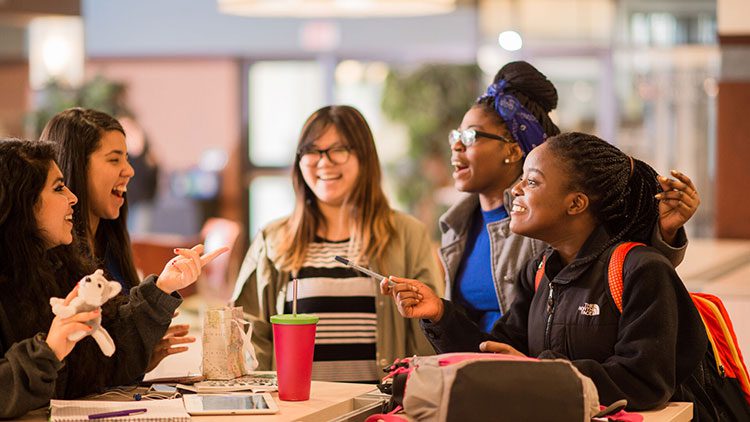 Immerse Yourself in a Christ-Centered Community
Imagine being part of a thriving campus community that's committed to your success in the classroom, on the field, at home, and in the workplace. This is a place where close-knit, highly relational Christian community meets transformative learning experiences. Our small size and nationally recognized academics give you a top-notch Christian education, while our stellar alumni placement rate indicates how prepared our students are for the next step in their careers.
Part of the Scenic Genesee Valley
Houghton is located in the hamlet of Houghton, NY, in the scenic Genesee Valley. Houghton's residential campus sits on the Allegheny Plateau at roughly the 1,300-foot level, on the site of the former Caneadea Indian Reservation of the early 1800s. Fifteen miles to the north are the Genesee's magnificent Portage Falls and Letchworth State Park, voted the #1 State Park in the United States.
40+ options for undergraduate and graduate programs design to fit your goals and schedule
Average Class Size
15 students undergraduate
7 students graduate
Expert Faculty
12:1 Student-to-Faculty Ratio Undergraduate
11:1 Student-to-Faculty Ratio Graduate
What Graduates and Their Employers Say
I have hired college graduates into several different disciplines here at John Deere. Ultimately I seek those candidates that can demonstrate the ability to learn new topics quickly, effectively apply it to their work and increase the strength of the team through collaboration and cross-learning with their colleagues.

Michael Cha, Data Science '18, arrived ready to contribute with the knowledge he had gained through his education and an eagerness to supplement with knowledge gained from his co-workers and independent research. He has worked as a data scientist to develop and improve statistical models to create business insights. Through improving these estimates, John Deere is able to optimize the supply chain and improve the availability of these future parts for our customers.

KEVIN EILERS

SMART CONNECTED WAREHOUSE ANALYST, JOHN DEERE WORLDWIDE PART SERVICES
Many things contributed to my preparedness for professional work during my education at Houghton. Obviously, the technical knowledge gained in my computer science classes with Dr. Hu was indispensable. But, beyond that, my experience at Houghton provided me with so many ``soft`` skills that have been even more important than any technical knowledge I gained.

While pursuing my degrees in Computer Science and Music, I had the great opportunity to work with the folks in Technology Services as both a helpdesk and a network intern. I learned how to prioritize work and track multiple projects—both homework and IT projects—and developed customer skills.

BENJAMIN YULY

Computer Science and Music Composition '16
When I think of the qualities necessary to be a successful auditor, Joe Gilligan, Accounting and Business Administration '18, does not fall short. Building trust is also an important quality to a successful auditor, and Joe has built the necessary relationships to earn the trust of those he works with. Joe is a life-long learner and is always looking to better himself, including making time for self-reflection and taking a positive outlook on every situation. These qualities help Joe to distinguish himself and will set him up for great success in his career.

I am proud to see Joe's progress since joining us, and I look forward to his continued success as he leads his engagement teams' staff as a senior auditor. Having also attended a small liberal arts college, I have no doubt that Joe's success is due in part to his well-rounded liberal arts education at Houghton University.

CAITY WHITMAN

Deloitte & Touche LLP
Our honors group became like a family—professors included—and together, we tackled the world and encouraged each other as we matured as individuals. We had tea together, laughed together, cried together and became new together. I will forever be blessed by this program; even now, the impact is still unfolding in my life as I continue to love God and His world.

EMILY VANDENBOSCH

Honors at Houghton '19
Marshall Brady, Theology and Music Industry '17, serves as High School Director in our student ministry. He has wonderful interpersonal skills that make him effective in ministry, and his experiences on campus (in particular, being an RA, serving on Summer Ministry Teams, and serving in ministry at local churches) helped Marshall start his ministry here ahead of most of his peers in terms of the soft skills he needed to start strong. I've personally watched Marshall lead during COVID, and every week I'm hearing from other staff members who are taking note of how Marshall and his closest colleagues have created a culture of infectious optimism. Our entire church has noticed how his ministry has grown during the pandemic while virtually every other area of ministry has suffered setbacks. Houghton consistently produces young men and women like Marshall who have the education, the experiences, and the work ethic to complement God-given talents.

STEVE DUNMIRE, D.MIN.

Teaching Pastor, Watermark Wesleyan Church; Assistant Superintendent, WNY District of The Wesleyan Church
Earn Your Degree at an Affordable Christ-Centered University
Houghton University responded to the financial challenges families face by offering the best price for a high-quality, Christ-centered education in the nation, resetting tuition to the lowest level in 20 years.
Request Information