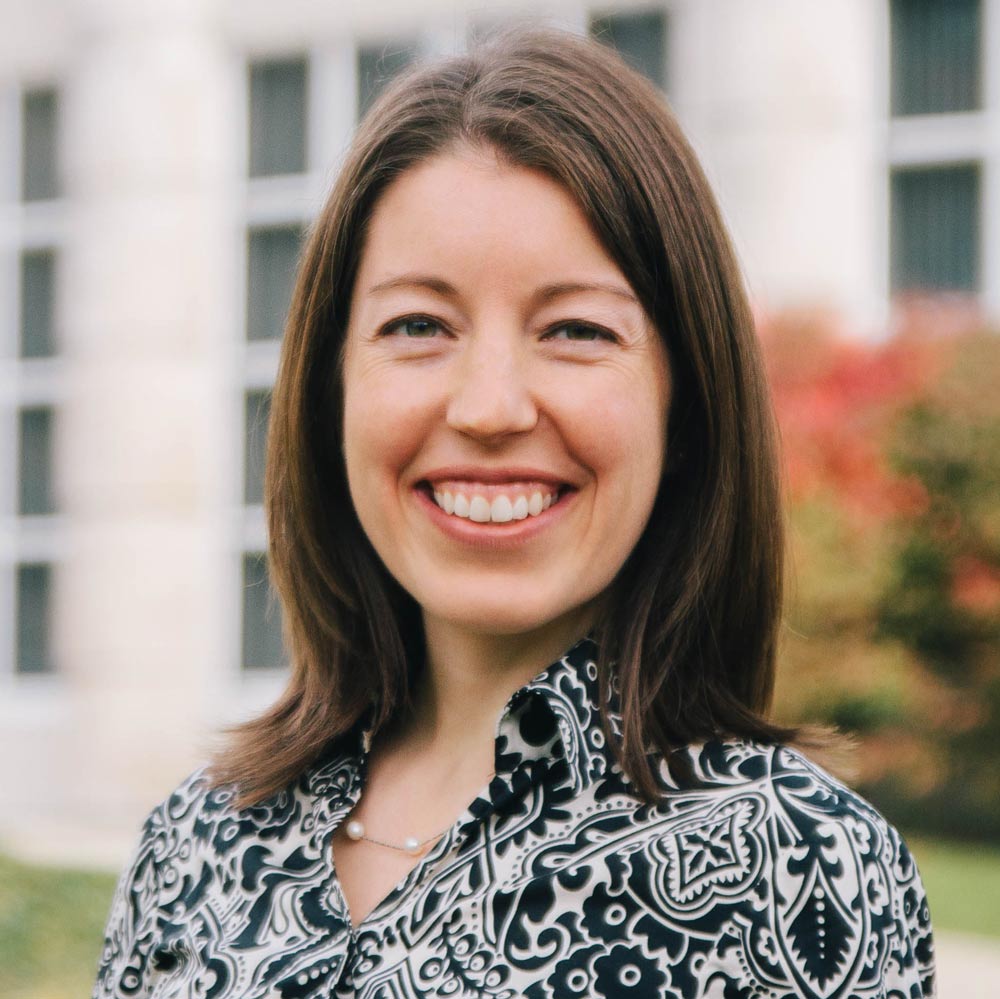 Carrie Magin
Associate Professor of Music Composition; Theory & Composition Area Coordinator
With music of luminous vocal resonance, percussive intensity, and shimmering instrumentation, internationally-performed composer Carrie Magin traverses a wide emotional range with her fresh and universal voice. This "wonderful emerging composer" (conductor Brett Scott) creates music described as having "an appealing lyrical quality" (mezzo-soprano Lynne McMurtry) and "playful and fun, and then filled with such a sad sense of longing and deep contemplation…so beautiful," (poet Shannon Rayne).
Though her past work focused mainly on instrumental music (commissions by the Akron Youth Symphony, percussionist Kenyon Williams, and the Promethean Saxophone Quartet), Carrie Magin's recent interests revolve around the relationship between sung or spoken text and music (recent commissions by the University of Cincinnati CCM Chorale, the UC Women's Chorus, bass trombonist Russ Zokaites, and the Immanuel Presbyterian Choir in Cincinnati, OH). "Be a Voice, Sky," a concert of Magin's works presented in Cincinnati in 2013 highlighted her collaborations with local and international poets, and in 2014 she collaborated with University of Cincinnati Professor Don Bogen on "Elegies" for CCM Chorale and Café Momus Contemporary Ensemble. Also in 2014, she collaborated with Vancouver-based poet Shannon Rayne on "Coffee Stained," a sassy, sensitive, and jazz-like 15-minute work for bass trombone, piano, and narrator. "Coffee Stained" was premiered by "Transformative Perspectives" at the ArtSEEDZ Festival in the Netherlands in May of 2014.
Education
D.M.A in Composition | University of Cincinnati, College-Conservatory of Music
M.M. in Composition | University of Cincinnati, College-Conservatory of Music
B.Mus. in Composition (Minor: German) | University of Michigan
B.M.A. in Percussion Performance | University of Michigan
Visit Dr. Magin's Website
Being able to work with the students and faculty at Houghton University is a true gift, and I value my ability to promote growth in my students, foster a sense of community in my department, and collaborate with my phenomenal colleagues in the Greatbatch School of Music.
As a marimba-focused percussionist, Magin has worked closely with the renowned marimbists/percussionists Keiko Abe, Nancy Zeltsman, Bogdan Bacanu, and Peter Sadlo. She has frequently performed her own work and had various performances in Europe including solo and ensemble concerts in the Czech Republic, Slovak Republic, and France.
Publicationsexpand_more
Composer in Residence
"Composer's Sandbox" Residency with Interlochen Academy Wind Symphony, directed by Matthew Schlomer (Interlochen, MI)
Georgia Tech (Atlanta, GA)
Chamber Music Campania (Foggia, Italy)
Visiting Guest Artist
Minnesota State University Moorhead (Moorhead, MN)
Performancesexpand_more
Commissions
Amity Trio: All Else Above (song cycle) for soprano, horn, and piano
The Trombones of the Saint Louis Symphony: TaleTeller for four trombones
University of Cincinnati (UC) Women's Chorus: All Things Beautiful for SSA women's choir and piano
Mary Hubbell, Smith College/University of Massachusetts: Song for Mary for soprano and piano
Fillmore Central Schools: Earthbound Stars for concert band
Letchworth Central Schools: Letchworth Fanfare for concert band
Georgia College Choral Ensembles: Heart-Fire for mixed choir (SATB) and piano
Letchworth Central Schools: And the Nightwatchers Awake for concert band
The Cincinnati Review: Mnemosyne for medium voice and piano
M. Andrew Jones, tenor: Between Us Now for tenor, horn, and piano
Aurae: Mondschein for soprano and flute
University of Cincinnati, CCM Choral Department: Elegies for SATB choir, flute, percussion, and piano
UC Women's Chorus: The Snow Is Deep On The Ground for SSA women's choir and piano
Russ Zokaites, trombonist: Coffee Stained for bass trombone, piano, and narrator
Immanuel Presbyterian Church, Cincinnati, OH: VOICES OF LIGHT: An Advent Cantata for SATB choir, organ, and chamber ensemble
The 3-2-5 Quartet: Amber Autumn for saxophone quartet
Kenyon Williams, Minnesota State University: Capriccio for violin and marimba
Akron Youth Symphony: Miles of Gold for orchestra
Honors and Awards
Fulbright Teaching Assistantship
Arts Education Grant from Genesee Valley Council on the Arts with funds from New York State Council on the Arts (NYSCA)
Arts Education Grant from Tri-County Arts Council with funds from NYSCA
Community Arts Grant from the Arts Council for Wyoming County with funds from NYSCA
New York Foundation for the Arts Strategic Opportunity Stipend
Solo piano piece (Welcoming) included in NewMusicShelf Anthologies of New Music
Two art songs (Be Music, Night and Mnemosyne) included in NewMusicShelf Anthologies of New Music
Houghton University Faculty Development Grant
Nomination for the Houghton College Excellence in Teaching Award
Notable Commissions: The Trombones of the Saint Louis Symphony, University of Cincinnati Women's Chorus, University of Cincinnati College-Conservatory of Music Choral Department, Georgia College Choral Ensembles, Akron Youth Symphony, Amity Trio, Mary Hubbell (Smith College/University of Massachusetts), Kenyon Williams (Minnesota State University), Russ Zokaites (Morehead State University)
Notable Performances/Performers: Georgia College Choirs (Carnegie Hall), Grammy award-winning cellist Jonah Kim, Boston Opera Collaborative, Buffalo Chamber Players, Interlochen World Youth Honors Choir, Georgia Tech Concert Band, Society for New Music's Vision of Sound, Eastman Women in Music Festival, KC VITAs, Texas A&M University-Corpus Christi Concert Band, Vocalypse's Opera From Scratch, ArtSEEDZ Festival (Netherlands), Accidental Music Festival