Houghton University announced today the appointment of Dr. David Davies '01 as the College's Provost.
Davies is widely recognized for his dedicated work and passionate commitment to higher education and its potential to transform lives, build communities and lead to a brighter tomorrow—an excellent match for Houghton University, whose founder, Willard J. Houghton, recognized the critical impact that a life-bringing Christian faith and high-quality education could have on the trajectory of a person's life.
"Dr. Davies is an ideal choice to grow Houghton's historic commitments to students, Christian service and academic excellence into the future," said Wayne D. Lewis, Jr., President of Houghton. "Through the national search for Houghton's next provost, Dr. Davies stood apart in the way that he has earned the admiration of students and colleagues for his excellence as a teacher, department chair and administrator."
Davies will come to Houghton from Nazareth College, where he has served as associate professor and director of the School of Music since 2020. He previously served as the Head of the Department of Music at Texas A&M University-Commerce and on the music faculties of Augustana College and Houghton's Greatbatch School of Music.
"I am thrilled and grateful to be returning to an institution that has played such a formative role in my life and for my family," said Davies. "This is a pivotal moment for Houghton, as the world emerges from the restrictions of the pandemic, and the college's historic commitment to making an excellent, Christ-centered education accessible to everyone is boldly renewed through the recent tuition reset. I am especially excited to become a part of the leadership team under President Wayne Lewis, and am eager to join the community of faculty, staff, and students in exploring what it means to be fearless in our pursuit of truth, knowledge, and beauty."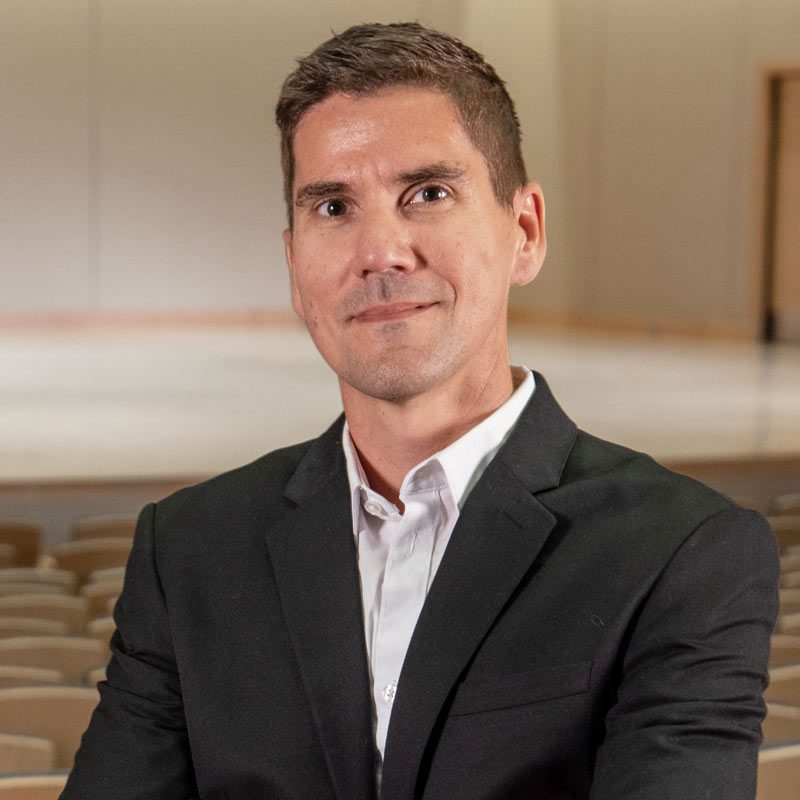 As a leader in higher education administration, Davies is currently leading a faculty consisting of 65 full- and part-time members, manages an academic course schedule in multiple delivery models, oversees recruitment and retention efforts, and established a Friends of Music giving society to increase financial giving. He serves on the Board of Directors as the Chair of Region 6 for the National Association of Schools of Music, the Vice President of the Northeast Chapter of the College Music Society, a Board member of the New York Association of College Music Programs, and Board Member and Immediate Past President for the Christian Fellowship of Art Music Composers. Davies received a Doctor of Musical Arts degree in composition and a Master of Music degree in composition from the Frost School of Music at the University of Miami and is a proud Houghton alumnus for his undergraduate study in piano performance. Davies' music has been performed across the United States and internationally in prestigious venues such as the New York City's renowned Carnegie Hall and the historic Great Hall at Cooper Union.
"What I am most excited to share with you about David is his love for our Lord and Savior Jesus Christ and his deep commitments to Christian higher education, spreading the Gospel and nurturing the faith development of our students," continued Lewis. "I am confident that, as Houghton's next Provost, Dr. Davies will lead Houghton's academic enterprise in a manner that glorifies God."
Houghton University began the national search for a new provost in 2021. Davies will succeed Dr. Cathy Freytag, who has served as the interim academic dean for the 2021-22 academic year. Davies, along with his wife, Carrie (Hoffman '01) Davies, and their four children, look forward to reconnecting with the Houghton community when he begins work as Provost this summer.