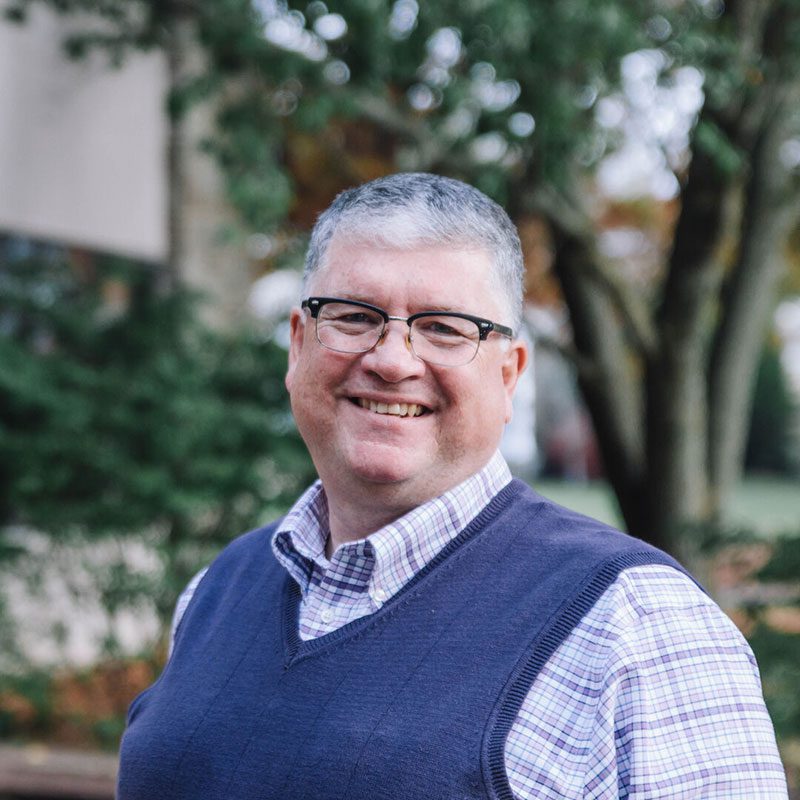 Douglas Gaerte
Professor of Communication
Teaching Philosophy
Communication is central to everything we do in life. My greatest joy as a professor is watching my students improve in their ability to communicate effectively in a broad range of situations. Whether it's engaging new people in conversation, building stronger friendships, establishing healthy family dynamics, presenting professionally in a business context, leading an effective group discussion, or teaching a class, I want my communication students to have the knowledge and confidence they need to achieve their goals for a given situation. In every class I teach, and in numerous outside-of-the-classroom experiences, I try to model good communication myself while striving to create as many opportunities as possible for my students to practice their communication skills in a range of contexts.   We learn by doing, and the success of our majors after graduation is a testament to the work that we do in our department.
Education
Ph.D. in Communication | Indiana University  (1995)
M.A. in Communication | Indiana University  (1987)
B.S in Speech Communication and Psychology | Grace College (IN)  (1983)
Courses Taught
Presentational Speaking
Communication Theory
Interpersonal Communication
Organizational Communication
Techniques of Oral Performance
Advanced Presentational Speaking
American Public Address
Science Honors
Senior Capstone: Seminar in Public Communication
LinkedIn Profile
Professional Memberships/Associationsexpand_more
Christianity and Communication Studies Network
National Communication Association
Professional Experience/Achievementsexpand_more
Frequent speaker for campus and community groups. Conduct workshops on organizational effectiveness, small group communication, leadership, marital communication.
Frequently serve as MC or moderator for various campus and community events.
Voiceover work and narration for video and for various public performances.
Public address announcer for New York Collegiate Baseball League team.
Research Interestsexpand_more
I am particularly interested in the study of public discourse and how we talk about and debate issues that are important to our civic life. This relates especially to political communication and the functioning of social movements such as the suffrage movement, the abolition movement, and the civil rights movement. In recent years I have been focusing of a lot of reading on issues of race and racial reconciliation.
Presentationsexpand_more
Frequent presentations and workshops for campus and community groups, including Leadership Allegany, ACCORD Corporation, Erie County Community College, Southern Tier Leadership Summit, Houghton Wesleyan Church, Encore, and various Houghton University offices. I also serve as the Public Address Announcer for the Genesee Rapids of the NY Collegiate Baseball League
Awardsexpand_more
Faculty Excellence in Teaching Award
Kenneth Boon Community Service Award
Publicationsexpand_more
Houghton Magazine; Buffalo Law Journal