Graduate from College as an Army Officer
Army Reserve Officers' Training Corps (ROTC) at Houghton allows you to earn your college degree as you train to become an Army Officer by combining in-class academics and important hands-on training. You'll be offered physical and mental challenges geared to help you succeed in college and beyond.
Train in one of the nation's top leadership programs (Army ROTC).
Graduate with a guaranteed career as a second lieutenant in the Army, Army Reserve, or Army National Guard.
Become eligible for ROTC scholarships which cover full tuition and fees plus a modest living allowance.*
ROTC Scholarship Application
*Houghton ROTC students remain highly competitive for these awards that are determined by their achievements and grades.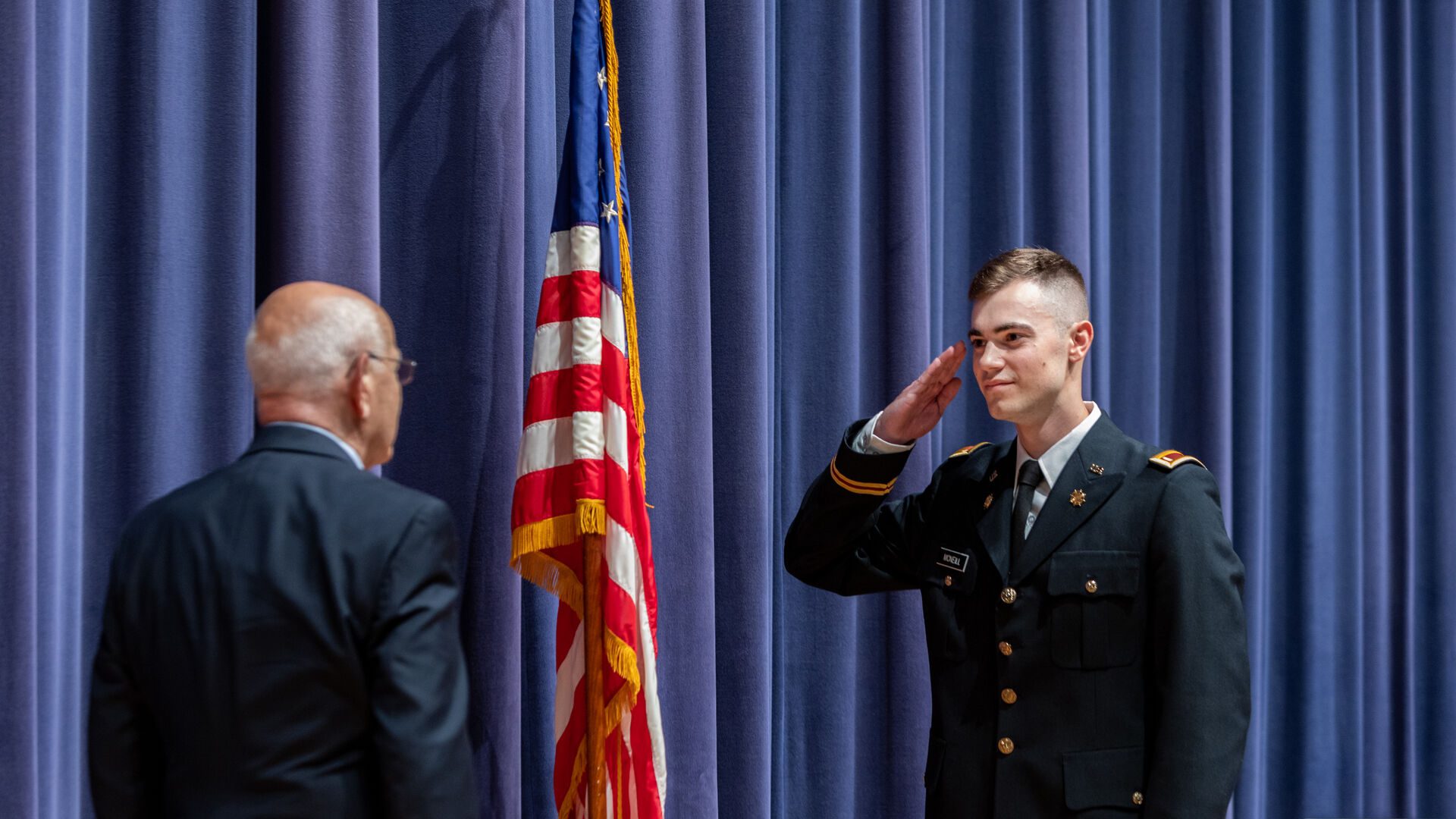 What is Army ROTC?expand_more
Army ROTC (Reserve Officers' Training Corps) is one of the smartest college courses you can take. It offers opportunities and challenges that can put you on the fast track in life. You'll develop confidence, self-esteem, motivation and leadership skills you'll need regardless of your career plans. The qualities that ROTC training instills will be vital to a productive and rewarding future.
ROTC is an effective course that combines in-class academics and important hands-on training. You'll be offered physical and mental challenges geared to help you succeed in college and beyond. You will learn teamwork and be given responsibilities like teaching the junior cadets the same skills you have learned.
For all of the benefits you gain, Army ROTC only requires a few hours a week. So it won't interfere with your required college curriculum or social life. In fact, you'll find ROTC a great place to form lasting friendships.
How can Army ROTC benefit me?expand_more
Army ROTC allows you to quickly gain confidence and self-discipline necessary to excel in your studies at Houghton University.  You will acquire leadership skills and the experience sought by employers of college graduates. And you will earn the honor of serving your country as an officer, full-time on active duty or part-time as you pursue your civilian career. We also have two-, three-, and four-year scholarships available.
What is the obligation?expand_more
There is no commitment to join the Army if you join ROTC! Introductory courses let you take a look at officer opportunities without obligation. Once you accept a scholarship or enter the final two years, you will make a commitment to serve as an officer on active or reserve duty.
How does Houghton ROTC work?expand_more
Houghton University's Army ROTC is run in partnership with St. Bonaventure University's Seneca Battalion.
If a student is not interested in Active, Reserves or National Guard duty, he or she is encouraged to take the class as an elective for both freshman and sophomore years, providing a student with an inside look at the leadership aspects of the military.
Houghton University students may participate in ROTC through a cross-enrollment agreement with St Bonaventure University. Two hours of military science are offered each semester that combine academic coursework and practical field experiences designed to enhance self-confidence, discipline, initiative, and responsibility. Up to 8 hours of Houghton graduation credit can be earned this way. 300 and 400 level courses, offered on the Bonaventure campus, are open only to students under contract with the U.S. Army. Call us today at 800-777-2556.
View the Seneca Battalion Facebook Page
Share Your Interest
Our cadets are some of the strongest students at the college. You'll find student-athletes and scholars from every curriculum and many departments on campus. You probably already know us. You've seen us walking to class. If you're up early, you've seen us running in the morning. We present the colors during athletic events. We are students, just like you. Want to try to be one of us? Give us a call.