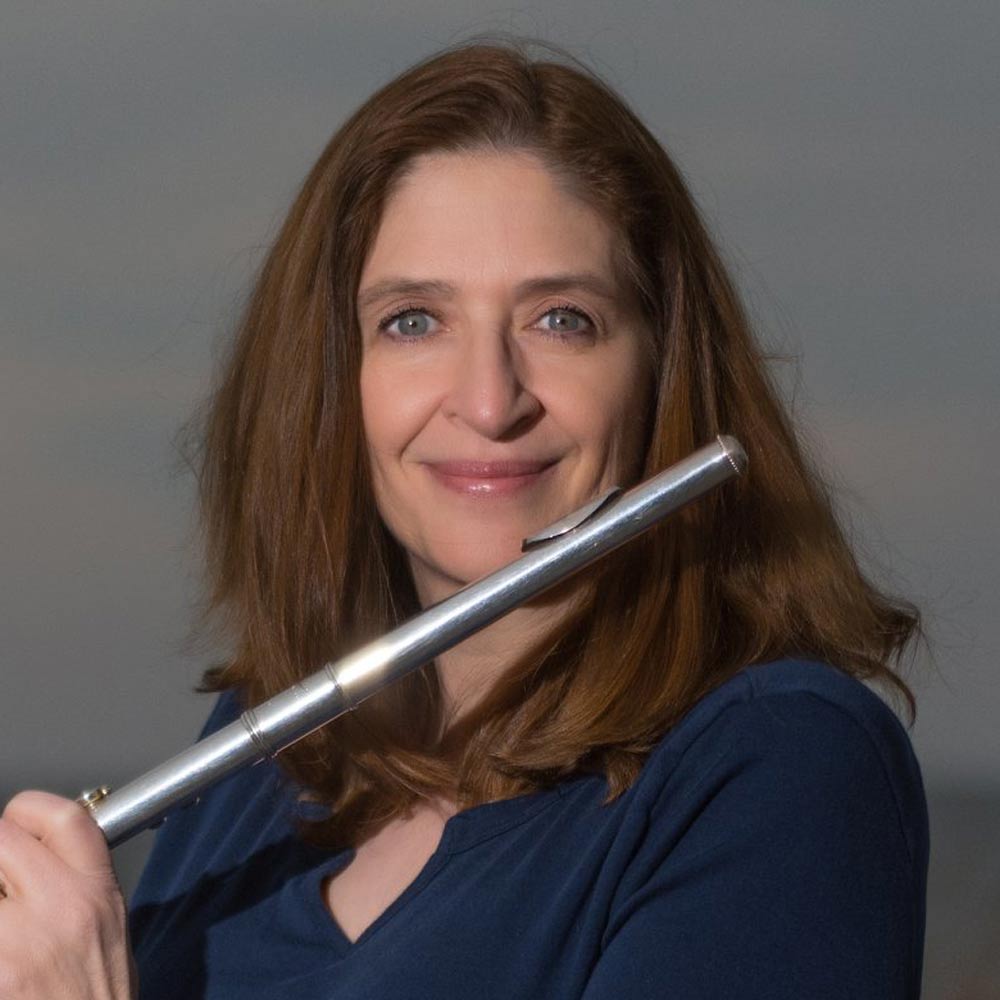 Angela McBrearty
Assistant Professor of Flute
Angela Kinney McBrearty was appointed assistant professor of flute at Houghton in 2008. Dr. McBrearty also holds the position of instructor of flute at 171 Cedar Arts center in Corning, NY, where she holds a large flute studio. She also is instructor of flute at the Csehy Summer School of Music. Through 171, McBrearty began the Crystal City Flute Choir, which is now in its seventh season.
Prior to joining the faculty at Houghton University, McBrearty was assistant professor of flute and music education at Mansfield University in Pennsylvania. In this position she served as supervisor of student teachers as well as taught classes in instrumental music education, flute choir, and curriculum development to graduate students. While at Mansfield, McBrearty began the Flutissimo flute event for high school students. This event was a masterclass and flute choir performance by all in attendance. This annual event grew to over 100 students in attendance that performed with the Mansfield University Flute Choir. McBrearty was also adjunct professor of winds at Alfred University. Previously she was an instrumental music in Roscoe, NY and in Newfield, NY, where she taught high school band and choir.
McBrearty received her DMA in music education from the Eastman School of Music in Rochester, NY. Her dissertation addressed flute pedagogy as it pertains to the beginner flute. Previously she earned her MM in flute performance from Binghamton University and an undergraduate degree in music education from Houghton College. Flute teachers have included Bonita Boyd, Anne Harrow, Georgetta Maiolo, and Lois Wilt. She has also performed for Thomas Nyfenger.
Education
D.M.A. in Music Education | Eastman School of Music
M.M. in Flute Performance | Binghamton University
B.Mus. | Houghton College
Visit Dr. McBrearty's Website
As a graduate of Houghton College as well as a professor of flute I feel well qualified to give high praise to the School of Music. I am honored to be part of the high quality faculty that teaches the students. The quality of student that comes to Houghton is a joy to teach. Students receive a well rounded musical education that helps in whatever musical career they choose to pursue. It is my pleasure to be on the musical journey with each student that comes across my path.
As a performer, McBrearty served as principal flute with the Williamsport Symphony orchestra and has performed with the Orchestra of the Southern Fingerlakes. She also founded and performs in the AMA Flute Trio and is founder/conductor of the Crystal City Flute Choir, which frequently performs in the Central New York region.
McBrearty has given workshops on flute technique and instrumental education at music education conferences in Massachusetts, New York, Connecticut, and Pennsylvania. Clinics have included the music learning theory, teaching improvisation in high school baroque flute solo, as well as beginner flute technique and building a flute choir in the high school. She also presented at the National Flute Association conference in Dallas, TX, presenting on flute technique through the use of etudes. Published articles have appeared in Flute Talk and PMEA News.
Publications & Presentationsexpand_more
Presented Mid Atlantic Flute Convention 2018, 2019, 2020
Presented Greater Philadelphia Flute Fair 2019,2020
Presented Rochester Flute Fair 2018,2019
Presented National Flute Convention 2001
Performancesexpand_more
Principal Flute Williamsport Symphony Orchestra
Performed National Flute Association Conference
Performed Mid-Atlantic Flute Convention