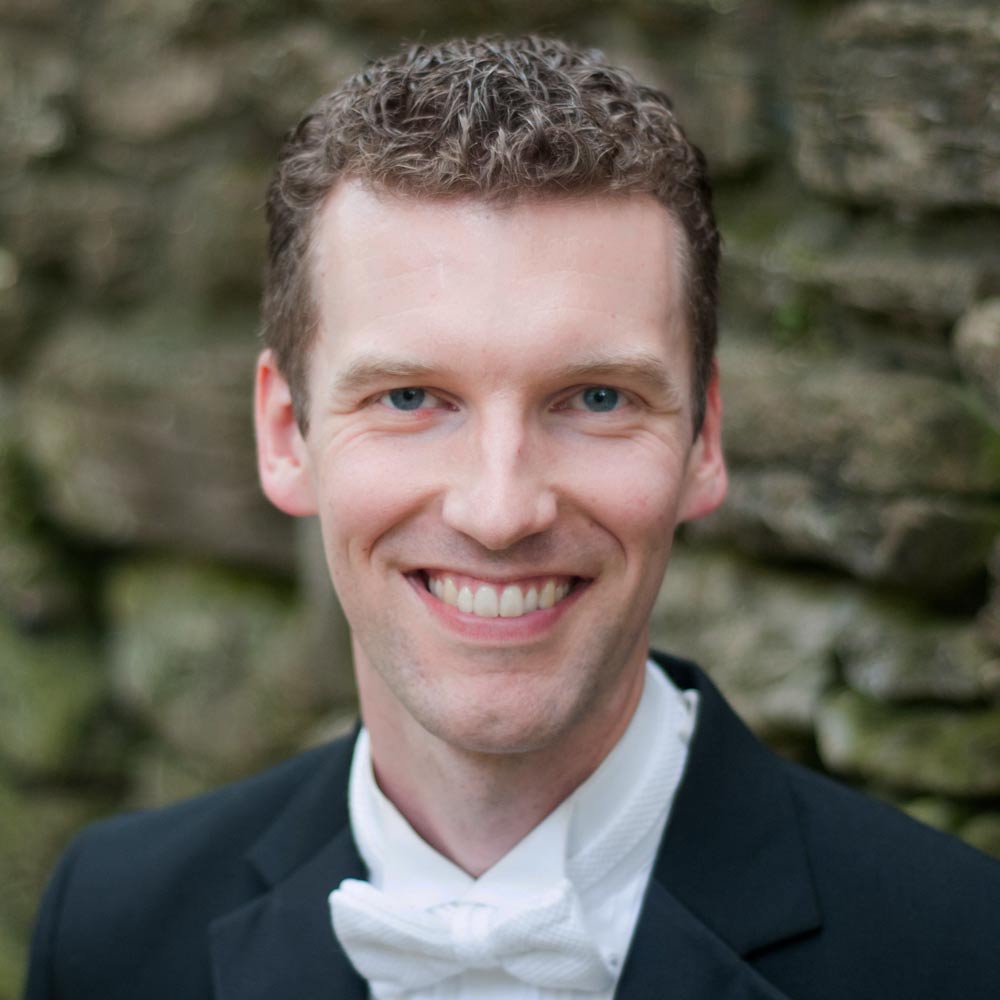 Daniel David Black
Associate Professor of Vocal Music & Conducting; Director of Choral Activities
**Currently on sabbatical**
Daniel David Black is associate professor of vocal music & conducting and director of choral activities at Houghton University in Houghton, New York, where he conducts the College Choir, and teaches conducting and graduate choral literature. Prior to joining the faculty at Houghton, he was the director of choral activities at Lakeland University in Sheboygan, Wisconsin. His collegiate background also includes teaching at Buffalo State College (Buffalo, NY), and Villa Maria College (Buffalo, NY). He has served as assistant director for the Tucson Chamber Artists, assistant conductor for the Tucson Symphony Orchestra Chorus, assistant conductor for the Vocális Chamber Choir (Buffalo, NY), and assistant conductor for the Buffalo Philharmonic Chorus Ensemble Singers. He also has extensive experience working in churches with both traditional and contemporary worship styles.
Dr. Black's primary interests are in bringing together choral and orchestral musicians at every level, educating audiences through innovative programming, and in building foundational choral skills through instruction in vocal technique and literacy. He holds the Doctor of Musical Arts in choral conducting degree from the University of Arizona where he studied with Bruce Chamberlain and Elizabeth Schauer. He also holds a Bachelor of Music in choral music studies from Northwestern University where he studied with Stephen Alltop and Robert Harris, and a Master of Music degree in choral conducting from Houghton University where he studied with Brandon Johnson.
Education
Doctor of Musical Arts – Conducting, University of Arizona, 2014

Master of Music – Choral Conducting, Houghton College, 2008

Bachelor of Music – Choral Music Studies, Northwestern University, 2004
Visit Dr. Black's Website
Choral music offers singers the opportunity to make beautiful music, as part of a community, using the instruments God gave them—their voices. I believe God has called me to help people participate in this profound experience and I am grateful to work at Houghton because I can devote this work unto the Lord.
Publications & Presentationsexpand_more
Black, D. "Why Every Conductor Should Teach Music Appreciation"
Antiphon, 20, no. 2 (Spring 2016). Tucson, AZ: AzACDA
Republished online in ChorTeach, vol. 8, no. 3 (Spring 2016). Oklahoma City, OK: ACDA, acda.org/files/Choral_Journals/BlackCT8-3.pdf
Black, D. "Creating a Culture of Touring"
Antiphon, 19, no. 2 (Spring 2015). Tucson, AZ: AzACDA
Black, D. "Making Adjustments in Your Teaching to Fit the Teaching Environment"
Choral Cues, 38 (Winter 2009). New York, NY: New York ACDA
Republished online in ChorTeach, vol. 6 (Fall 2013). Oklahoma City, OK: ACDA, acda.org/files/Choral_Journals/Black.pdf
Researchexpand_more
Musical literacy
Choral-orchestral masterworks
Performancesexpand_more
Houghton College
Fauré: Requiem (April 2021)
Christmas Prism Online "O Come, O Come Emmanuel" December 2020
College Choir NE tour – "That Empyreal Flame From Whence All Loves Came" Winter 2020
Christmas Prism "Let There Be Light!" December 2019
Handel: Messiah (Parts II and III) April 2019
College Choir – "His Truth Endures to All Generations" March 2019
Christmas Prism "O Night Divine" December 2018
Duruflé: Requiem, op. 9 April 2018
College Choir Northeast tour – "Let the Amen Sound from His People Again!" Winter 2018
Christmas Prism "O Come, Desire of Nations" December 2017
College Choir Mid-Atlantic tour – "We Give Thanks" April 2017
Christmas Prism "Glory to God in the Highest" December 2016
Sheboygan County Masterworks
Duruflé: Requiem, op. 9 February 2016
Christ Church United Methodist, Tucson, AZ
Handel: Messiah, HWV 56 (selections) March 2013
Vivaldi: Gloria, RV 589 December 2012
Stainer: The Crucifixion (selections) April 2012
Saint-Saëns: Oratorio de Noël, op. 12 (selections) December 2011
Honors and Awards
American Choral Directors Association – National Conference Conducting Competition – Finalist (2013)
Courses & Ensembles Taught
College Choir
Men's Choir & Women's Choir
Recital Choir
Undergraduate Conducting (basic and advanced)
Graduate Conducting
Advanced Choral Seminar
Musicianship I and II
Applied conducting lessons