Houghton University is proud to welcome the largest incoming class in six years with 272 new students this fall. These students come from 14 countries, 31 states and 32 Christian denominations, making Houghton University a truly global community.
"It is abundantly clear that Houghton University is filling a deeply felt need in New York State and the northeast," said Wayne D. Lewis, Jr., President of Houghton University.
Houghton is one of the few remaining options for students and families seeking a college or university that unashamedly and unapologetically integrates Christian worldview with academic excellence. As the norms and expectations of society and culture are ever-shifting, Houghton stands boldly and fearlessly on unchanging Biblical truth. This new class of Houghton Highlanders will join the generations of Houghton alumni who are transforming the world in fields including music, education, computer science, biochemistry and accounting.

Wayne D. Lewis, Jr., President of Houghton University
The incoming class includes students with a wide range of academic interests from business and equestrian studies to music and the arts. They also bring with them a variety of talents and experiences, including leadership roles in their communities, athletic achievements and service projects.
"While the size of this class is a reason for celebration all on its own, we are equally grateful for the engagement and energy they are bringing to the campus," said Jason Towers, vice president for enrollment and marketing. "For 140 years, Houghton has created an engaging community for students from diverse traditions and economic backgrounds and has aggressively pursued its calling to make a Christ-centered university education affordable and intentionally transparent. This includes initiatives like setting tuition and fee costs well in advance of the new recruitment year and the new Founder's Promise Scholarship, which makes financial aid equal the cost of tuition for more than one-third of this year's incoming students."
Students like Ryan Kullander '27 are the reason Houghton continues to intentionally address the national issue of college cost. After initially connecting with Houghton for its competitively priced early college courses for high school students, an invitation to Houghton's London Honors convinced Kullander that Houghton was the right choice. Even though he has only been on campus for a few weeks, Kullander is already making the most of his Houghton experience as a recipient of the Founder's Promise Scholarship, a student in the early college courses in high school, and a participant in student-favorite programs like the Highlander Wilderness Adventure and London Honors. What makes Kullander's story unique is that he comes to Houghton from Anchorage, Alaska.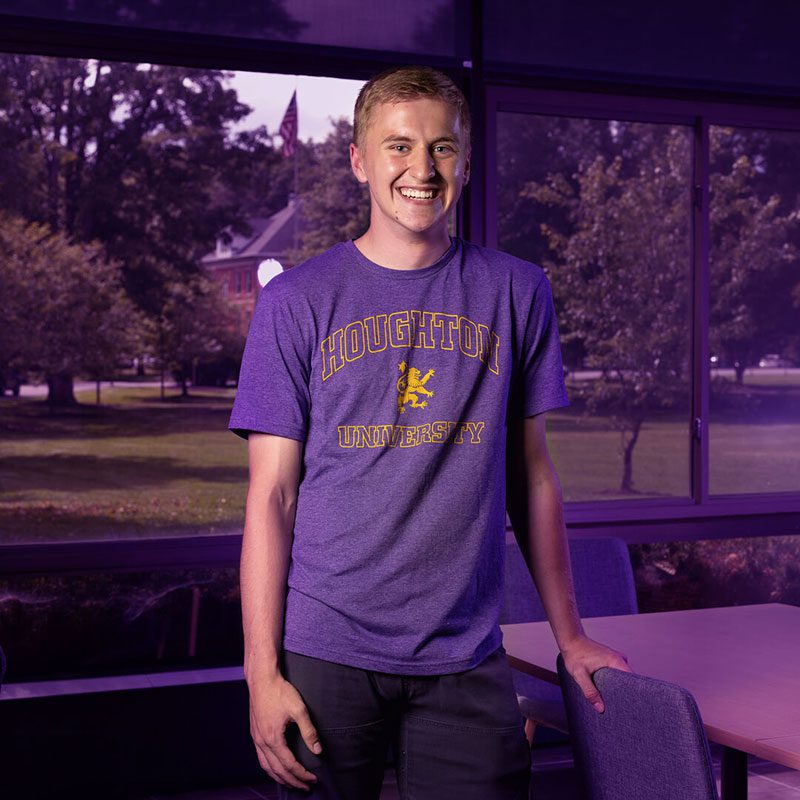 "I was planning on staying local for financial reasons, but Houghton offered me a travel voucher to interview for the London Honors Program, so I decided to take that opportunity." It was during that campus visit that he first learned of the Founder's Promise Scholarship, which made Houghton more affordable than the other schools he was considering. "I have a personal goal of going through school without taking on debt," Kullander continued. "Houghton makes that a real possibility. I am really happy to be here."
Making that Christ-centered university education a possibility for students like Kullander goes back to Houghton's founding mission and Willard J. Houghton's desire to empower the young men and women of Allegany County to break the cycle of poverty and radically alter their future.
For 140 years, Houghton has stood for the hope and holiness of Jesus Christ. We continue to relentlessly pursue excellence, stand firmly on the Word of God, and provide an uncompromising Christian university option for students in New York State and beyond.

Wayne D. Lewis, Jr., President of Houghton University
Houghton University is New York's leading Evangelical Christian university and a nationally ranked Christian college of liberal arts and sciences. With a scenic campus located in Western New York and a close-knit community with an average class size of 15 students, Houghton University offers a personalized education that has launched graduates known for their leadership, service and commitment to making a difference in the world. This includes a surgeon who performed a life-saving procedure for the current U.S. president, a geologist who discovered mountains on Pluto, the owner of the Buffalo Bills, the White House Coronavirus Response Coordinator, and the general counsel of the U.S. Treasury. In fact, 97% of the class of 2022 were employed or enrolled in graduate school within six months of graduation.
The faculty, staff and administration at Houghton University are grateful for the evidence of God's grace and provision in the stories of these successful alumni and look forward to the opportunity to invest in this incoming class and their families in 2023.
About Houghton University
Houghton University is a nationally ranked Christian college of the liberal arts and sciences committed to offering an affordable and excellent Christ-centered education. With an enrollment of 800 students, Houghton has equipped graduates for lifelong success since 1883 through customizable programs offered in Houghton and online. The University offers more than 50 undergraduate in-person and online programs, including equestrian studies, pre-law and biological sciences as well as graduate programs in business, education and music. This fall, Houghton has welcomed its largest incoming class in six years—a cohort of students eager to transform the world for the glory of God.