Meeting President Wayne D. Lewis, Jr., is a delightful experience.
He's a thoughtful listener and engaging speaker. He's a consummate storyteller in the way of a memorable professor or preacher. His stories are never self-aggrandizing but, rather, are instructive, told in a winsome way to make a point of deep relevance. When I sat with President Lewis to interview him for this article, he told a number of engaging stories, but there is one that serves as a profound insight into Houghton's sixth president.
Education was significantly important to the Lewis family. President Lewis saw both parents pursue their college degrees while working full-time and raising a family. They made it clear through their words and the way they lived their lives that they expected only the very best efforts in academic work.
Growing up in New Orleans, President Lewis encountered students of St. Augustine High School and knew he wanted the same education they were receiving. The way those students carried themselves, the way they spoke, the way they interacted with younger people – these were enviable traits to an aspiring young man from a rough neighborhood.
Each year, St. Augustine offered two full-tuition scholarships to top academic performers in their summer school program. As a seventh-grader, a young Wayne Lewis made it – as he says with a gleam in his eye – his "mission in life" to receive that scholarship.
President Lewis at his St. Augustine High School commencement.
He achieved that mission and received a full-tuition scholarship providing access to a life-changing Catholic education.
"As a young black man," reflects President Lewis, "I walked away from my education at St. Augustine with no doubt about who I was and what I was capable of accomplishing. I understood my self-worth, I had a great deal of pride in my education, I was affirmed in my abilities and I knew that, through a tremendous amount of hard work, I could do anything."
This story is illustrative not only of the transforming power of a high-quality education but of the iron will beneath a thoughtful, easy-going exterior. That will, that determination, carried a young Wayne Lewis from his initial career aspirations in law enforcement to the public school classroom. It was in that classroom of underserved and underprepared ninth-graders that President Lewis discovered a larger calling: reaching beyond the classroom to change the very systems that impact the state of education in our country.
With a background in public policy, urban studies and education, it is obvious that God placed tailored experiences along the road that led President Lewis to Houghton University today.
President Lewis's path to Houghton is a familiar one to many Houghton students and employees – one that relies on a deeply held belief in the need for Christian higher education, an alignment with the theology of Wesleyan Methodism, and a sincere openness to following God's leading. It's the deeply held belief in the need for Christian higher education that frames so much of what President Lewis hopes to accomplish during his tenure.
The Importance of Christian Higher Education
"The world is crying out for well-prepared leaders committed to making disciples," President Lewis remarks. "There is a need for leaders who are Christ-centered, completely committed to making disciples; leaders who are well trained and prepared to tackle any number of complex problems."
"If I can give you education or healthcare or food but am not able to give you the real foundation of Christ and His Gospel, we're still playing around the edges and not getting to the core of the problem."
This passionate comment on the need of well-trained disciple-makers is the foundation for a powerful argument in support of Christian higher education.
"I am, first and foremost, an ambassador for Houghton University and am committed to leading Houghton University into the next chapter. But I am also an ambassador for all Christian higher education. Houghton can't do it alone; we can't possibly equip all the leaders the world needs. It is vital we tell the story of Christian higher education nationally and internationally."
When Wayne Lewis speaks of the importance of Christian higher education, I see the same gleam in his eye that I saw when he spoke of securing the scholarship to St. Augustine. It is his "mission in life." Christian higher education isn't the only part of Houghton's identity that resonates with President Lewis. Visiting Houghton's nonresidential locations in the city of Buffalo, New York, also reminds him of his educational journey.
Investment in Buffalo
"When I visit the East Side of Buffalo, I'm reminded of home. I see myself growing up."
You can sense a felt kinship with some of Buffalo's most underserved residents when he says this.
President Lewis reflects on the tremendous impact Houghton has had in Buffalo, dating back as early as the 1970s, with adult education, the P.A.C.E. program, the West Seneca campus, Journey's End Tutoring, and more recently the work with new Americans and refugees on Buffalo's West Side and predominantly Black students on Buffalo's East Side.
"With all the work we've done, we've only just scratched the surface in Buffalo," he remarks. "The need, particularly on the East Side, is so very great. I believe we can and should serve so many more Buffalonians."
Beyond growing Houghton's current program providing access to two-year associate degrees for traditional college students, President Lewis believes it is time to expand Houghton's current offerings in Buffalo to provide weekend, evening, and part-time courses as well as access to four-year bachelor's degrees.
"I have a vision to take our commitment to Buffalo to the next level. It is time for us to serve Buffalo with innovative programs that provide Houghton's traditional foundation in an academically excellent liberal arts core and marry it with job skills training and degree options that move graduates to careers in their communities."
Historically, education reaching underserved students has focused on career training, neglecting the whole-person development promoted through study of the liberal arts. Conversely, liberal arts education is substantially viewed as neglecting to provide useful skills for graduates entering the job market.
"It is time to break down the divide between the liberal arts and career development," states Lewis. And there it is again – that expression that says, "This is my mission."
Looking to the Future
So, after chatting with President Lewis, how would I introduce him to the many Highlanders who haven't yet had the opportunity to meet him in person?
I'd tell you he's determined. Fearless. Inspiring.
He's a leader you want to follow, able to envision a flourishing future and to recognize the abilities of those around him equipped to bring about that future.
He is, in so many ways, the end result that we hope for in Houghton graduates: well trained for the task at hand, equipped with the skills necessary to complete that task, passionately motivated by God's calling to promote the Gospel, and determined to work hard to achieve the mission set before him.
"My vision is that we grow. We need to double down on who we are: providing an academically rigorous preparation integrated with intentional Christian formation and spiritual development. That's who we've been; I think that's what the world needs."
I see it one last time—the determined look of a man on a mission.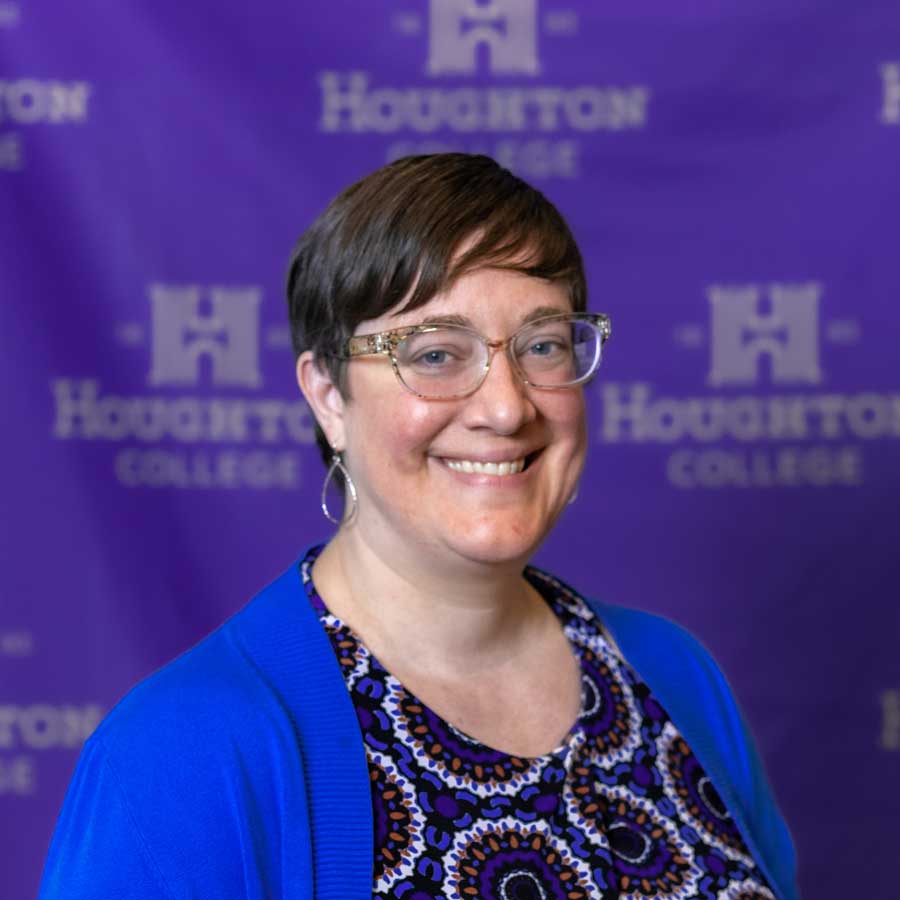 Amanda (Shine '05) Zambrano
is Grant Writer & Donor Communication Director for Houghton University's Office of Advancement and External Engagement.