Houghton University assistant professor of biology, Daniel Hammers, published a new article with the assistance of student Emily Wahlenmayer '24. The article, titled "Streptococcal peptides and their roles in host-microbe interactions," was published in the Frontiers in Cellular and Infection Microbiology. This open-access review article may influence the development of effective treatments for infections caused by Streptococcal bacteria as it explores the relationship between bacterial peptides and their impact on host immune systems.
The research conducted by Hammers and Wahlenmayer sheds new light on the interactions between Streptococcal bacteria and their hosts, particularly humans. By delving into recent literature, the article highlights the significant effects and activities of a class of molecules called peptides. While these peptides are primarily known for their antimicrobial activities, the research reveals several ways bacteria are able to interact with their hosts through the use of these peptides.
Wahlenmayer played a vital role in the publication, contributing her expertise in editing, revising the manuscript, responding to reviewer comments, and designing a key figure in the paper.
"It was a pleasure to work on this project with Emily," said Hammers. "She was very thoughtful, thorough, and insightful with her comments and discussion during the writing process, and her attention to detail when designing the figure was extremely valuable."
Provost David Davies expressed his enthusiasm for the collaborative research, stating,
Houghton University has a rich tradition of faculty and student collaboration in scientific research. Dr. Hammers and Emily's work has the potential to revolutionize our approach to treating Streptococcal infections. Their scholarship exemplifies Houghton's commitment to integrating faith and fearless pursuit of knowledge.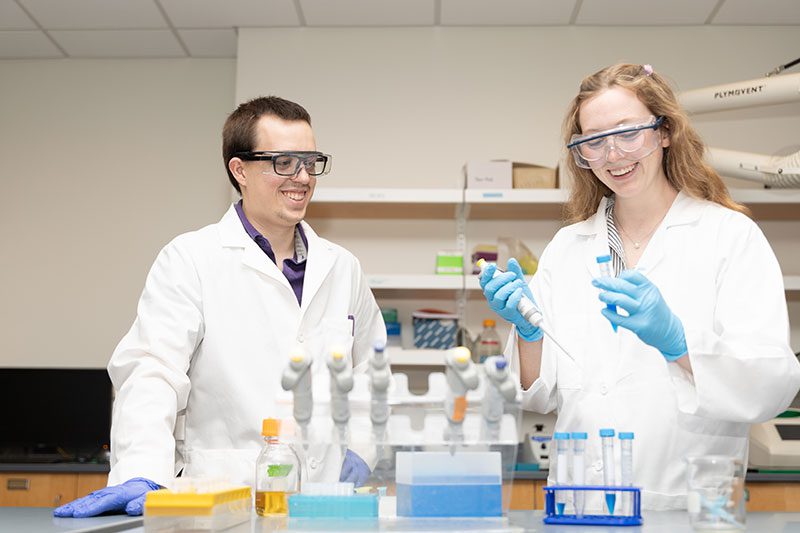 This publication is the latest supporting example for Houghton's reputation for excellence in research and collaboration between faculty and students. Houghton students enjoy these unique opportunities compared with peers from other institutions, ranking 32 percentage points higher than the average at other Christian colleges for working with a faculty member on a research project based on the most recent National Survey of Student Engagement.* This includes recent advancements in Alzheimer's research, experiments conducted at the Laboratory of Laser Energetics and research at the Los Almos Laboratories in New Mexico. As Houghton continues to make strides in scientific discovery, the University remains committed to its core values of student-centered teaching aimed toward making a positive impact on society.
Hammers and Wahlenmayer's research and publication were made possible by awards from the Houghton University Biology department, a grant from the Faculty Development Committee and an award from the Provost's Office at Houghton.
Read the full article
*Compared to other members of the Council of Christian Colleges and Universities,

NSSE 2023 Snapshot