As time unveils the legacy of President Mullen's tenure leading Houghton University, it will undoubtedly be observed that she enlarged the imagination of what it means to carry out Houghton's distinctive mission as a Christian college in this time.
From reclaiming Willard J. Houghton's original mission—exemplified in his iconic phrase, "Yours for fixing up the world"—to a unified understanding of global education and a commitment to what she affectionately calls the Courageous Middle. These emphases not only shaped the vision for the institution, but increased the relevance of Houghton's enduring mission to our time.
Houghton is here to equip women and men to be courageous servant leaders and global citizens by educating the whole person. The creation of fully online programs, the recent tuition reset and the establishment of locations in Buffalo offer three clear examples of how this personalized education is designed to accelerate students' journey to fulfill their God-given potential.
Tuition Reset
When thinking about access to higher education, affordability is, and will continue to be, a primary consideration for students and their families.
I was fortunate to begin my work at Houghton (July 2020) at a time when the need for a response in this area was well recognized by President Mullen. The understanding that this issue required a significant response was, in fact, a core component of the 2020-23 strategic plan.
As the College approached this challenge, our goals were threefold: make the true cost more transparent so we could reach families that visited our website but never made application due to published pricing (silent shoppers), save students money (both now and over time), and remove price as a barrier to a high-quality Christian education. Facilitated by an intense period of study and analysis of the competitive landscape, we determined to meet this need through an exceptionally bold price reset like no other in Houghton's history accompanied by a new financial aid awarding model. Tuition was reduced by 53%, and student scholarships are now funded exclusively through alumni funds. This two-fold approach to make Houghton University an affordable option was only made possible through the dedication and generosity of Houghton's alumni through the recently completed IMPACT campaign, which raised over $41 million for student scholarships.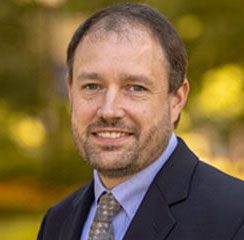 Jason Towers '97
Chief Officer of Enrollment and Marketing
Buffalo Location
When I graduated from Houghton University in May 2013 and moved to New England to pursue graduate education, I never imagined that I would return. That was until one rainy March afternoon when I met with President Mullen at a local Buffalo coffeeshop to discuss a new project. Houghton and a team of Buffalo-area leaders were envisioning an affordable, high-quality inner city college campus on Buffalo's East Side.
Buffalo's East Side is an aggregate of historic Black communities; the rigid demarcations were and continue to be forged in America's painful historical legacy of racial injustice. No college or university had experienced sustainable success in establishing lasting relationships with this community or many of its students. These students were often the first in their families and neighborhoods to attend college; they often experienced higher education as a series of obstacles and not a pathway to liberation and collective flourishing. The vision was to enhance the community's access to affordable and relevant education while providing the mentorship and support necessary for successful degree completion.
Having seen the success of Houghton University's extension program serving new Americans on the city's West Side, calls were intensifying from East Side leaders and students for a partnership. President Mullen led in answering that call and asked me to join her and Houghton University in the effort as program director.
Today, Houghton University Buffalo—East Side exists as an oasis for education access and ethical leadership development in a community often overlooked, underappreciated and misrepresented. But perhaps the most enduring homage to the significance of Houghton Buffalo East comes from a May 2021 graduate and lifelong East Sider who wrote in a recent essay, "Before coming to Houghton University Buffalo—East Side, I wondered if college was a fit for me. Not long after matriculating, I realized that my previous training had not properly prepared me for college success, but, with the support of my professors and classmates, I pushed past my doubts, worked hard to complete assignments even when I struggled and shattered self-imposed limitations. … Now, I know that there are scholars who look like me. … College has made me realize my purpose."
Julian Cook '13
Director, Houghton University Buffalo—East Side
Online Expansion
Although we find a few exceptions, it is difficult to imagine a thriving college or university today without solid offerings in the online arena. Within the first three years of President Mullen's presidency, Houghton started to add online options to its curriculum. Unlike so many online programs, a key feature both then and to this day is that residential faculty have led the way in designing and teaching these classes. In that way, Houghton has ensured that its online classes are in sync with the high academic standards of the residential campus.
The real breakthrough took place in the fall of 2013, when Houghton's longstanding program in adult education put the Organizational Management degree online. From that point on, the offerings of the online program have only grown, spurred on by President Mullen's sense that Houghton must grow in this area. Other degrees in business and psychology were added to the repertoire in 2015. To provide residential students with opportunities for continued learning between spring and fall semesters, summer online offerings began to emerge as early as 2014.
President Mullen strongly supported the move to include online teaching within faculty loading. In the fall of 2019, three new online programs were added, including an online MBA degree and an online Master of Science in Education. Criminal Justice was the third. In 2020, an Associate of Applied Science in Christian Ministries was added. In the last two years, President Mullen has strongly advocated that Houghton use its online platform as a way to provide lifelong learning to alumni and friends of the college through webinars and the possibility of auditing online courses.
The expansion of Houghton's online face is just one way in which President Mullen has continued Houghton's legacy of a quality education in an ever-changing world. History will not only look back and credit her for the foresight to push forward in this area. It will take note of the way she insisted Houghton's online programs reflect the same distinctive identity and quality as its residential programs.
Ken Schenck
Vice President for Planning and Innovation