What Houghton Graduates Say
Our honors group became like a family—professors included—and together, we tackled the world and encouraged each other as we matured as individuals. We had tea together, laughed together, cried together and became new together. I will forever be blessed by this program; even now, the impact is still unfolding in my life as I continue to love God and His world.

Emily Vandenbosch

Honors at Houghton '19
My internships at the U.S. Congress and Deloitte & Touche made my résumé multidimensional. Houghton allowed me to become extraordinary in more than one field.

Joseph Gilligan

Accounting/Business Administration '18
(Houghton's M.S.Ed. program) allows for flexibility for my professional and personal schedule, providing me the opportunity to go at a slower pace to accommodate my life.

Heather Mann

Current M.S.Ed. Student
The thing I appreciated most about Houghton's MBA program was the flexibility it provided me...I was able to work and take my classes at the same time...

Elianna (Chroniger '18) McHenry

MBA '20
Many things contributed to my preparedness for professional work during my education at Houghton. Obviously, the technical knowledge gained in my computer science classes with Dr. Hu was indispensable. But, beyond that, my experience at Houghton provided me with so many ``soft`` skills that have been even more important than any technical knowledge I gained.

While pursuing my degrees in Computer Science and Music, I had the great opportunity to work with the folks in Technology Services as both a helpdesk and a network intern. I learned how to prioritize work and track multiple projects—both homework and IT projects—and developed customer skills.

Benjamin Yuly

Computer Science and Music Composition '16
Where are they now?
Class of 2022
97%
Employed or in grad school within 6 months of graduation.
Placement Rates – 96.6%
Employed – 74.3%
Grad School – 20.8%
Military Service – 0.6%
Based on the First Destination Survey for the Class of 2022.
Where are they employed?
Class of 2022
Rochester Regional Health
Fidelity Investments
Amazon
Buffalo Urban Mission Partnership
Self-employed/Entrepreneurs
Tompkins Community Bank
Naperville Animal Hospital
University at Buffalo
Private and Public Schools
Fellowship of Christian Athletes (FCA)
World Hope International
National Air Cargo Inc.
Annapolis Police Department
This list is a sampling of employers for the Class of 2022.
What They're Doing
Class of 2022
Account Manager
Accountant
Administrative Systems Programmer
Adolescent Outreach Program Coordinator
Art Teacher
Artist
Asst. Director of Admissions and Enrollment Mgmt.
Asst. Director of Choral Activities, Instructor of Piano, Collab. Pianist
Assistant Quality Manager
Audio/Visual Tech
Benefits Analyst
Biological Analyst
Chemistry Technician
Choir Director
Church Plant Resident
Content Marketing Specialist
Data Analyst
Director of Music
Director of Technology Procurement
Youth Counselor
Ecotourism and Research Manager
English teacher
Entrepreneur (business owner)
Family Service Caseworker
Farm Manager
Field Technician
Film Composer
Financial Consultant
Fulfillment Expert
Graphic Designer
High School Math Teacher
Human Resources Manager
Illustrator
IT Specialist
Lighting Technician
Medical Assistant
Missionary
Music Teacher
Patient Care Technician
Pharmacy Technician
Police Officer
Product Engineer
Rafting Guide
Registered Nurse
Sales Manager
Special Education Teacher
Sports Instructor
Staff Accountant
Studio Assistant and Resident Artist
Vet Tech Assistant
Youth Ministry Assistant
---
Where They Attend Graduate School
Class of 2022
Adelphi University
Alfred University
Asbury Theological Seminary
Baldwin Wallace University
Dallas International University
Gwynedd Mercy University
Houghton University
Lake Erie College of Osteopathic Medicine
Niagara University
Medaille College
Messiah University
New York Medical College
Northeast College of Health Sciences
Northeastern Seminary at Roberts Wesleyan University
Roberts Wesleyan University
Rochester Institute of Technology
Ross University School of Veterinary Medicine
Russell Sage College
SUNY – Alfred State College
SUNY – Geneseo
SUNY – Potsdam
SUNY – Upstate Medical University
SUNY – University at Albany
Texas A&M University-Corpus Christi
Tulane University
University at Buffalo
University of Illinois Urbana-Champaign
University of Maryland, College Park
University of Southern California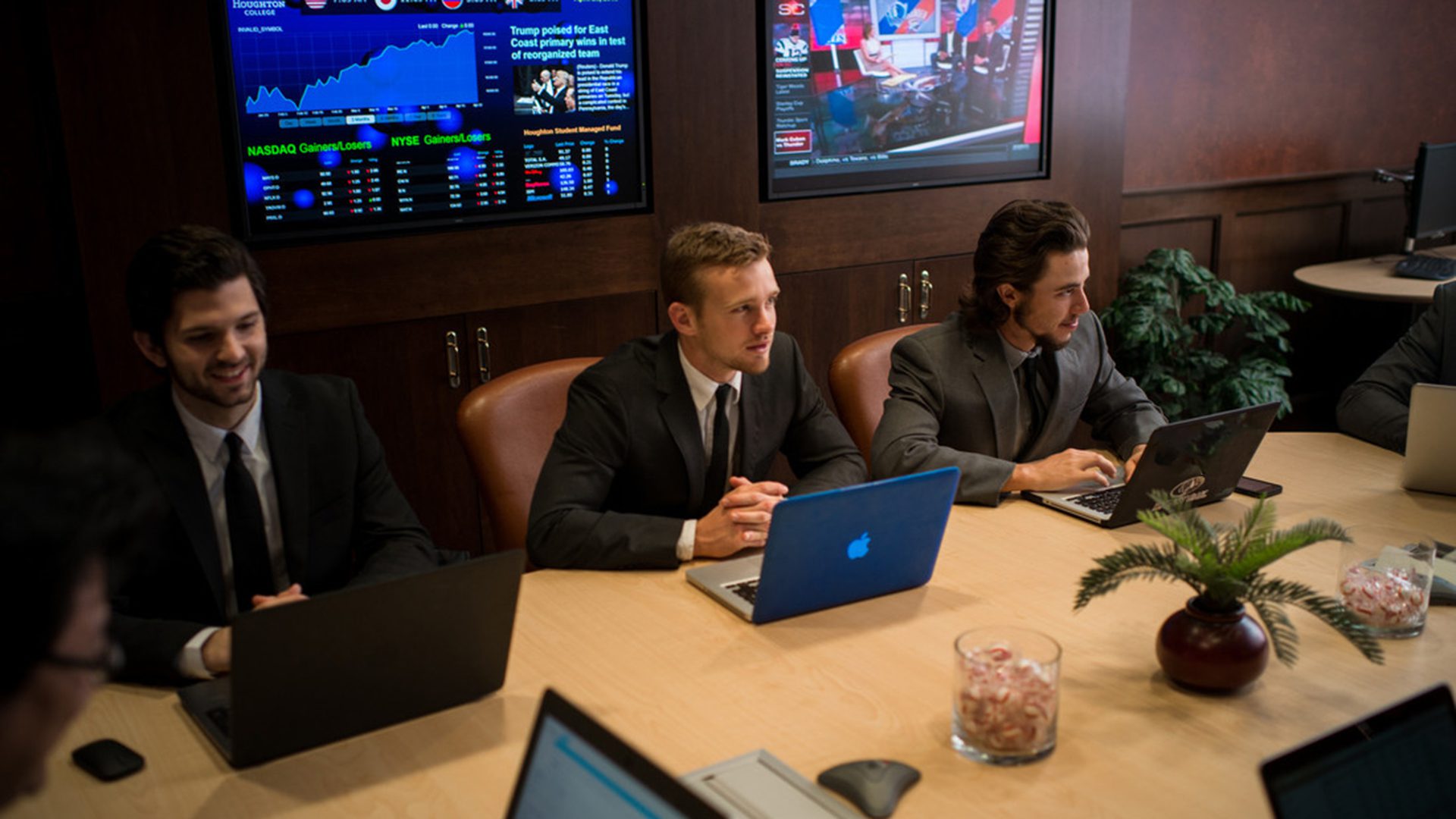 What Employers Say
The day-to-day in the music industry is often very fast-paced and requires effective communication and strong interpersonal skills amongst colleagues to get tasks done. Akil Grampus, Music Industry '19, does a great job of displaying both of these skills, often serving as a mediator in conflict resolution when making decisions and helping strategize on how best to proceed in our action items. Akil handles the overall day-to-day operations for 24/8 Music Group, a label joint venture with Sony Music Entertainment. He is often tasked with coordinating studio sessions, music video shoots, handling invoices, and interacting with other creative professionals who help 24/8 execute their vision and bring great new music to market. Akil is easily one of the most job-ready employees the organization has hired in recent years. He is attentive, detail-oriented, and displays a relentless work ethic that has helped him be incredibly effective in his role for Sony Music and 24/8 Music Group.

Sammy Pisano

Director of Account Management, The Orchard
I have hired college graduates into several different disciplines here at John Deere. Ultimately I seek those candidates that can demonstrate the ability to learn new topics quickly, effectively apply it to their work and increase the strength of the team through collaboration and cross-learning with their colleagues.

Michael Cha, Data Science '18, arrived ready to contribute with the knowledge he had gained through his education and an eagerness to supplement with knowledge gained from his co-workers and independent research. He has worked as a data scientist to develop and improve statistical models to create business insights. Through improving these estimates, John Deere is able to optimize the supply chain and improve the availability of these future parts for our customers.

KEVIN EILERS

SMART CONNECTED WAREHOUSE ANALYST, JOHN DEERE WORLDWIDE PART SERVICES
I don't run into candidates like Victoria Mullen-Bowers, Art '13, especially right out of college. She is logical but whimsical, which brings focus to project management, humor to teamwork and craft to the aesthetic.

As Head of Product Development, she brings to the company a perfect blend of art and business acumen. Her background in graphic design was merely the springboard of her trajectory to running all arts at Northern Lights. Tori is not only a quick learner, but can contribute organizing and building systems across the entire company.

Amy Bennett

COO, Northern Lights Candles, Zippo's family of companies
When I think of the qualities necessary to be a successful auditor, Joe Gilligan, Accounting and Business Administration '18, does not fall short. Building trust is also an important quality to a successful auditor, and Joe has built the necessary relationships to earn the trust of those he works with. Joe is a life-long learner and is always looking to better himself, including making time for self-reflection and taking a positive outlook on every situation. These qualities help Joe to distinguish himself and will set him up for great success in his career.

I am proud to see Joe's progress since joining us, and I look forward to his continued success as he leads his engagement teams' staff as a senior auditor. Having also attended a small liberal arts college, I have no doubt that Joe's success is due in part to his well-rounded liberal arts education at Houghton University.

Caity Whitman

Deloitte & Touche LLP
Erik Sorensen, Data Science '20, came into Deere with a solid foundation in Data Science; he has been able to fit into our agile model, learn on the job while still maintaining high productivity and being accountable to his team. He has worked on projects ranging from geospatial modeling of different vegetation indices to building a predictive model of soil moisture and field accessibility for planting and harvest.

I have been very impressed with his humility and desire to grow, taking personal accountability for his work, and learning to improve in his critical thinking skills. He joined the team with the skills ready to hit the ground running.

Angela Bowman

Scientist, Sustainability Solutions, John Deere
Marshall Brady, Theology and Music Industry '17, serves as High School Director in our student ministry. He has wonderful interpersonal skills that make him effective in ministry, and his experiences on campus (in particular, being an RA, serving on Summer Ministry Teams, and serving in ministry at local churches) helped Marshall start his ministry here ahead of most of his peers in terms of the soft skills he needed to start strong. I've personally watched Marshall lead during COVID, and every week I'm hearing from other staff members who are taking note of how Marshall and his closest colleagues have created a culture of infectious optimism. Our entire church has noticed how his ministry has grown during the pandemic while virtually every other area of ministry has suffered setbacks. Houghton consistently produces young men and women like Marshall who have the education, the experiences, and the work ethic to complement God-given talents.

Steve Dunmire, D.Min.

Teaching Pastor, Watermark Wesleyan Church; Assistant Superintendent, WNY District of The Wesleyan Church
What led to their success?
Houghton University graduates are equipped for successful careers, fulfilling their God-given calling, thanks to the high-quality, affordable Christian education that they received. What makes the difference?
Career Preparation
The Office of Vocation and Calling provides a unique approach to vocational and career planning by engaging with students throughout their first year of college, walking them through individually customized and comprehensive career development plans that are available beyond graduation.
Prepare for your future
National Recognition
From academic reputation to best value, to the safest campus, Houghton's excellence has been recognized in comparison to other colleges and universities.
See how houghton compares
The Houghton Promise
For Student Enrolled at Houghton, NY Campus
At Houghton, you will receive a high-quality education that puts God first and prepares you for the fast-paced and ever-changing world. That's our promise to you, and we stand by it.
View the Houghton Promise
Take the Next Step
Discover a personalized, Christian education that accelerates your God-given potential and equips you for lifelong success.
Request More Information
Apply Now
Outcomes data for the Class of 2021 based on the most recent survey of graduates by the Office of Vocation and Calling.