The best of current business and industry practices, cutting-edge music recording and production techniques, and artistic and musical excellence in a Christian environment.
In the Music Industry major at Houghton University, you will master the latest industry business practices with proficiency in recording and production techniques, while still maintaining a classical foundation in musicianship and theory. Our hands-on approach, coupled with extensive classroom training, internships and professional mentorships, will prepare you to meet the challenges within the music industry, worship arts and entertainment job markets.
Music itself is not a business, but an art form in which business was built around. Because of this, every musical talent needs a support system behind the scenes. From musical performances and concerts that require the aid of a promotional team, agents, and stage crews to streaming an album of your favorite artist that represents the work of studio engineers, producers, technicians, marketing, legal teams, and distributors, musical business is a vast field of unlimited opportunities.
ProTools Certification
ProTools is the industry standard in the video game, recording and film industry worldwide. You can graduate with ProTools certification, and will gain hands-on experience with professional software and hardware—including our industry-standard AVID Venue board. Certification provides a huge benefit to students by giving future employers assurance of their proficiency in ProTools. Houghton University is a certified AVID Training Center. AVID (maker of ProTools) recognizes Houghton as a partner in the film and recording industry, so you graduate with hands-on experience with what the professionals use.
The Center for the Arts
The School of Music is housed in the light-filled Center for the Arts, a 44,000-square-foot facility built with the 21st-century music student in mind. From traditional practice rooms constructed with appropriate sound design criteria and soundproofing to the professional-level digital recording studio, including our industry-standard AVID Venue board, and Korg keyboard lab, our graduates are uniquely prepared to thrive in a variety of musical settings and capacities. This is also home to a 225-seat recital hall, a large instrumental rehearsal hall, The Ortlip Art Gallery and a music library with four listening rooms and a separate choral library.
What will I learn?
Through Houghton's Music Industry major, you will:
Participate in hands-on training beginning the first day of classes with commercial-grade programs used by professionals.
Explore behind the scenes of the entertainment industry, observing the importance of business, marketing, and artist management.
Challenge your abilities to innovate in the production field so your work stands above the rest.
Enhance your résumé with Pro Tools certification.
Experience a professionally motivated environment that implements all key elements to unlocking a successful career in Music Industry.
124 Credits
83-95
Required Courses
29-41
Elective Courses and General Education
Degree Requirements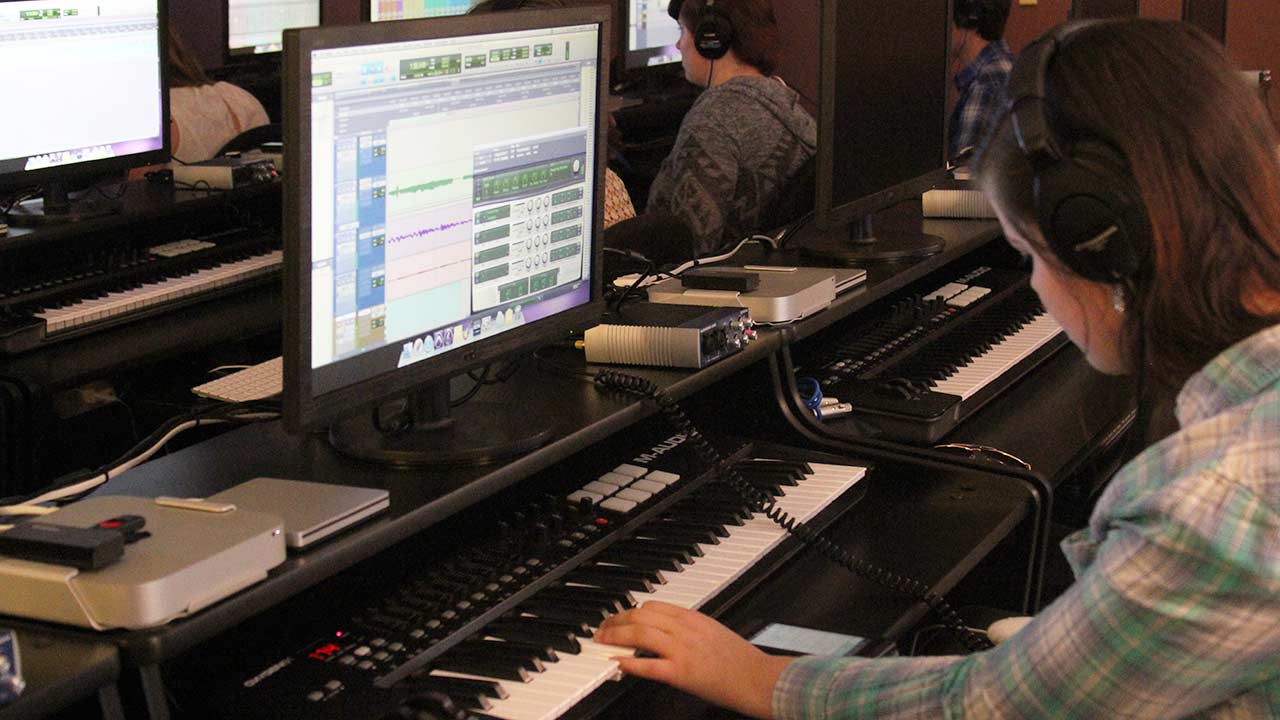 Spend a Semester in Nashville
This partnership with CMC Nashville allows Music Industry students in good academic standing to do the following:
Study at CMC Nashville during their final semester (Spring, Senior year)
Transfer all Houghton Financial Aid to CMC for that semester (i.e. students don't pay any more than they would at Houghton)
Study for a whole semester with leading artists and recording engineers from Nashville
Complete the semester with a full concert tour featuring CMC lighting & sound technicians, musicians, singers & managers
Requirements:
Be accepted into the CMC Nashville Track for Music Industry
Be in good academic standing by the end of the Junior year
Explore CMC Nashville
Learn from the Experts
In the faculty of the Greatbatch School, Houghton has assembled a distinguished group of Christian composers, conductors, performers, teachers and academicians. They have trained at the world's foremost universities and conservatories. Among them are several Fulbright Scholars, acclaimed recording artists and fine performers in all areas. Combining a wealth of professional experience with a love of teaching and a commitment to higher education from a Christian perspective, our faculty provide exceptional opportunities for individual mentoring and professional training.
Experience in the Industry
Work with our director of sound and recording to meet the many production needs on campus including lectures, music performances, chapel, and many other public events, such as touring concerts from some of the biggest names in Christian music.
Program Outcomes
Students earning a B.S. degree in Music Industry from Houghton University are prepared for careers in many areas of music-related business ventures, including but not limited to:
Application Requirements
1
Start Your Application
Complete the application here
Apply Now
2
Documents and Supporting Materials
You'll be asked to provide your official high school transcript and your test scores (can be waived)
Testing Policy
3
Personal Statement
The personal statement portion of our application for admission is perhaps the best place to truly tell your story, to tell who you are and what is important to you.
Personal Statement
Have Questions?
Discover if earning your degree in Music Industry from Houghton University is right for you.