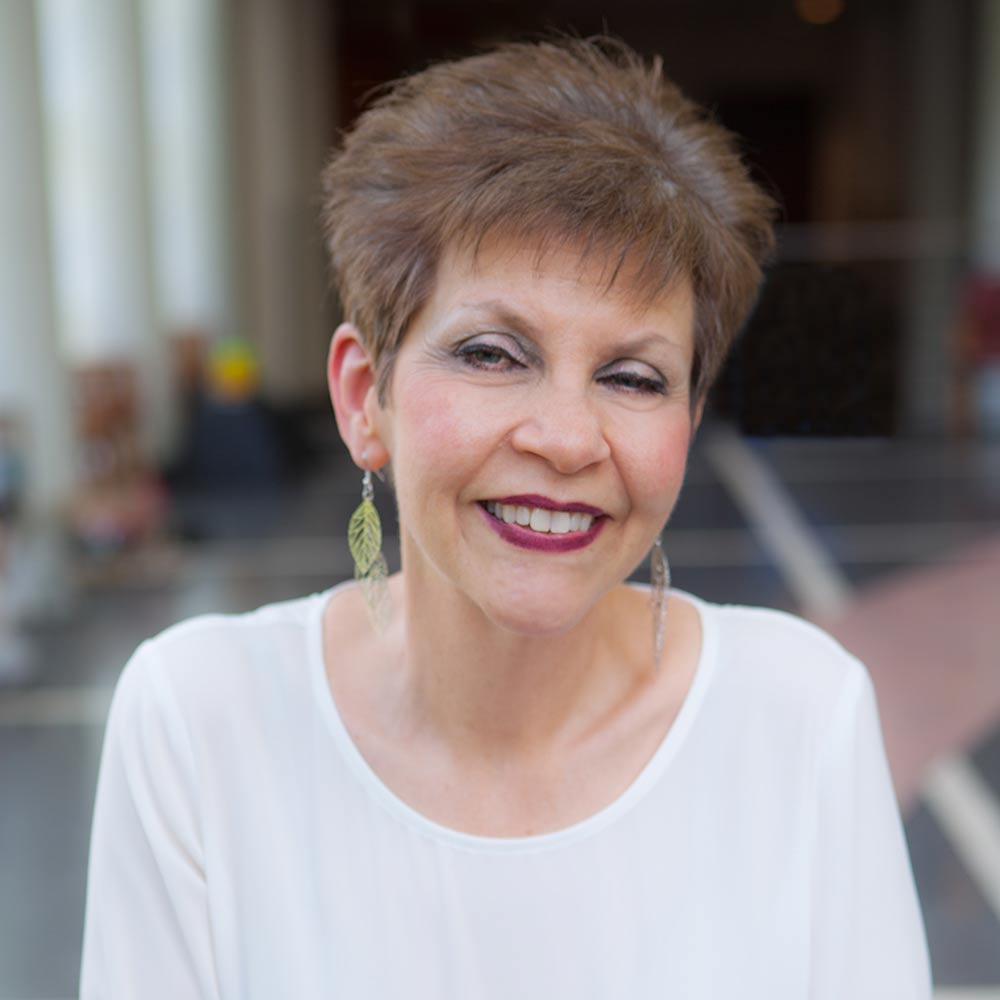 Sharon Johnson
Professor of Piano and Coordinator of Collaborative Piano
Pianist Sharon Johnson has been heard on Minnesota Public Radio and WFMT Radio in Chicago;with the Greensboro Symphony and the Greensboro Philharmonia; in guest artist recitals at the North Carolina Museum of Art and Dickinson State University; First Friday series in Wooster, Ohio; the Baltimore Composers Forum in Maryland; and at the Schubert Club Courtroom Concert Series. She is actively involved in the premieres of new works on a regular basis: in fall 2003, she gave the Minnesota premiere of Ned Rorem's chamber work, Aftermath. Along with baritone, David Klassen, she initiated a new concert series for young artists in Steinbach, Manitoba.
Dr. Johnson gave the world premiere of Juliana Hall's Peacock Pie (for solo piano) as well as Hall's Songs of Enchantment (with soprano, Carrie Shaw) at the Weisman Art Museum in Minneapolis. She has performed in recital with Immanuel Davis, Jean del Santo, and Clifton Ware. Johnson served as invited pianist for the master classes of Keith Underwood at the University of Minnesota, and Eugene Rousseau at Shell Lake, Wisconsin. In addition she has served as one of the official accompanists for the International Tuba/Euphonium Conference and the International Double Reed Society Conference (including the world premiere of Richard Faith's Trio for Bassoon, Oboe, and Piano). As primary keyboard/assistant director of the Continental Singers she has toured the United States, Asia, and Europe. Her performances in master classes and coachings include Nathaniel Rosen, Alexa Still, Emmanuel Pahud, Sherrill Milnes, Håkan Håkagaard, Martin Isepp, Martin Amlin, Ken Griffiths, Anne Epperson, Jean Barr, Zvi Zeitlin and Pierre Vallet. She has been heard on Minnesota Public Radio as pianist for the Ted Mann Vocal Quartet.
Education
B.M. Piano Performance | UNC Greensboro School of Music
M.M. Piano Performance | UNC Greensboro School of Music
D.M.A. Collaborative Piano | University of Minnesota
Collaborative piano and piano are truly my passions in life; moreover, I feel that God has called me to use the gifts that He has given me–both as a performer and a teacher–to inspire and educate others. The Greatbatch School of Music at Houghton University has what I believe to be the very best combination: colleagues and students who love God and love music, and strive to give their very best for His glory.
In addition to recital collaborations with colleagues, Johnson is one half of the duo piano team, Music By Two, with pianist Nancy Davis. Their repertoire includes compositions that range in style from romantic to 20th century to sacred. Since the spring of 2005, Music By Twohas given multiple premieres of Eric Ewazen's Sonata for Two pianos. During 2007, the duo gave the North Carolina premiere of an unpublished work by Lowell Liebermann (Three Lullabies, Op. 76); as well, a re-discovered four-hand piano work by Louise Talma was premiered in a concert at The Library of Congress, celebrating the 100th anniversary of the MacDowell Colony. Music By Two has recently contracted with Scott Management Agency for artist management (www.scottmanagementagency.net); their first CD project is planned in the near future. Johnson has also formed a partnership with saxophonist Chisato Eda Marling. They perform together as Duo du Soleil.
Educated at the University of North Carolina at Greensboro, Johnson received both bachelor's and master's degrees in piano performance. She completed her DMA in collaborative piano with Margo Garrett and Tim Lovelace at the University of Minnesota (where she was a teaching assistant and Denny Scholar). Her dissertation examines text choice and setting in selected songs of Judith Zaimont, Libby Larsen, and Juliana Hall. Johnson has held faculty positions at Greensboro College as coach/accompanist for the opera workshop productions; The Music Center of Greensboro, as a private instructor; director/instructor at the Wesleyan Institute of Music and Arts; as faculty member of the University of North Carolina at Greensboro's Summer Piano Camp; and is a charter faculty member of the Vivace String Camp (piano/collaborative faculty).
Publications & Presentationsexpand_more
Premiere performances of works by living composers are listed in earlier sections, as well as highlights of concert career performances
2012/2013 | Faculty Lecture Series, Houghton University: "Maintaining the Mystique–Elizabeth I, Music and Dance
as Symbols of Virginity"
May 2008 | Dissertation: "Viriditas: Enlivened Creativity in Selected Works of Judith Lang Zaimont, Libby Larsen, and Juliana Hall" (University of Minnesota)
May 2004 | Lecture/Recital, University of Minnesota: "The Music of Juliana Hall" (World premieres of "Songs of Enchantment" with Carrie Henneman Shaw, soprano; "Peacock Pie", piano solo
Researchexpand_more
Women Composers (particularly American Composers)
Interdisciplinary studies among music/art/literature
Contemporary Art Song
Performancesexpand_more
Release of first CD of "Music By Two" (Sharon Johnson and Nancy Davis, pianos) entitled American Landscapes (World premiere recordings of works by Eric Ewazen and Lowell Liebermann)
CD (in production): "American Landscapes"—including world premiere recordings of music by Eric Ewazen and Lowell Liebermann (Music By Two: Sharon Johnson and Nancy Davis, pianos); received Faculty Development Grant from Houghton
Summer 2016 | First Recording of "Emily! (From New England)" by Gwyneth Walker, with Amanda Cox, soprano on www.gwynethwalker.com, Summer 2016
March 2015 | World Premiere of composition written for "Music By Two" by Gregory Carroll at the College Music
Society Regional Meeting, High Point University, North Carolina
April 2014 | "Concerto for Two Pianos" ("Music by Two" with Nancy Davis, piano) with Houghton University
Philharmonia
August 2014 | National Flute Association Convention, Chicago, Illinois; "Contemplation and Inspiration" (with Leslie Marrs, flute)
October 2013 | National Conference of Christian Fellowship of Art Music Composers, Houghton, New York (World premieres of music by Norman Wood for solo piano; and David Fuentes, with Amanda Cox, soprano)
April 2010 | Live from Hochstein, WXXI Radio (Rochester, New York) with Nina Assimakopoulos, flute
May 2008 | Live Radio Broadcast, WFMT Radio (Chicago, Illinois), Pianoforte Foundation Fazioli Salon Series, "Music By Two" with Nancy Davis, piano (Illinois Premiere of "Sonata for Two Pianos" by Eric Ewazen)
March 2007 | Women's History Month Concerts at the Library of Congress, Washington, DC, and the University of Maryland, March 2007 (Music By Two, with Nancy Davis, piano); received Faculty Development Grant from Houghton University
2005-2007 | Premieres of "Sonata for Two Pianos" by Eric Ewazen in New York, North Carolina, and Ohio
May 2004 | Lecture Recital (University of Minnesota): The Music of Juliana Hall (World premiere performances of "Songs of Enchantment"–with Carrie Henneman Shaw, soprano; "Peacock Pie" for solo piano)
November 2003 | Chamber Music for Voice and Instruments (Minnesota premiere of Ned Rorem's "Aftermath" (with David Klassen, baritone; Noah Rogoff, cello)
September 2002 | Ted Mann Singers, KSJN Public Radio (Minnesota Public Radio, St. Paul) with Julian Ward, piano
April 2001| Baltimore Composers Forum, Premieres of new works for flute, saxophone, and piano; with Leslie Marrs, flute; Stephen Stusek, saxophone
Honors and Awards
Fall Island Repertoire Development Program (one of four applicants chosen from across the United States)
Finalist in The American Prize Competition (Professional Chamber Ensemble Division "Music By Two" with Nancy Davis, piano)
Official Pianist for the International Horn Prize Competition
Faculty Development Grant for "American Landscapes" CD "Music By Two" with Nancy Davis, piano; World premiere recordings of works by American composers
Faculty Development Grant for Women's History Month concerts with "Music By Two" with Nancy Davis, piano, at the Library of Congress and the University of Maryland
Who's Who Among America's Teachers (2005-2006)
Official Pianist for International Double Reed Society Conference and the International Tuba/Euphonium Conference
Invited pianist for the masterclasses of Keith Underwood (flute) at the University of Minnesota
Invited pianist for Shell Lake, Wisconsin masterclasses of Eugene Rousseau (saxophone)
Moderator for sessions at College Music Society National Convention, Rochester, New York, October 7-9, 2021
Courses Taught
Undergraduate
Applied piano lessons
Piano proficiency lessons
Collaborative Performance Practicum
Vocal Literature
Graduate
Applied collaborative piano lessons;
Collaborative Performance Practicum;
Vocal Literature
Recordings