We are excited to welcome you to campus!
Information for first-year and transfer student orientation will be made available here as it becomes available. Please regularly monitor your email and this page for more updates.
Important Dates for Fall Semester
First Day of Classes: August 28
Homecoming Weekend: October 6-7
October Break: October 14-17
Thanksgiving Break: November 22-26
Finals Week: December 11-15
Christmas Break: December 15
Orientation Schedule
New Student Dedication Service Livestream - 8/25 @ 2:30 p.m.
Houghton Youtube channel - search "Dedication Service 2023"
Move-In Day
Friday, August 25
---
For all first-year and transfer students.
Check-in at the tent in the parking lot outside the Campus Center and we will direct you from there.
Suggested arrival times:
8:00-10:00 a.m.
Non-western New York residents
10:00 a.m.-12:00 p.m.
Western New York residents
11:30 a.m.-12:00 p.m.
Commuter Students
After check-in, you'll be directed to your Residence Hall to get moved into your room*
*You may be directed to Financial Services or Health Services before going to your residence hall if you still have unfinished paperwork.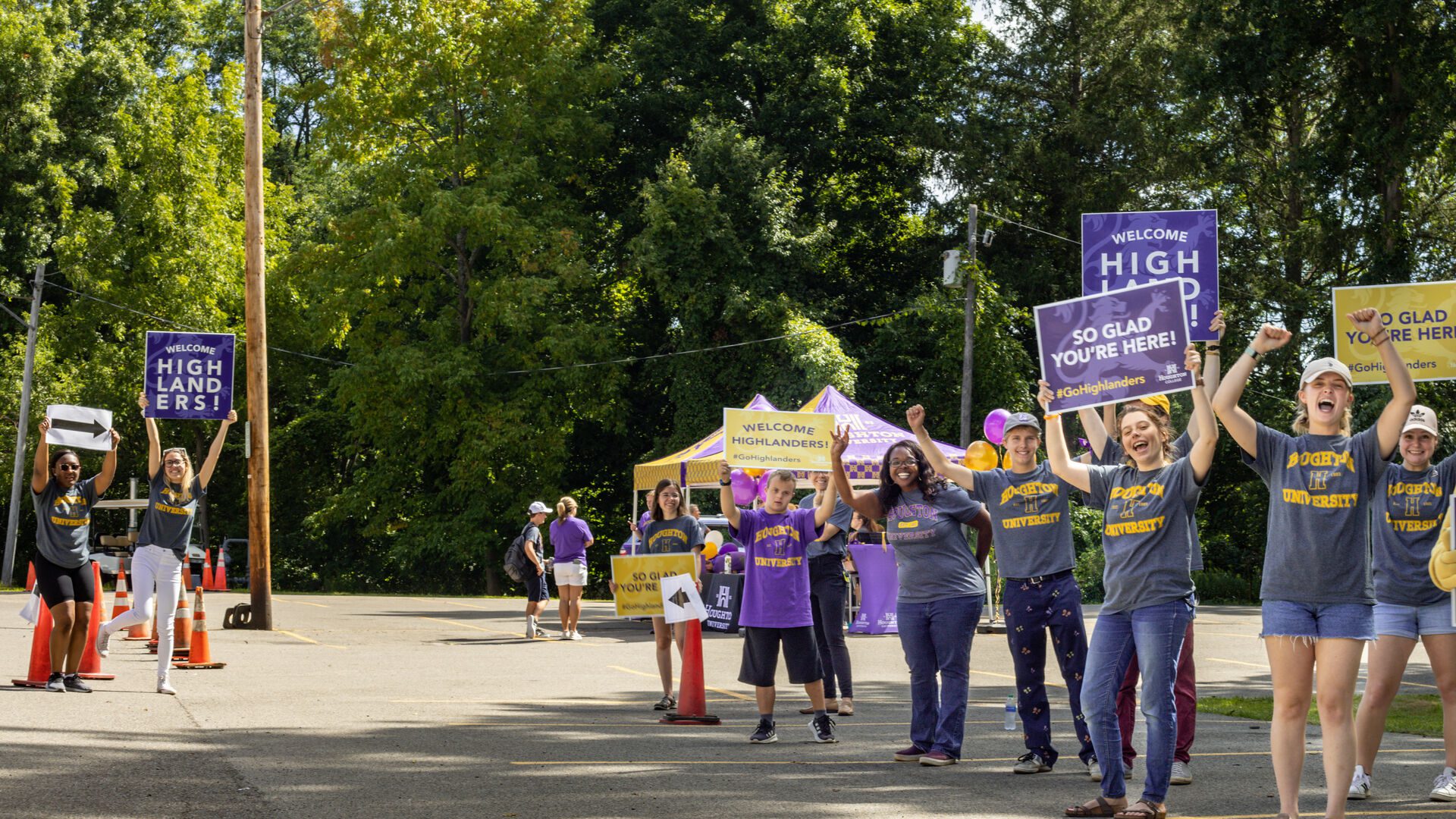 Orientation Schedule
Friday, August 25
8:30 a.m.-1:00 p.m. | Information Hub - Van Dyk Lounge, Campus Center
Once you are moved in, swing by to get your student ID, find your Campus Post Office box, find on campus employment (remember your required ID) or if you just have a question!
11:30 a.m.-12:30 p.m. | Mandatory Immigration Workshop for International Students (Including Canadians) - Chamberlain 123
11:30 a.m.-1:00 p.m. | Lunch Open - Dining Hall
New students can get lunch for free with their nametag, and families may buy tickets ahead of time or at the information hub
12:00 p.m.-1:00 p.m. | Transfer Student Lunch - Lennox Dining Room
1:00-2:00 p.m. | Student Program - Student Council Meet and Greet - Larder Courtyard
Come out and meet current Houghton students who are excited to serve and represent you this year!
1:00-2:00 p.m. | Family Program - Supporting from Afar - Center for the Arts Recital Hall
An opportunity for families to hear about ways to support your students while they are at Houghton.
2:30-3:30 p.m. | New Student Dedication Service - Wesley Chapel
Celebrate our new students with our annual new student dedication culminating with a bagpipe processional around the Quad
3:30 p.m. | New Student Photo and Family Social - Gillette Lawn
New students gather for a class photo and enjoy refreshments before saying goodbye to families and friends.*
*Families depart following social.
4:45 p.m. | Meet for Dinner with Residence Life
Residential Students - Meet in your Residence Hall Lounge
Commuter Students - Meet in the Van Dyk Lounge (Campus Center) with Student Council
6:30-7:30 p.m. | Welcome Session - Nielsen Center
7:30-8:30 p.m. | Slip n' Slide and First Year Bash - Ski Hill and Gillette Lawn
Orientation Activities
Saturday, August 26 and Sunday, August 27*
*Activities are subject to change.
Connect with the Houghton campus:
Breakfast with President Wayne Lewis
Academic Department Receptions
Get to Know Student Life
Succeeding in Residence Life
Placement Exams
Student-led Workshops
Vocation and Calling
Getting involved with Student Council
And more!
Connect with other students:
Block Party
Game Night
Kickball after Dark
Open Mic Night
Residence Hall Programs
Tie-Dye
Field Day
Ropes Course and Transitions group activities
Sunday Service
Koinonia: Night of Worship
And more!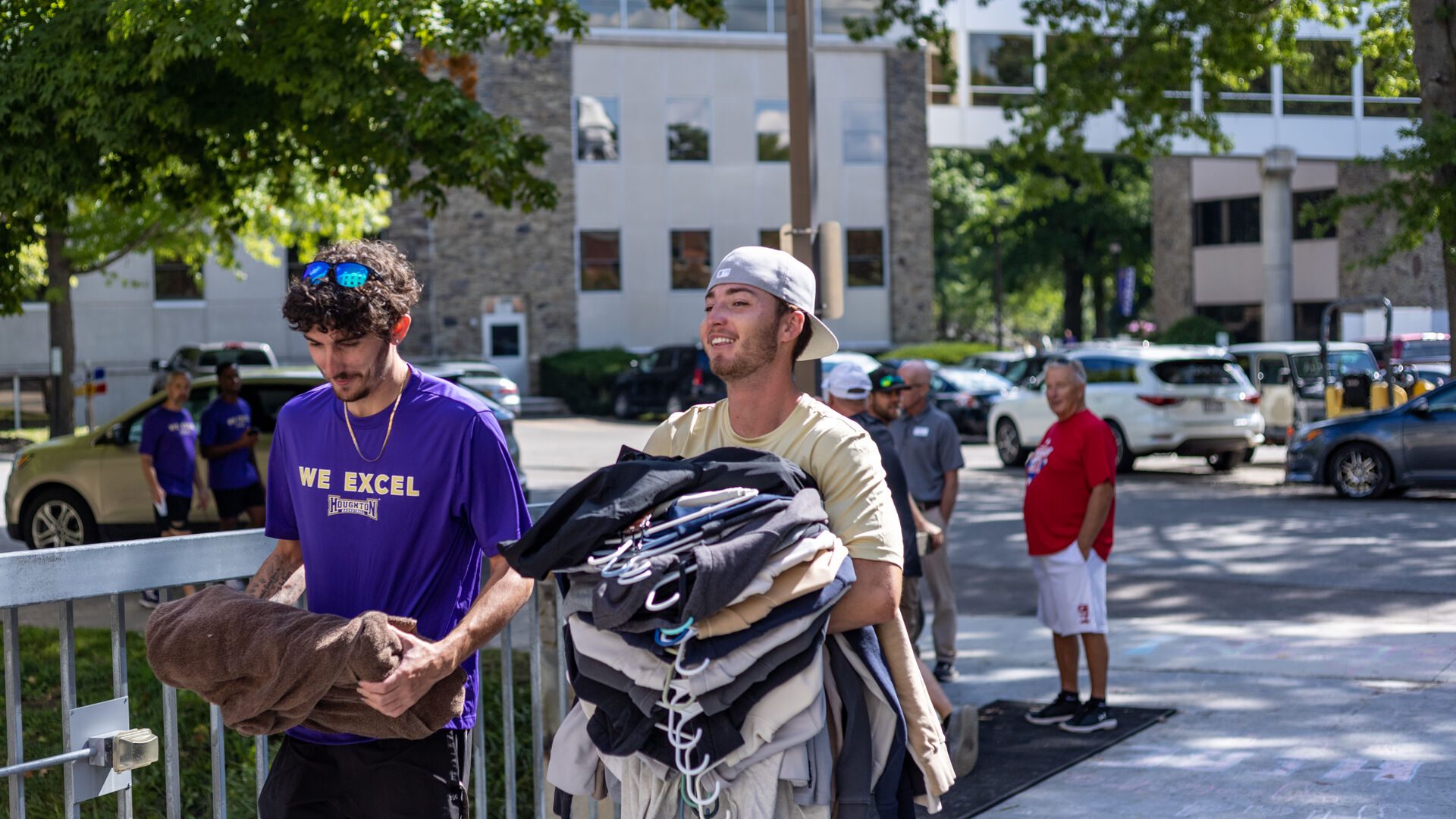 Tips for Move-In
Move-In is an exciting time on Houghton's Campus! After you arrive to campus and complete your stop at the welcome tent, a team of volunteers will greet you, offer directions to your residence and help you unload your items into the hall. We provide carts for convenience but we do not have elevators (except for Lambein Hall)—so there will be carrying involved!
Stay calm and enjoy the process—we want you to enjoy setting up your new space, so don't feel rushed. We have intentionally provided plenty of time for you to get settled before activities begin.
Talk with your roommate—Do you want to bunk you beds? Do you have a vision for decorating? Share your ideas for how to set up the room with one another or talk through it together on move-in day to create a space you're excited to live in!
Less is more—Most of our students bring too much and then have to figure out how to make it all fit into their space. Bring what you need, there are always opportunities to add to the room after move-in.
Label boxes/bags with name and room number—this helps to make sure your items do not get lost between your vehicle and your room.
Stay cool—our residence halls do not have air conditioning. If it is a hot day, we recommend dressing to stay cool and comfortable. Bringing a fan for your room is a great idea for the first few weeks!
Check your Houghton Email—Orientation Weekend updates and move-in details will be sent out closer to August to your Houghton email account. It's a good idea to make sure you are checking your Houghton email over the summer.
Living on Campus
Your Resident Advisor (RA)
A peer, student leader. The RA lives on your floor and serves as a resource as you transition to Houghton's community. They plan floor programs, create a welcoming living-environment, and are available for support throughout the year.
Your Area Coordinator (AC)
A live-in professional staff member who oversees the residence hall. AC's are trained to provide whole-person care as they supervise the RA team, provide administrative leadership, and respond in times of need.
Housing Office
The Housing Office is responsible for all student housing, including room placement and meal plans. We encourage you to contact Housing@houghton.edu with any questions you may have about your residence hall space, your room, or your meal plan. Be sure to check your Houghton email for important Housing updates this summer.
Roommates
Once you receive your housing assignment and roommate information, reach out to your new roommate! We encourage a brief introduction to one another and working to coordinate who will bring certain items for your room. We recognize living with a community of new people is an adjustment and we are here to journey with you through this exciting transition. As you connect with your roommate, take advantage of the Residence Life resources including the Welcome Weekend Roommate Relationship event.
Interested in working on campus?
Discover work opportunities conveniently located on campus and learn about the next steps with Student Payroll. Be sure to bring a current driver's license/learner permit and social security card/birth certificate or a current passport with your to campus.
Explore Opportunities