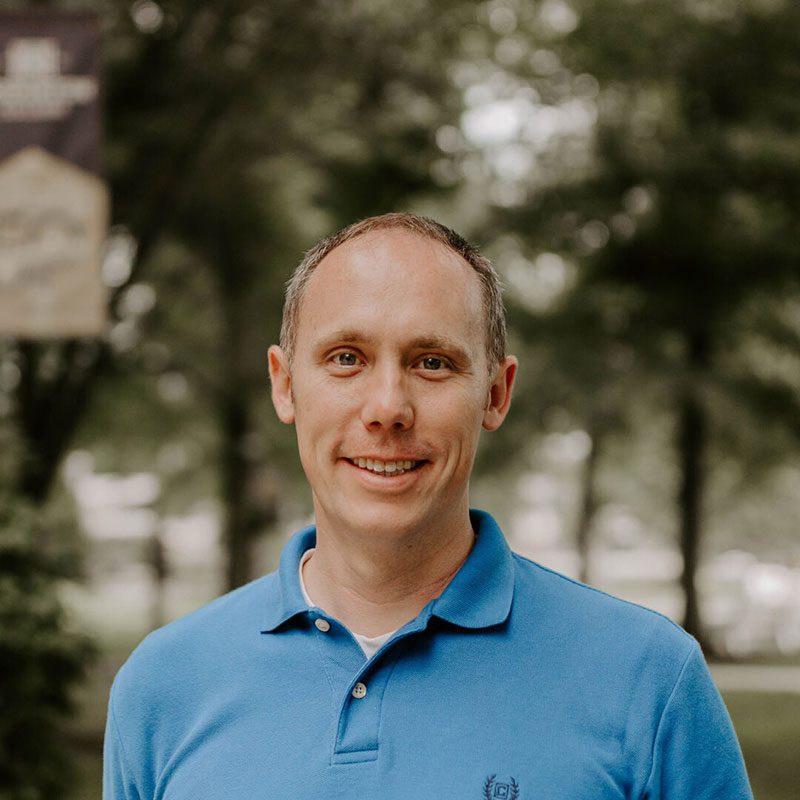 J.L. Miller
Chair of Religion; Director of Emmanuel Scholars, Spiritual Life Ministry Resources Director
J.L. served as a youth pastor for a total of 11 years in Pittsburgh, Ithaca, Kentucky, and Buffalo before arriving here at Houghton in 2010. Ordained in the Wesleyan Church, J.L. serves as the Chair of Religion, Associate Dean of the Chapel, and teaches Youth Ministry.
J.L. and his wife, Heidi, along with their four kids make their home in Houghton and love to take long road trips, play board games, and cheer for the Bills!
After over a decade of serving in the local church, I came to two significant realizations. First, most of my interactions with people in the church boiled down to questions of spiritual formation. While the circumstances were often very unique, the core concern was the same- how do I make sense of what God is doing in my life and how can I grow in my faith? This realization led me to pursue further education in the field of Spiritual Formation.

The second realization was the desperate need for spiritually healthy ministers. Ministry is incredibly complex these days and unbelievably taxing on pastors. I love the local church and want to see congregations thriving as a result of leadership that is well-trained and spiritually healthy. I love educating future pastors because I want to play my small part in helping the local church be a force for God's Kingdom work in the world.

I love doing this work at Houghton because a residential Christian Liberal Arts education is one of the best places for deep personal formation and rigorous academic learning. It is thrilling to watch students integrate their personal spiritual growth, content from classes outside of their discipline, and their particular passion for ministry. This type of robust and dynamic development is what the church needs and is what Houghton does best.
Education
B.A. in Student Ministries | Geneva College
M.A. in Youth Ministry | Asbury Theological Seminary
D.Min. in Spiritual Formation | Tyndale Seminary Toronto
Courses Taught
Foundations of Youth Ministry
Foundations of Educational Ministry
Christian Formation of Youth
Theological Explorations of Youth Culture
Spiritual Formation
Emmanuel Scholars
Awardsexpand_more
Tyndale Seminary Valedictorian
Selected by seminary faculty as class valedictorian based on academic achievement, ministry skills, and Christian character.
Asbury Seminary's Excellence in Youth Ministry
Recognized by the Youth Ministry department faculty as the top student in the field, both practically and academically.
Theta Phi Honor Society
Selected by Asbury Seminary faculty to be a member of the Kentucky Chapter of Theta Phi, an international honor society for theological students, scholars in the field of religion, and outstanding religious leaders.
Presentationsexpand_more
Presentation, Deep Roots in Christ: An Exploration of Spiritual Formation Through Habits in College Ministry. Virtual Gathering, 2020
Presentation, Spiritual Growth for Teens. E-416 Youth Conference, 2019.
Presentation, Spiritual Growth for Business Leaders. Annual Houghton MBA Retreat, 2019-Present.
Presentation, Spiritual Cross-Fit: High Impact Exercises for the Deep Parts of Your Soul. Refresh Wesleyan Family Camp, 2018
Presentation, Freedom in Christ or Just a Bunch of Rules: Real Faith for Real Teens. Houghton Sr. High Leaders Conference, 2017.
Presentation, Strenghtsfinder and Finding Your Calling. Houghton College, Annual Sophomore Leadership Summit 2016-Present
Presentation, Youth These Days: What Teens are Facing and Why Youth Ministry Matters More Than Ever. Rochester Youth Association, 2016.
Presentation, Giving It Your All Without Burning Out: Self Care in Youth Ministry. Rochester Youth Association, 2016
Presentation, Strenghtsfinder as a Roadmap for Spiritual Practices with Late Adolescents. ACSD Annual Conference, 2015.
Presentation, Undercover Youth Pastor: What a Year Outside the Church Taught Me about Youth. Kingdom Bound Music Festival, 2012.
Research Interestsexpand_more
Youth ministry, adolescent culture, emerging adults and faith formation, spiritual formation, ancient spiritual practices with youth and emerging adults, healthy learning in the church, spiritual formation for pastors, Scripture and spiritual formation.