Leadership in Action
Seeing a team and community centered on Christ was new to Ali (Wisniewski '23) Zientra when she visited as a track and field recruit four years ago, but that focus on pursuing excellence for the glory of God was captivating and made for a simple college decision.
"I had never been on a team that put God first and put God at the center of all practices and all races," says Wisniewski. "This was something that I didn't even know existed with a sports team until I saw it at Houghton. Once I noticed this, I wanted to be a part of it and that is what drew me to Houghton."
The business department and the Army ROTC program were also big draws for the recent graduate, who just competed in her final season of track, prepping for her first job as a military officer, and eyeing an ultimate goal of serving in the National Guard while pursuing a career in accounting. Wisniewski's Houghton experience was important for her development as a scholar-athlete and her growth as a Christ-follower, but also in identifying and honing the leadership skills necessary for her career endeavors.
"There is no such thing as a perfect leader," says Wisniewski, but she points to someone who is knowledgeable, caring, motivational, and a strong communicator as someone who can be most effective in a leadership position.
Her own leadership style is approachable and encouraging, someone who leads by example, she says. These traits have proven effective for the senior as she has navigated through a variety of leadership roles on campus, as a captain on the track team, and an ROTC student leader.
"Houghton and Highlander Athletics have taught me leadership skills, discipline, and how to put God at the center of everything. It has also taught me how to give my all to everything I am doing," says Wisniewski. "These things will help me in my future in the Army since these skills are some of the key characteristics of an Army officer."
Moving from student to alumna, Wisniewski encourages future student leaders to find a way to leave a legacy. "Figure out what impact you want to leave on your school or team and strive for that goal. It can be big or small, but it is something to strive for as a leader."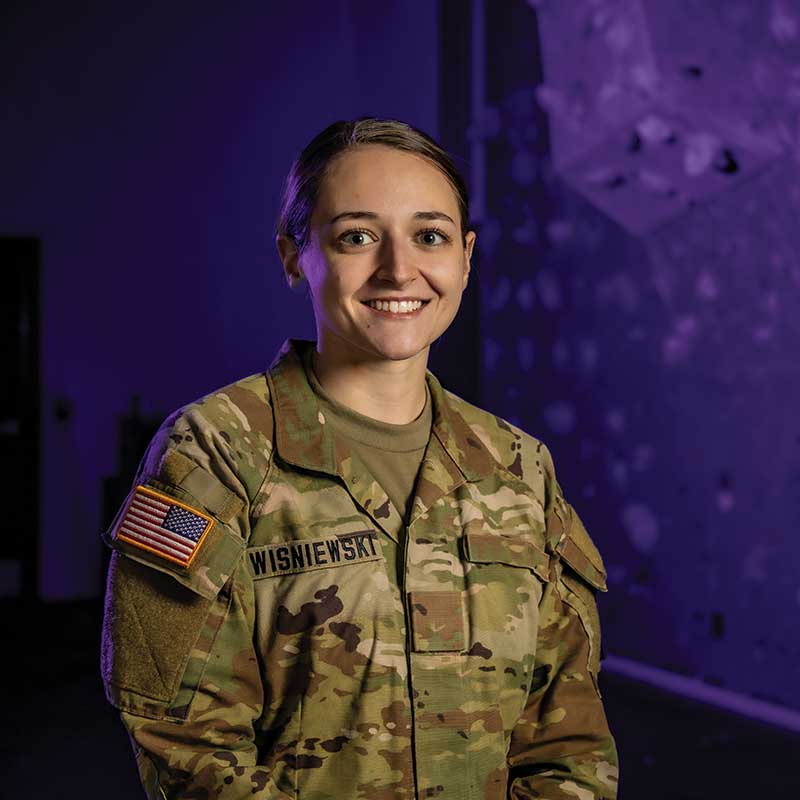 Athletics Inducts Four Into Hall of Honor
The Department of Athletics welcomed four new members to its Hall of Honor during an induction luncheon on April 22 in the Reinhold Campus Center.
John Bechtel '62, Jamie Mullen '86, Mark Ashley '88 and Dr. Heather (Mann) Rigby '02 comprise the 2023 Induction Class and a join a Hall roster that now totals 64 alumni, coaches, teams and contributors.
Bechtel participated in a variety of sports during the Purple & Gold era of Houghton athletics, primarily making his mark in soccer and football. He also coached field hockey as a student and served as president of the Student Athletics Association. The son of missionaries, Bechtel went on to a career in Christian service after graduation. He returned to Hong Kong for 15 years, and later serving in leadership roles with The Christian & Missionary Alliance denomination, was active in church planting efforts, and worked with The Arthur S. DeMoss Foundation.
Mullen was a captain, chaplain, and three-year starter for Houghton men's soccer. He was named NAIA Academic All-America and a First Team All-District selection. The valedictorian of his Houghton graduating class, Mullen went on to a successful career as an English teacher and coach at his high school alma mater, Fillmore Central School. In his 31 years on the sideline, Mullen's teams won 25 county titles, six sectional titles, four state semifinal appearances and two state championship appearances. His record of 465 98-43 places him sixth in Section V history and No. 16 in New York State for career victories.
Ashley was a member of Houghton's first NCCAA championship team in 1986, won an NAIA Region championship and advanced to the NAIA National Tournament in 1987, and was named NAIA Honorable Mention All-America following the 1987 season. Following Houghton, Ashley had a short college coaching stint before moving to a career as an educator and high school coach in Pennsylvania, while also serving as pastor of young adult ministries at his church. As a coach, he led four teams to Pennsylvania State Championship finals and won two state titles. His overall coaching record (boys and girls) is 471-153-42.
Rigby was a three-time NAIA Honorable Mention All-America selection during her four years of women's soccer. She was conference player of the year following the 2000 season. Rigby totaled 48 goals and 40 assists during her career. Her 136 points are ninth all-time in Houghton history. The Highlanders went 73-10-3 and made three NAIA National Tournament appearances over her four seasons. Rigby went on to earn a medical degree from Dalhousie Medical School and now practices as associate professor of neurology at Dalhousie.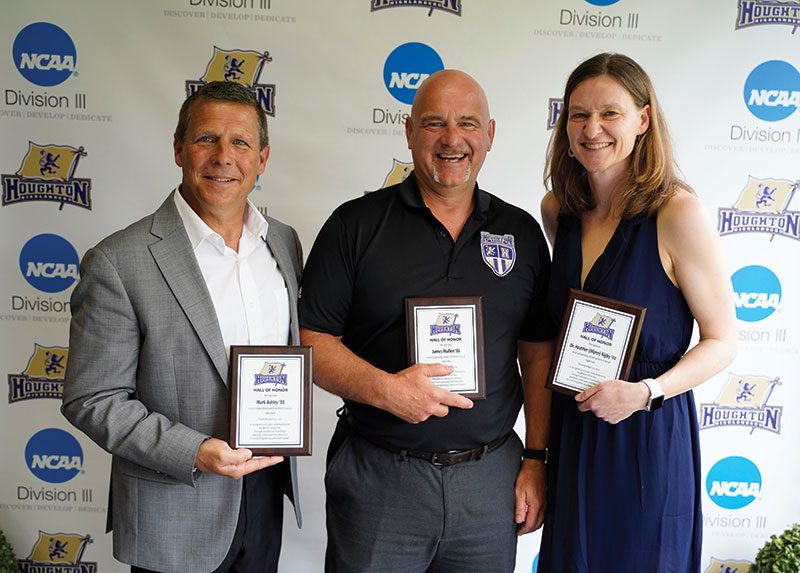 Two Student-Athletes Earn Excellence Awards
Houghton's annual Night of Excellence banquet in April was highlighted by the selection of Amanda Burrichter '23 and Malachi Yeager '22 as the recipients of the Student Athlete Excellence Awards. The honors go to those who have regularly exhibited excellence in the areas of athletic performance, academic achievement and Christian character during their time as Highlander student-athletes.
Burrichter became the third athlete to earn the award for a second time (David Wessells '20, Jesse Toth '17). The senior is a four-time Empire 8 All-Conference selection in cross country, and claimed the 2022 E8 title last fall. She has won eight Empire 8 individual or relay track titles during her four-year career.
She was named the 2022 and 2023 Indoor E8 Female Track Athlete of the Meet, and following the 2022 season was recognized as the E8 Indoor Track Athlete of the Year. She is in the top 10 in Houghton history in seven events.
In the classroom, Burrichter's performance is equally impressive. She holds a 3.70 GPA in Exercise Science and is a three-time E8 President's List and NCCAA All-America Scholar-Athlete honoree. She has also been named to Houghton's President's List and Dean's Honor List.
She serves her community as a church youth group leader at Crosstown Alliance Church, has volunteered at the Red Cross Blood Drive, has been a CIA and SAAC representative and has been serving as the SAAC president during this academic year.
Yeager capped his final year as a Highlander with impressive performances in track and field. He set the Houghton record in the heptathlon (4,464 points) while claiming the 2023 Empire 8 Indoor Championship title. He is a 10-time podium finisher at E8 indoor and outdoor championship meets. He is also the program record-holder in the 4×100 relay. He holds 11 Houghton top-10 marks, including second all-time in indoor high jump and indoor shot put. Yeager holds a 3.78 overall GPA with a 4.0 in his biology major. He won the 2022 Award for the Outstanding Student in Research and the Outstanding Student in General Biology I & II. He is a multiple honoree for the Dean's List, Dean's Honor List and President's List, and is an NCCAA All-America Scholar-Athlete selection.
He served as a big brother through Allegany County Outreach, was a resident assistant for three years, was on the Pre-Health Professions Club, and has served a number of years on the Student Government Association. He was a president of the class of 2022 during his junior year and was the Houghton student body president during the 2022 academic year.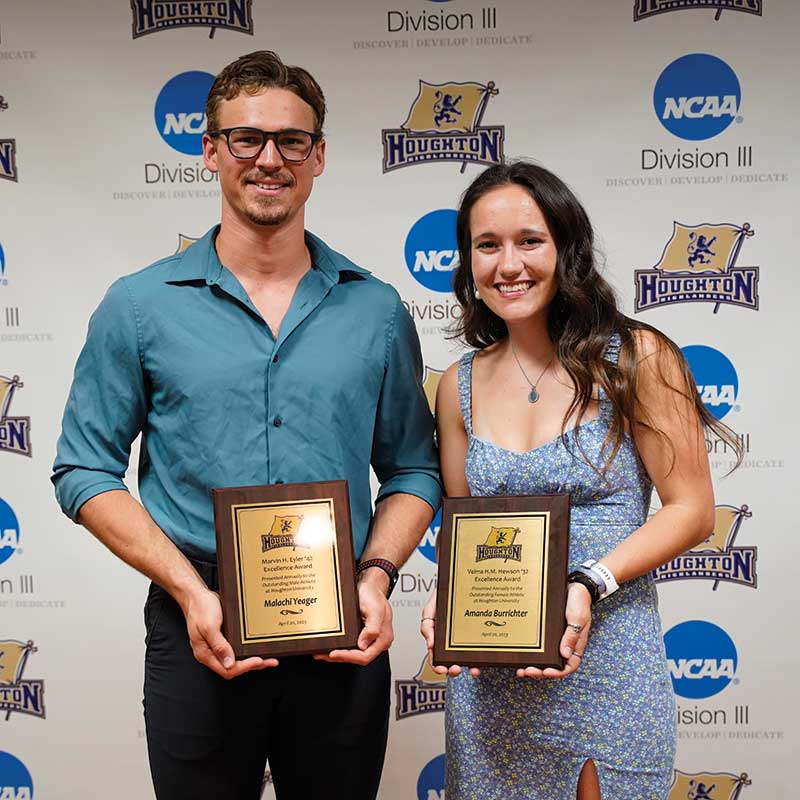 Disc Golf Finishes 4th at Nationals
Houghton's newest club sport had an impressive finish in its second-ever College Disc Golf National Championship. The Highlanders' A-Team grabbed a tie for fourth place in Marion, N.C., in April.
The four-day event featured more than 700 competitors from 88 different schools, including competitors from the Liberty University, University of Arizona, University of Missouri, University of Cincinnati, Clemson University, and University of Kentucky. Houghton brought three men's teams, as well as an individual competitor in the women's division.
The men's A-Team, comprised of Carter Sisson '26, Owen Fall '25, Tim Roth '25 and Zach Sisson (dual enrollment), shot a blistering -16 at the Boulder's course during round one. This was the hot round of the tournament and put Houghton in first place after day one. The Men's B-Team finished in a T21 out of 42 teams. The Men's C-Team finished in 40th place.
On the individual side of the competition, Owen Fall finished in a T17 out of the top 256 competitors, earning Second Team All-American honors. Zach Sisson put together a solid performance, finishing in a T28 after making the singles finals. Emily Andruczyk '23 capped off an excellent senior season finishing in a T14 out of 60 competitors. Rhyan Lorenc '26 finished in a T10 place out of the 163 competitors in the Men's DIII Division.
In addition, Carter Sisson went into the tournament as a top-64 rated player and was invited to the Matchplay Championship. Sisson cruised through his first three matches, making it to the Elite-8.
"I couldn't be more proud of these individuals. We practiced so hard this semester to be ready for this week and it paid off. The energy was palpable from the first two rounds of competition with so many highlights. Our team rose to the occasion," said Head Coach Guthrie Collins. "We put ourselves in position after the first two days to win a National Championship and came up just short. The support our players were getting from each other and the fans was amazing. I am deeply grateful for the people who came down to support our team. I couldn't have asked for a better showing in year two of our program. This team is incredibly young and you can continue expect great things from this group moving forward."