Houghton University announced today the appointment of Dr. Wayne D. Lewis, Jr., as the College's sixth president. Lewis will succeed Dr. Shirley A. Mullen, who has served in this role since 2006.
"I have clearly seen God at work during Houghton's search for our next president," said Board of Trustees Chair John Lee. "In multiple settings during the interview process, Dr. Wayne Lewis has exemplified and articulated his calling to lead Houghton University into our next exciting chapter. Dr. Lewis is a servant-leader who will be an excellent fit for Houghton's enduring mission of developing scholar-servants in a changing world."
In launching a search for the next president of Houghton, the Board of Trustees sought a leader who would embrace and build upon the College's clear mission and history, strong institutional reputation, and sound financial position to propel the institution to its next level of excellence. Following the conclusion of the successful $70 million IMPACT capital campaign, Houghton is poised for strategic growth as it looks to make the College's distinctive education an option for more students. This work includes the recent tuition reset that reduced the College's published price by 53%, making Houghton the best priced Christian college in the nation.1
"I am deeply humbled to be selected as the sixth president of Houghton University, one of the finest Christian liberal arts and sciences colleges in the nation," said Lewis. "For generations, Houghton has equipped Christian leaders, but I firmly believe the next chapter of its story will be one of growth, wider reach and greater impact than the College has ever experienced."
More About Dr. Lewis
More on the Presidential Transition
Lewis will guide Houghton University's ongoing mission to provide a high-quality Christian college education to students of all backgrounds through classroom locations in Houghton and Buffalo, N.Y., and online. His approach to his role as Dean of Belmont University's School of Education can best be summarized as being a champion for students and focusing on improving educational access, opportunities and experiences for students, including those who have historically been underserved. This passion closely mirrors the mission of Houghton University's founder, Willard J. Houghton, who recognized the critical intersection of a life-bringing Christian faith and high-quality education that could alter the trajectory of a person's life.
"Some question whether Christian higher education will continue to have a place in our changing nation and world," continued Lewis. "To that question, I respond unequivocally, 'Yes.' Not only will Christian colleges continue to have a place in our changing national and world context, but I believe God is calling Christian colleges to lead in producing Christ-centered servant-scholars and servant-leaders from diverse backgrounds, who are well-prepared in their respective fields and disciplines and well-equipped for interdisciplinary thinking and problem-solving."
Under his leadership, Belmont's School of Education saw increased enrollment in undergraduate and graduate teacher education programs, launched new undergraduate and graduate degree programs, and increased engagement with partners through new and expanded advisory councils for current students, alumni and schools and school district partners.
"I am elated that Dr. Lewis has agreed to serve as the next president of Houghton University," said Carrie J. Whitcher, Co-Chair of the Presidential Search Committee and member of the Board of Trustees. "Throughout the search, we heard from key constituencies, such as students, faculty, staff, alumni and others, as to the key leadership characteristics needed to carry Houghton University into the future. I'm pleased to share that God has provided. Lewis will bring leadership expertise, innovative forward-thinking approaches, and a commitment to diversity and growth in our changing world."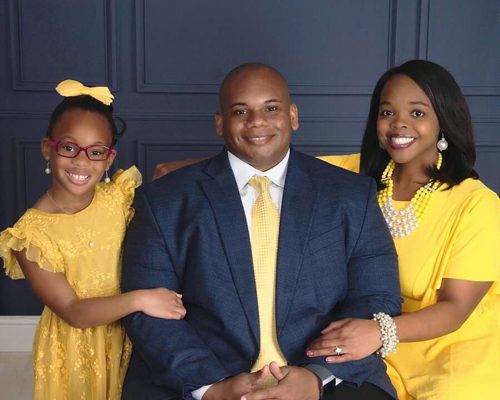 Dr. Wayne Lewis with his wife, Monica, and his daughter, Whitley. 
"During the presidential search process, I had the privilege of spending time on the Houghton campus and engaging with students, faculty, staff, board members, alumni and Wesleyan Church leaders," said Lewis. "Those experiences confirmed what a unique and special community Houghton University is. As president, in partnership with the Houghton University community, I will daily seek God's will and direction for the College's future and honor and build on Houghton's rich history and tradition to ensure that our beautifully diverse students are equipped 'to lead and labor as scholar-servants in a changing world'. Together, as one Houghton, we will relentlessly and unashamedly pursue excellence for the glory of God."
With 20 years of experience in education, higher education leadership is a calling for Lewis. Before becoming Inaugural Dean of the School of Education at Belmont University, Lewis served as the Commissioner of Education for the Commonwealth of Kentucky, overseeing an agency with over 1,100 employees and a $5 billion annual budget while also a faculty member at the University of Kentucky. Through these experiences, Lewis led the expansion of early postsecondary opportunities for high school students, launched Go Teach KY to increase and diversify the public school teacher workforce, led doctoral programs delivered through hybrid and fully online formats, supervised over 10 successful doctoral dissertations and over 15 successful master's and education specialist degree projects, and served as the founding faculty director of the University of Kentucky's Black and Latino Male Student Success Initiative. Prior to that, Lewis taught in K-12 public schools of Louisiana and North Carolina. A native of New Orleans, Lewis is a graduate of St. Augustine High School, completed undergraduate study at Loyola University New Orleans, earned a master's degree at The University of Akron's Buchtel College of Arts & Sciences, completed post-baccalaureate teacher certification at The University of New Orleans, and earned a Ph.D. at North Carolina State University's College of Education.
Lewis, his wife Monica and his daughter Whitley will reside in the president's home in Houghton, N.Y.
Houghton University began the presidential search in October 2020 after President Shirley Mullen announced her retirement at the end of the 2020-21 academic year. Lewis was recommended to the Board of Trustees by a 21-member search committee co-chaired by John Lee and Carrie J. Whitcher. He will begin work as President on June 15 with an inauguration ceremony in October.
---
About Houghton University
Houghton University is a nationally ranked Christian college of the liberal arts and sciences and the best-priced Christian college in the nation. With an enrollment of nearly 1,000 students, Houghton has equipped graduates for lifelong success since 1883 through customizable programs offered in Houghton and Buffalo, N.Y., and online. The College offers more than 50 undergraduate in-person and online programs, including Equestrian Management, Data Science, Engineering and Christian Ministries, as well as graduate programs in business, education and music. For more information, please visit www.houghton.edu.
1 based on the most recent tuition survey by the Council of Christian Colleges and Universities