Prepare for the next step toward your calling—including pastoral ministry, seminary, graduate school or missionary work.
The Theology major at Houghton University shapes you into someone qualified and passionate to fulfill God's calling by diving into a deeper understanding of God's word and the Christian faith.
Classes
Careers
Meet the Faculty
Prepare for Ordination and Pastoral Ministry
The Pastoral Ministry concentration fulfills all academic and practical requirements for ordination in The Wesleyan Church, while also contributing to the ordination requirements of many other denominations.
Get a Solid Foundation in all Disciplines of Ministry
Focus on a variety of core classes that develop you into someone who can read, apply, and interpret Scripture well.
You will gain the foundation necessary for your next step, whether it be seminary, graduate studies, or your work in ministry or a related field.
What will I learn?
Through Houghton's B.A. in Theology you will:
Solidify your ministry skills through the completion of an internship in pastoral ministries, missions, sports ministry, youth ministry, etc.
Learn from and study alongside Biblically well-versed and theologically informed Christian scholars who believe that God's word is still relevant and important in Christ's mission.
Dive deeply into the Word of God through study of various aspects and areas of Biblical text with your immersion and careful analysis.
Challenge yourself by considering, through reason and grace, a breadth and depth of theological perspectives that you might not have considered before.
Be a part of a community of Christians demonstrating generosity toward Christian traditions other than your own—with a faith-seeking understanding and acceptance that all truth belongs to God.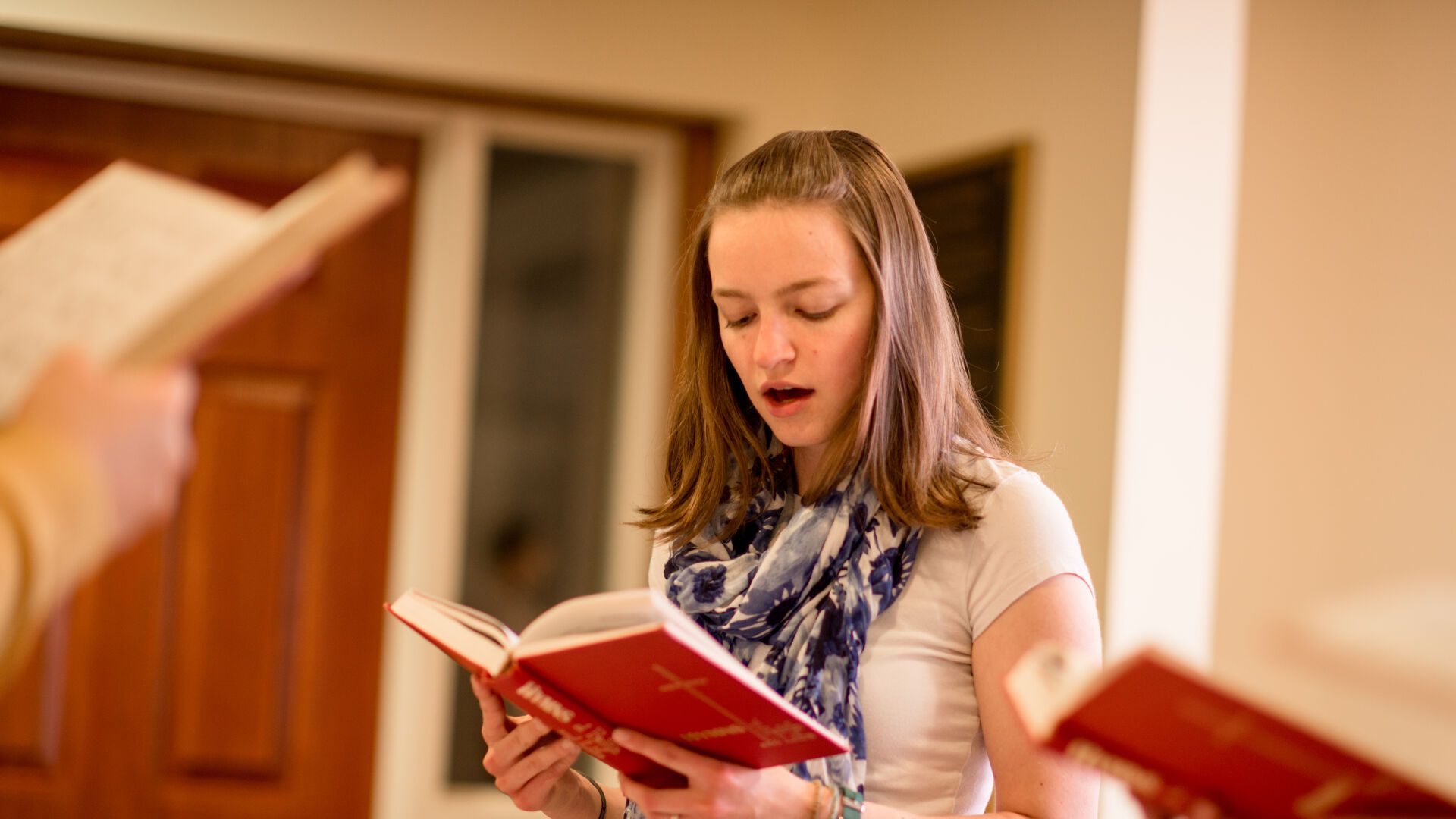 Kern Scholarship for Ministry Leaders
Pursue your passion for ministry and prepare for a seminary education. The Kern Scholarship Program is made possible by the Wesleyan Church and you could qualify for $1,000 in aid each academic year of your undergraduate degree.
Learn more about the Kern Scholarship
Feel a Vibrant Sense of Belonging
Learn from active scholars with roles in the local church who are also your brothers and sisters supporting you along your journey.
Program Outcomes
Students earning a degree in Theology from Houghton University are prepared for careers as a:
Bible teacher
Camp director
Chaplain
Church planter
District superintendent
Missionary
Musical director
Pastor
Youth minister
Application Requirements
1
Start Your Application
Complete the application here
Apply Now
2
Documents and Supporting Materials
You'll be asked to provide your official high school transcript and your test scores (can be waived)
Testing Policy
3
Personal Statement
The personal statement portion of our application for admission is perhaps the best place to truly tell your story, to tell who you are and what is important to you.
Personal Statement
Have Questions?
Discover if earning your Theology degree from Houghton University is right for you.
Call Us
Contact 1-800-777-2556 to connect with an admission representative.