The spacious, light-filled Stevens Art Studios feature cathedral ceilings in all the studios, as well as huge expanses of glass, which provide bright natural light. The studios also expand into two weather-protected outdoor work and meeting spaces, to increase studio work areas and benefit from natural air circulation.
The ceramics and sculpture area features capabilities for firing with electric, gas, and raku techniques, with separate rooms for glazing, clay mixing, and woodworking.
The photography area offers both traditional and digital photography. The fully equipped 600sq ft lighting studio allows for video and still photography with a broad range of state-of-the-art lighting equipment. The darkroom is outfitted for both film and alternative processes while the Mac Lab offers large format digital printing.
Students working in the drawing, painting, and ceramics studios benefit from the open space and natural light. There are also individual student workspaces available to juniors and seniors.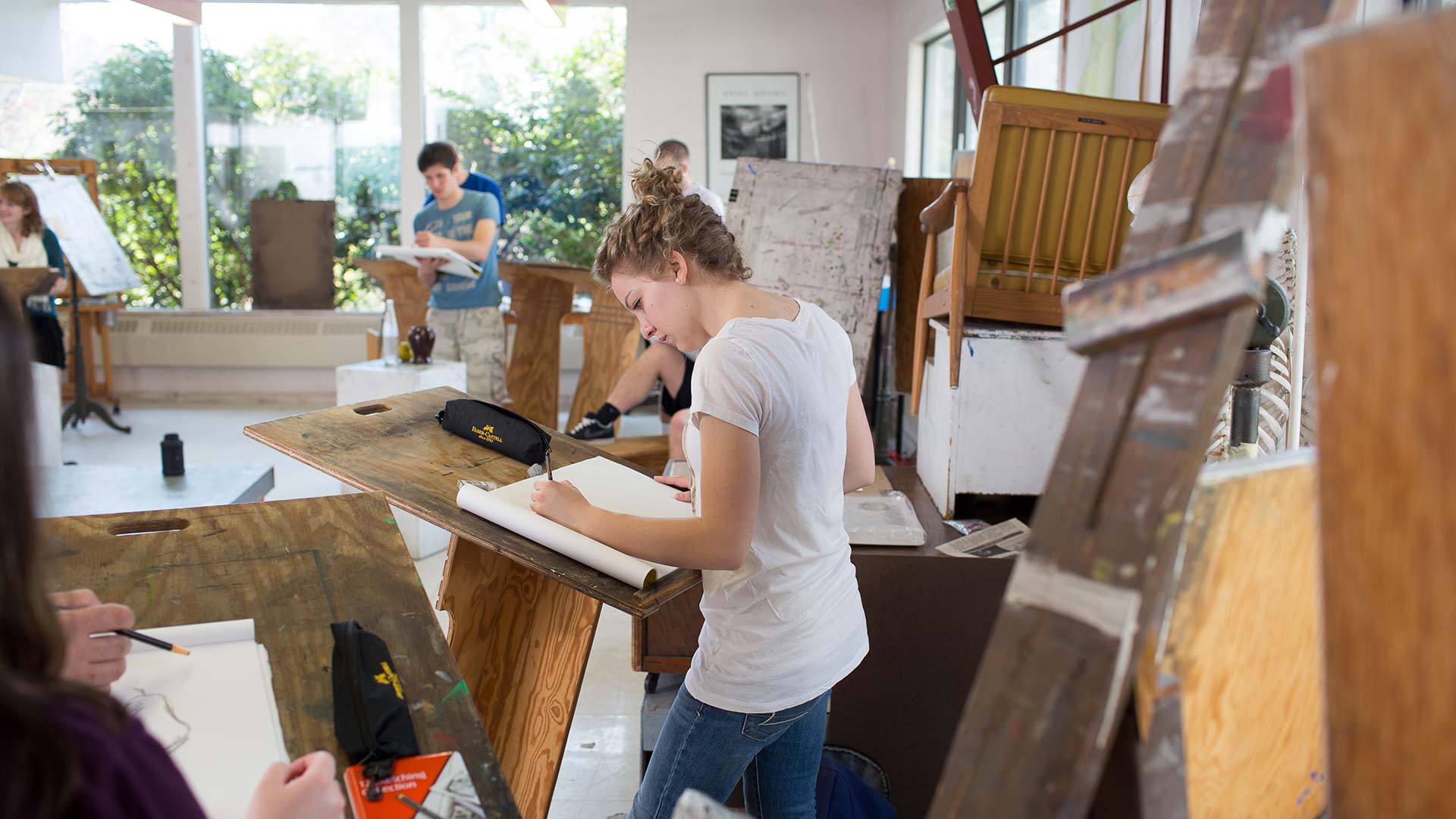 Lighting Studio
Hot Lights
LED Light Panels
Wireless Studio Strobes
Wireless Portable Strobes
Remote Triggers
Parabolic & Octagonal Umbrellas
Soft Boxes & Beauty Dishes
Reflectors, Scrims & Flags
8' V-Flats
Boom Stand
C-Stands & Grip Equipment
4' and 9' Seamless Backdrops
Light Meters
Fog Machine
Studio Carts with Tethered Capture
Traditional & Alternative Darkroom
Film Processing Tanks and Reels
B&W Beseler Enlargers
8' Stainless Steel Sink
24" UV Exposure Box - Alternative Processes
Cameras
Canon DSLRs - Available for Checkout
Lenses and tripods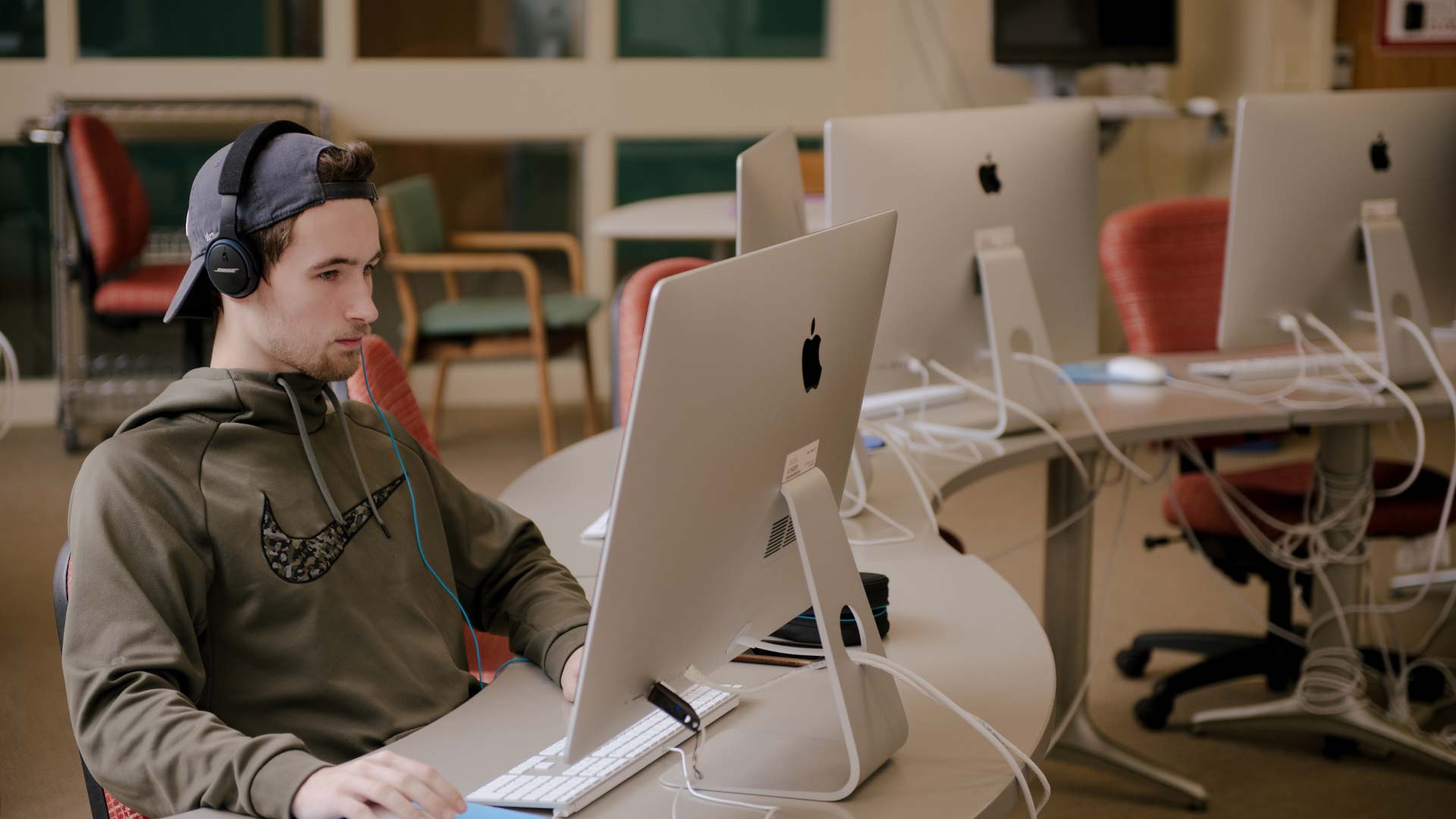 Ceramics Studio
50 Cubic ft Cone 10 Natural Gas Reduction Kiln
Electric Test Kilns
Cone 10 mid-range Oxidation Kilns
Soldner Batch Clay Mixer
De-airing Pugmill
Glaze Blunger
Glaze Spray Booth
Shimpo Whisper Electric Wheels
Brent CXC Electric Wheels
Creative Industries Electric Wheels
Clay Extruder
Slab Roller Table
Clay Mixing Room
Indoor Kiln Room
Glaze Mixing and Preparation Room
Plaster Molds and Slip Casting Materials
Seasonal wood-firings
Sculpture & Furniture Design Studio
10-inch Sawstop Safety Table Saw
13-inch Planer
6-inch Jointer
10-inch Compound Miter Saw
Two 14-inch Bandsaws
Floor Model Drill Press
Oscillating Spindle Sander
Dust Collection System
36-inch Wood Lathe
12-inch Belt Sander
Pneumatic and Power Hand Tools
Stone and Wood Carving Pneumatic Handsets
Spray Booth
6x8ft. Panel Saw
Scroll Saw
Glass and Ceramic Kiln
3D Print Station with 4 Lulzbot Pro 3D Printers
Metalsmithing Table and Jewelry Bench Kits
Commercial-grade router
Stevens Lobby Lounge
Custom designed student critique space and lounge with mid-century modern furniture, fireplace, and 28' lighted metal critique wall with magnets for hanging art work.
Stevens Seminar Room & Thomas Buechner Memorial Art Library
800+ art monographs, catalogs and films from the collection of the late Thomas Buechner